Gustavus Adolphus (18-10-0 overall, 10-6-0 in MIAC)
Gustavus Adolphus will make its first NCAA final four appearance Friday when the Golden Gusties face off at 4:30 p.m. Eastern against the University of Wisconsin-Stout for a spot in Saturday's national championship game.
This is a Gusties team, however, that was picked just third in the MIAC in the preseason coaches' poll, receiving none of the nine first place votes. They were largely ignored by the USCHO.com poll for the majority of the season and ranked sixth of seven western teams when the NCAA rankings were published in late February.
The Gusties were able to dispatch highly regarded St. Thomas in the MIAC semifinals after edging out the Tommies for second place in the conference. After Hamline upset the regular season champion St. Olaf Oles, the Gusties rebounded from a 2-0 deficit in the MIAC championship with five unanswered goals to take the title.
Then the NCAA's unusual bracketing of the national tournament sent the Gusties directly to face UW-Superior in the quarterfinal round, the first time a MIAC team had been sent straight to the quarterfinals since the tournament expanded to nine teams in 2002. It was there the Gusties seized the opportunity and shut out the Yellowjackets, a team that was ranked as high as No. 1 during the season and was the top western seed in this year's tournament. It has certainly been a long and difficult road for Gustavus.
Saturday's game between Superior and Gustavus was a defensive battle, with only two goals and three penalties in the entire game. After a scoreless 38 minutes, Ross Ring-Jarvi connected from David Martinson and Brad Wieck with just 73 seconds left in the middle frame to give the Gusties a 1-0 lead.
"As the game went on it became very evident to us that it was going to be a low-scoring game by just the way both teams were playing. Both goalies were playing very well," Gustavus coach Brett Petersen said.
With their season on the line, Superior released a flurry of offensive pressure in the final minutes of the third period. The Yellowjackets were aided by an obstruction call to Eric Bigham, which provided Superior with their only power-play opportunity of the night.
"I thought [the officials] did a great job because they let the guys play," Petersen said. "At this time of the year, I think it's just important for officials to realize that the game is not about them and that it's about players. And let the players decide as much of it as they can. I thought they would have done a great job even if Superior had scored late to tie us and beat us in overtime. I just think they did a good job."
With Superior goaltender Chad Beiswenger planted firmly on the bench for the final 30 seconds of the power play, the Gusties penalty kill unit and senior goaltender Matthew Lopes made several key plays that eventually opened up the ice for David Martinson to put in an empty-net goal, his 25th tally of the season.
"That was our first penalty of the game and it was a good call. It was clearly interference," Petersen said, noting that the 6-on-4 opportunity gave his team the ability to ice the puck towards the empty Stout net. "I thought we defended really well until the last 30 seconds when the puck was in our crease for what seemed like an eternity. They had really good looks and chances, but for whatever reason it just didn't go in. The stars were aligned for us."
Lopes' 33 saves earned him just his second shutout of the season (the other against St. Mary's in November) and was the first time Superior had been shut out since a 3-0 loss to St. Thomas on Nov. 3, 2007.
"Lopes was good," Petersen remarked. "He's been good the last month. Stopping everything he should stop and then every once in a while pulling some rabbits out of his hat. And that's what he did against Superior."
The shutout is one of the final steps in what has been a remarkable journey for Lopes. It is a journey from east to west, and now back east, detailed in an upcoming USCHO feature from columnist Matthew Webb.
The Gusties' run marks the first time a MIAC team has been to the final four since St. Thomas' championship game run in 2005, where the Tommies fell to Middlebury 5-0. While the Tommies have played in the national championship game three times (and former D-III–now Division I–Minnesota State once), the MIAC has never taken home the national championship trophy in men's ice hockey. A fact of which Petersen is acutely aware.
"It's been interesting because I've had every single coach in our league call me this past week and say those same words. So we feel awfully proud and realize that we have a good league. And we may not get the national recognition year in and year out, but our league is good and it gets better every year. And we are very proud to represent the league in the final four."
The Gusties will continue that quest for the league's first championship in Friday's quarterfinal match against UW-Stout.
"We know them well, they know us well," Petersen admitted. "I anticipate a close game decided by a goal either way. We just look forward to the opportunity and I'm sure their guys feel the same way."
And once again, the Gusties will likely be considered underdogs in a playoff match-up.
However, earlier this season on Nov. 7, the Gusties traveled to Stout and came away with a 6-5 victory over the home team. Josh Swartout started in net for Gustavus that night, making 26 saves on 31 shots. He has since been replaced by Lopes, but the Gusties now face a team that has lost just one game since mid-November.
It will take a strong effort on the ice for the Gusties to overcome a Blue Devils squad that hasn't been sent off the ice in defeat since early January.
"We've talked to our guys about, number one, enjoy the experience because nobody knows if it'll ever happen again," Petersen said. "But also on the same hand, not get caught up and forget to play. I think that's our key. No matter who we play, or what time we play, we just have to play, and play the way we play."
For the first time since 1994, the final four does not feature St. Norbert, Plattsburgh, Middlebury, or Norwich. That has Petersen believing that the national championship is anybody's for the taking.
"None of the four teams here have any final four experience, so I think the entire tournament is completely wide open," he said. "And it's going to come down to whoever has a good weekend is going to win it. I don't think anybody would say there's a clear-cut favorite. It should make for three very exciting games."
No matter which team comes away at the top this weekend, it will be the first time that program has hoisted the national championship trophy. Which makes it assured this will be a special weekend of hockey.
University of Wisconsin-Stout (23-5-2 overall, 10-2-2 in NCHA)
One can peruse the last decade of the NCAA tournament and see all of three West Region teams amongst the remaining final four teams: St. Norbert, University of Wisconsin-Superior and St.Thomas.
With as long and storied of traditions as those programs have, none need much of an introduction before they take the national stage. That isn't so much the case for UW-Stout, however, as the Blue Devils are making their first trip ever to the D-III's final four.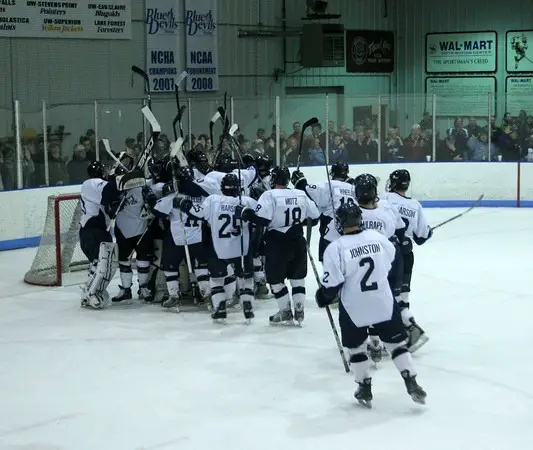 In fact, last Saturday's 2-1 quarterfinal victory over St. Scholastica was Stout's first ever NCAA tournament win.
"This has been our goal, and we said long ago there were things we needed to do to compete with the other teams in our league and we've kind of systematically gotten a bit better over the past five years or so," said Stout head coach Terry Watkins.
Five years ago it was hard to envision Stout atop the NCHA, no less out in Lake Placid contending for a national championship. That all changed in the 2006-07 season, however, as after hovering around .500 the previous three seasons the Blue Devils broke through with a 21-5-2 campaign and a share of the NCHA regular season championship.
They have hardly wavered since then and posted an 18-10-3 record last season. The Blue Devils are carrying an impressive 23-5-2 mark into this weekend's semifinal.
"You go back five or six years and we've made some changes," said Watkins. "We've been headed in the right direction and obviously this is a dream for us."
Undoubtedly but it is always interesting to view the variety of ways in which final four participants treat the experience. For some it is a dream come true and they go out of their way to savor every waning second of the weekend. For others, it's business as usual.
In Stout's case, according to Watkins, it's a bit of both.
"Obviously the thrill of wining and the thrill of going out East and its Lake Placid and all that kind of stuff is there," he said. "But today we had a bit of a reality session with the guys."
He continued: "We're not going out there to look at trees and hills and a rink that somebody played in 29 years ago. We're going out to try to win a national title for the West."
If the first national championship in program history is in the cards for the Blue Devils, they will first have to get through a talented Gustavus Adolphus team in the semifinals. The two have a bit of a history this season as back in November the Gusties went on the road and defeated Stout, 6-5.
Speaking to whether or not a relatively common opponent might work in Stout's favor, Watkins said:
"You know, this time of the year anybody you play is going to be awfully good so I don't know if anyone has an advantage or disadvantage in any of these games. (Gustavus Adolphus head coach Brett) Petersen is a great guy; Don Roberts their former coach is a wonderful man.
"It's going to be fun to play them–another team from the area–but you just play who they tell you to play. It's going to be fun and I think it's a good match-up."
Stout and Gustavus play relatively similar styles. Both take the ice with mobile defenseman, good speed and excellent finishing capability. These facts are not lost on Watkins.
"They've got great speed," he explained. "Their forwards move their feet and they move the puck well. When they breakout they try to get the puck up the ice in a hurry. They actually do a lot of the things we do.
Stout's most potent offensive line by far is comprised of a trio of juniors in Derek Hanson, Joel Gaulrapp and Scott Motz. Hanson leads the team with 43 points on the year and the line as a whole has registered 118. The three are especially dangerous with the man advantage and have accounted for 20 of the Blue Devils' 41 power-play goals this season.
Gaulrapp has been particularly clutch down the stretch, registering numerous goals at key moments in games. He leads the Blue Devils with five game-winning goals this season.
"If you took a look the two teams and compared us I think a lot of people would think we are relatively similar."
Compared to many teams across the nation, the Blue Devils defensive corps can not be ignored when it comes to the offensive threat it poses.
Matt Morin and David Larson both have over 20 points on the season, and reigning All-American Jack Wolgemuth has 17. If one includes the numbers of F/D Nick Klaren, the Stout defensemen have posted 104 points this season.
Considering the early season meeting between Stout and Gustavus turned into the 6-5 shootout, many are expecting the same this time around–especially due to the Olympic-sized ice sheet at Herb Brooks Arena.
"It's going to be fun on the big rink. I think both of us skate very well and have some quickness," said Watkins.
However, he did add:
"I do think we've both gotten a lot better defensively, though. We haven't given up six goals in a long time and I can't imagine they've given up five very often. I don't think it's going to be a high scoring affair. Both goaltenders are also playing a lot better than they were in our first game so I'm expecting another one of these 3-2 games."
Senior goaltender Matt Koenig is the key reason the Blue Devils' defense has improved, as after a bit of a shaky start to the season he has performed incredibly well. In Stout's five playoff games thus far, Koenig has allowed two goals per contest.
Defense aside, it's possible the large ice sheet might work to Stout's advantage. Known as one of the better-conditioned teams out there, that reputation is bolstered by the fact the third period has been its best of the year. The Blue Devils are +27 in goal differential in the final frame this season.
"We're in very good shape," he said. "Our goal is to wear people out at beat them in the third period. You don't win a lot of games in the first or second period, but you do win a lot in the third.
"Our goal is to hope that we have a bit more gas late in the game, and that's been our goal since day one."
The Blue Devils are positioned to win a national title, and they have the tools to do it. What they don't have, however, is the final four experience to carry into the weekend. Interestingly, the same goes for Gustavus Adolphus and Neumann, and Hobart has only played one game ever at this stage.
With none of the so-called favorites present and an exciting but inexperienced field of four taking the ice, one has to think the Blue Devils roll into Lake Placid with as good of a chance as anyone of skating away with the national championship.