Don't Mess with the CHA
The Beavers came into this NCAA tournament as the CHA playoff champions in the league's second-to-last season, and Bemidji head coach Tom Serratore wants the conference to get respect come tourney time next year.
"I'm hoping that we get our automatic bid next year," said Serratore. "I think it would be a travesty if we didn't. We not only have a great league but we have four teams who have represented college hockey extremely well.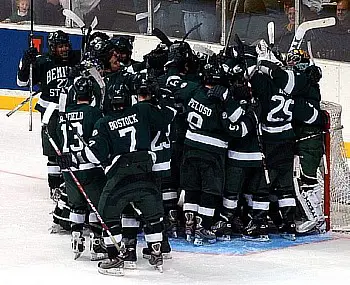 "Our kids and our programs have done nothing to put ourselves in that situation so I'm hoping next year that the powers that be recognize that give us one more year of an automatic bid."
Serratore is adamant about the level of hockey played in his four-team league — something difficult to argue after a win like this.
"Our league's good," said Serratore, now in his eighth season as head coach. "Take a look at teams in our league. We have a good league. Take a look at who we play in nonconference and who we beat. Take a look over the last three to four years the teams in the WCHA [we've played] and look at what our record is in predominantly road games."
In the last five years, BSU has the best winning percentage of any team in college hockey in its own conference play — .704, with a record of 79-30-11.
"We're the winningest program in college hockey and that does carry over. Our guys our very proud. They know … the culture of our program, the history of our program."
And, says Notre Dame head coach Jeff Jackson, the Beavers aren't the only ones who know.
"I don't know how many times I got asked this week, 'Who's Bemidji State?'" said Jackson. "I think people know now."
They Solved That Problem
From the opening minutes of this one, the Beavers put the Fighting Irish off their usual game and solved the problem between the Notre Dame pipes, senior Jordan Pearce.
Coming into Saturday's contest, ND had the top defense in the nation, allowing just 1.73 goals per game. And Pearce had the second-best goals-against average in the nation (1.68).
"We're a puck pressure team," said BSU captain Travis Winter. "We had to get on them right away. With our pressure we were able to force a play. Lucky things happen some time [but] luck favors those who are most prepared.
"It was a lucky goal and we'll take it, but we moved on from there."
That lucky goal resulted from a rare Pearce mistake when he couldn't clear the puck from behind his own net. Chris McKelvie pounced on it.
"That first goal threw him off," said ND head coach Jeff Jackson of the usually unflappable Pearce.
"It took a funny carom off the boards and it got caught between his stick and his pads. There were a lot of strange bounces going on tonight off the boards and glass, but you make your own breaks. I think Bemidji forced the issue with their forecheck
"That kid has been unbelievable for us this year."
Jackson was quick to point out that Pearce had little defensive help. "In my opinion, one of the strengths of our team has been our defense, and I can say that probably three of our top four defensemen — maybe including our fifth defenseman — it may have been one of their worst games this season.
"But I think a lot of that had to do with Bemidji, too."
In scoring five goals on Notre Dame, Bemidji State accomplished what only two other teams have. Northern Michigan did it and lost, 9-5, Feb. 13, and Notre Dame opened the season with a 5-2 loss to Denver.