Setting the Alarm
Timing is everything, especially in the playoff stretch, and teams — and for that matter, individual players — can't always bring their A-games.
Before Saturday, BU rookie Corey Trivino only had four goals, but in the NCAAs he's potted two goals in two games, which includes one of two for the Terriers Sunday. Classmates who have scarcely dotted the stat sheet also stepped up as Chris Connolly and Vinny Saponari tallied the assists against New Hampshire.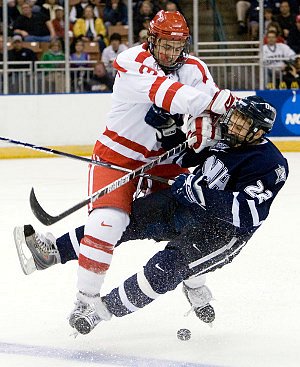 "They got a big goal, obviously," Jack Parker said of his freshman line. "Trivino is playing as great as he is without the puck, and I knew he was going to be good with the puck. He was having a great freshman year, but all of a sudden it's really turning into something. Corey Trivino's physical maturity and poise have really changed things for him. But that line played great this weekend."
Of course standout Kieran Millan has been present in all 33 games this season, posting the best winning percentage in the nation at .887 and breaking BU's program record for most wins in a single season at 27.
The Hockey East Rookie of the Year only allowed two goals in 80 shots when facing the Wildcats in the last three meetings, stopping 27 pucks in Sunday's win as well as 51 in the last league series back in January.
"He's been amazing as a freshman goaltender, no question," said Parker. "I was talking about this at the Hockey East tournament — he doesn't get nervous. I only had one other player ever tell me that [he doesn't get nervous] and that was Chris Drury."
Top Dogs … And 'Cats
The All-Tournament Team was comprised of four Terriers and two Wildcats: Millan, defenseman Matt Gilroy, and forwards Nick Bonino and Jason Lawrence made it for BU. Senior defenseman Kevin Kapstad and junior forward Peter LeBlanc got the honors for UNH. Lawrence also nabbed the regional's Most Outstanding Player award thanks to two goals Saturday and the game-winner Sunday.
Not So Spotless
Despite BU hockey's top-notch reputation — especially with this year's club shining as one of the brightest of the bunch — let's not forget that in years past things haven't always gone the Terriers' way.
BU lost in the regionals in each of their last seven NCAA appearances. This game, on Sunday, March 29, marked the third all-time meeting between the Wildcats and Terriers in an NCAA regional final. Coincidentally, the previous meetings were on March 29 as well. UNH won the previous two matchups: 1998 in a 3-2 OT come-from-behind win, and in 2003 3-0.
Way to Go J-Lo
The Northeast Regional's Most Outstanding player, BU's Power Play King, and Game-Winning Sniper: all are accurate titles for Terrier Jason Lawrence, commonly known as "J-Lo" among his teammates.
The senior leads his team in goals with 24, power-play goals with 14 (good for second in the nation), game-winning goals (tied for second in the nation) with eight, and goals per game (0.53) (third in Hockey East play).
The last time a Terrier had at least 13 power-play tallies was in 1995-96 when Jay Pandolfo nabbed 16 and Chris Drury got 13. Having his most productive season his senior year, Lawrence also nabbed his first career hat trick February 27 at UMass.
First Time For Everything
• The Terriers had never played in Manchester for the Northeast Regional (compared to UNH's three times) before this year.
• This weekend saw the first NCAA tournament starts in goal for both UNH junior Brian Foster and BU freshman Kieran Millan. Foster came up with a whopping 61 saves in the regional and Millan got hold of 49.
• Saturday's victory over North Dakota marked the first point for eight Wildcats in the NCAA tourney: Greg Collins was one of the Wildcats with a goal and an assist in that game to go with an assist Sunday. Bobby Butler is another one of the eight, recording two assists and then a goal against BU. Peter LeBlanc's two goals Saturday, including the overtime winner, were his first points in the NCAAs; he added an assist against BU.
• This is the first time BU has been to a "Frozen Four" — the catch being that the Terriers have advanced that far in the NCAAs (the last time in 1997), but the name "Frozen Four" was not coined until 1999.