What do the Chicago Blackhawks, President Barack Obama and the Chicago Cubs have in common? Well, the obvious answer is the city, but the more important relation here is John Moore. This 18-year-old is undoubtedly going to be snatched up in the first round of the NHL entry draft, as he's Central Scouting's top-ranked defensemen and the sixth North American skater overall.
Moore was not only born and raised a true Chicagonian, but he has never had to leave his home state to play hockey (that'll end this fall when he'll embark upon his freshman year at Colorado College). While most players his age move across the continent to play in competitive junior leagues, Moore got to advance his career on his own stomping grounds playing for the Chicago Steel of the United States Hockey League from 2007 to 2009.
Moore entered the team a slight 5-foot-9, but over the course of two seasons catapulted to a 6-2, 189-pound USHL defenseman of the year.
"He's someone that came in and we knew he had good skills and skating ability," Steel coach Steve Poapst said. "But he wasn't very big; maybe 5-9, 5-10, 165 pounds. Then he grew 4 1/2, 5 inches and put on 25, 30 pounds, but didn't lose any of the skill or skating ability and didn't have any awkwardness. He just got better and better as he went along."
"Yeah, it was nice to grow because coming in I was one of the smaller, younger kids," Moore said. "It was something to get used to because you're playing against big guys with beards, so it was a little intimidating at first. I didn't even notice I was growing. It was like I'd show up to the rink one day and be a little bit taller and my equipment wouldn't fit quite as well. That summer I tried to fill out a little bit and the confidence came along with it because I was bigger and stronger."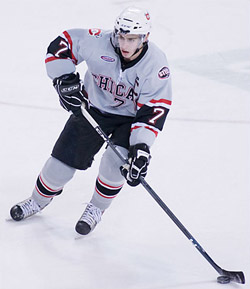 Moore not only grew physically, but mentally as well. Poapst, a former NHL defenseman, explained how Moore developed skills like a pro and acted like one:
"He's a kid that's truly special; he's got abilities that separate himself from the rest of the players in his age group," he said. "You can see the difference when he played this year; he did some things that were on the level of pros that other kids didn't even comprehend or were expecting it. He's a tremendously gifted skater — that's his biggest strength — and he has puck-handling ability to go along with it. He passes the puck like a pro. He would make passes that would hit people's sticks before they were even ready for it, they'd explode off him, they weren't ready for it."
Over the course of Moore's career with the Steel, Poapst recognized an emotional maturity within his player. John was appointed captain when the original captain was injured and he quickly adjusted to the leadership role, but not without putting added pressure on himself. Being one of the top performers in the league, Moore was getting attention from college and pro scouts on top of his starring role on the team, so learning how to balance everything has been a key part in his development.
"John played 30-35 minutes a game for us and players that play those amounts of minutes are going to make mistakes, but it's how you handle those mistakes and make adjustments to it," Poapst explained. "He'd make a mistake, get mad, and then go out and try to make up for it on the next shift. Then he'd come back just rattled and didn't know how to deal with that.
"We told him, 'You need to be a player we can count on. We can't have you get so mad that we can't put you out there for the next five minutes of the game, so you've got to learn that the mistake has been made and that's no big deal.' So he listened and was quickly able to balance his emotions and mature that way. He was a leader by going back out and not allowing it to affect him. He's grown and matured significantly as a player. He's going to be fine [stepping in at CC]; He's going to be counted on."
Since he didn't live away from home with a billet family like other junior players, Moore is more than ready for the Windy City to blow him west to Colorado to start an independent life at a new school, with a new team.
"No, I'm not too nervous," Moore said. "I guess you could say I'm lucky that I've been able to play my junior hockey here, but I think I'm definitely ready to move out of the house and be on my own."
But if Moore does feel homesick, all he has to do is think about the wonderful memories he's had over the years playing in Chicago and being with his family. One of the funniest hockey moments was during his first year with the Steel when the older guys pulled a fast one on the young lads.
"We were in Sioux Falls, S.D., for a game and there was a blizzard, so we were going to stay the night in a hotel and then leave when the snow stopped the next day," Moore said. "Me and two other guys shared a room and at 4:30 a.m. we get a call from one of the older kids, Andy Miele, who plays at Miami right now. He says, 'Yeah, the roads are looking better so we're going to leave here now.' So we were like, 'OK.' But then five minutes later he called again pretending to be coach Poapst, so we said, 'Andy, we know it's you' and hung up the phone again.
"Then at 5 a.m. our goalie knocked on our door with his jacket on and all his bags and was like, 'Come on you guys, you're going to miss the bus.' So we freaked out and threw all our stuff together and then we sprinted through the lobby. As we're running we hear laughter and there were a couple of guys on the team standing around laughing at us. The older guys pranked us younger kids. I was salty at the moment, but looking back on it, it's pretty funny."
Being the "new guy" is something Moore will have to face again this fall as a rookie in college hockey, and of course when he makes the jump to the pros.
Speaking of pros, Moore unquestionably grew up as a Blackhawks fan, so it would be normal to assume that's where he would like to be drafted. However, with his indebted attitude, he claims he'd be equally enthusiastic to belong to any NHL organization.
"My favorite team is the Blackhawks because I've grown up in Chicago and played hockey here my whole life," Moore said. "It sounds so cliche, but I'd enjoy being drafted by anyone, then they'd automatically become my favorite team. I mean, to hear your name called from any team in June [on draft day] would be unbelievable."
At the 2009 Scouting Combine in Toronto last month, Moore met with 29 of the 30 NHL teams, and unavoidably was subjected to intense scrutiny through challenging physical tests, psychological examinations, and one-on-one team interviews.
"It was a little intimidating at first, walking into the room and seeing the scouts and the media and all the various people watching you work out," Moore said. "That was definitely not something I was used to, but it was a great experience just being there with all the NHL teams and some of the top players in the world. It was pretty tiring, and when I was done with it I think I slept for like for two days straight."
But before he was done, Moore even met with sports psychologists, a Dallas Stars one in particular for 3 1/2 hours. Then the interview portion allowed team talent evaluators to gain insight into the players' character; something that is not always clear from watching them skate. Teams ask a wide range of questions, as Moore surely knows.
"Toronto really gave me the craziest question," he said. "They gave me a card with pictures of Anna Kournikova, Barack Obama and Sean Avery and told me to rank one to three who I'd like to have dinner with. So I did Obama one, Kournikova two, and Avery three. I don't know why I chose that, I guess you don't want to be the guy that picks the girl and wanted to make it seem like I was somewhat interested in politics. So I said I'd pick Obama because I'd want to pick his brain. They sort of just sat there, trying to stay the enemy, so you don't get any telltale signs of what they thought of your answers."
Whether or not that was the answer the evaluators were looking for, Moore's talent speaks for itself, and his humility and genuine personality are just added bonuses. But this self-proclaimed shy, hard-working guy wanted to make one thing clear: When asked if he had the chance to make one wish and have it come true, Moore responded with the following:
"Well, that's a tough one because you don't want to be selfish and do something just for you, but at the same time it's only one wish … so I guess I'd probably like to see my Cubs win the World Series."
So the wish wouldn't be for a successful career, a Stanley Cup or Norris Trophy?
Moore added, "Well no, I mean an NHL career you can't count on a wish, if you put in hard work it's going to happen."
Now that's an answer any team would like to hear.