Every year when CHA coaches are asked about their nonconference schedules, they all usually say something along the lines of "in college hockey, anyone can win on any given night."
Last Friday night, Robert Morris opened its home schedule against No. 18 Quinnipiac and was soundly defeated, 5-0.
Sure, on paper, that looked about right.
The next night, however, RMU busted an eight-spot on Quinnipiac (four from Nathan Longpre) and took an 8-5 win.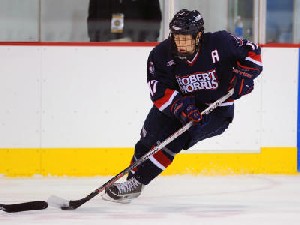 "Last night, we got beat pretty bad, and we didn't want to come out tonight again like that — we wanted to send a message to them," Longpre told USCHO after the game. "I just kept it simple and kept firing the puck on net."
The four goals, along with Eric Levine's 58 saves in net, are a new school record. Longpre tacked on an assist for a five-point night.
Still, RMU coach Derek Schooley wasn't totally ready to give his team full marks on the win. In fact, being that the game was played Halloween night, it only made sense the one word he used to describe the game.
"Scary," quipped Schooley in the same USCHO recap. "We gave up way too many shots and we took way too many penalties, but we played hard, and the things we talked about before the game were the things we did well tonight."
J.C. Velasquez scored twice, Chris Kushneriuk added a goal and three assists and Ron Cramer notched the other Colonials' goal. Cullen Lundholm recorded three assists to boot.
"What an up-and-down weekend," noted Schooley. "We played soft, scared and lost all the 1-on-1 battles on Friday only to do the complete opposite on Saturday. We got great performances from Nathan Longpre and Eric Levine, but also got a great team effort. Dave Cowan and Brock Meadows were excellent in killing five Quinnipiac power plays in the second period Saturday."
This weekend gets no easier as RMU travels to Bemidji State to open CHA play with the 11th-ranked Beavers, undefeated so far this season with a 5-0-1 record.
"Bemidji has been on a roll again this year," Schooley said. "They have built on the excitement of going to the Frozen Four by starting out very strong. They play hard, fast and are very good defensively. Tom Serratore has them playing their systems very well and they have got huge starts from Matt Read, Brad Hunt and Dan Bakala. This will be an exciting challenge in a good hockey environment."
BSU Squeaks Out Two Wins in Huntsville
One heartbreaking loss is difficult enough, but two in the same weekend? By the same score? Against a nationally-ranked team? Both in overtime?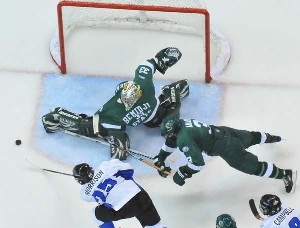 Yeah, that pretty much sums up Alabama-Huntsville's two-game set with Bemidji State last weekend as the Beavers won both by a 2-1 count in the extra session.
Saturday night, Read was the hero with both goals and Bakala stopped 29 shots, only allowing Neil Ruffini's goal early in the third period.
Jordan George assisted on both goals for BSU.
"It was kind of ugly, but we won't apologize for it," Bemidji State coach Tom Serratore said after the game. "You've got to win games like this and I am glad we found a way to win, but we've got to be better than this."
Cameron Talbot kicked out 20 shots for UAH.
Then Sunday afternoon, same old story.
Ben Kinne won it 61 seconds into the OT with a slapper over Talbot's shoulder.
Read had tied the game for Bemidji State with a slick move in tight on Talbot midway through the third.
For the Chargers, Kevin Morrison scored and Talbot finished with 20 saves once again.
UAH is idle this weekend.
Niagara Falls To Cornell, Colgate
New York's non-CHA teams have not been kind to Niagara so far this season.
After getting dumped by Clarkson and St. Lawrence three weeks ago, NU hit the road to No. 6 Cornell and Colgate last weekend and dropped two more.
Friday night at Cornell, Jason Beattie scored his first NCAA goal and Egor Mironov sent the game to overtime, but Joe Devin put NU away in the overtime effort to waste a season-high 38-save effort from Adam Avramenko.
"It was another gritty and gutsy effort by our team on the road in a tough place to play," NU coach Dave Burkholder said. "We stuck to it and nearly pulled it out near the end, but we just couldn't put it away."
The next evening, the Purple Eagles let a second-period lead slip away and Colgate roared back to take a 4-2 victory.
Brothers Marc and Paul Zanette were the goal-scorers for NU and freshman goalie Andrew Hare made 28 saves in his collegiate debut.
"I think this road trip is catching up to us," said Burkholder. "We play this tough schedule to get us ready for March. We have to stay positive, take things from today's game and move on."
This weekend, NU plays a staggered home-and-home with 19th-ranked Massachusetts starting Friday night on the road.
Sunday afternoon's home game is being billed as "Program Pioneer Day," where the 1999-2000 team, including the school's first senior class, will celebrate its tenth anniversary.
Beavers' Recruits Keep Rolling In
Bemidji State got two commitments this week — one from the North American Hockey League and one from the United States Hockey League.
Wenatchee Wild forward Jeff Jubinville and Tri-City Storm forward Radoslav Illo announced their intentions to suit up with the Baevers next season.
Jubinville, a 20-year-old from Edmonton, Alberta, leads the Wild in scoring with 10 goals and 23 points (fifth in the NAHL) through 23 games.
"I'm excited to get the opportunity to play for such a great college hockey program," Jubinville. "I'm looking forward to spending four years there."
Jubinville played the previous two seasons for the St. Albert Steel of the Alberta Junior League. Last year, he recorded 19 goals among 54 points in 61 games.
"Jeff has proven to be a dynamic offensive threat, as well as being very responsible defensively," said Wild head coach Paul Baxter.  "He's also provided us with great leadership."
Jubinville becomes the sixth Wild player on this year's roster to commit to a Division I school — the most of any team in the NAHL — and will join former Wild goaltender Mathieu Dugas at BSU.
Illo, a 19-year-old native of Bystrica, Slovakia, currently leads the Storm with six goals, which also ranks tied for third in the USHL. Last season, he led the Storm with 21 goals and ranked second on the club with 33 points.  
Illo is one of 13 NHL Draft selections playing in the USHL this season after he was picked by the Anaheim Ducks in the fifth round (136th overall) this past June.
"First of all, it's a beautiful campus on a lake and a small college that makes me feel close to everyone," Illo said on his decision. "Bemidji is a solid program and I'm looking forward to attending school there.
"After visiting the campus, I was thrilled that I will be playing hockey at Bemidji. I'm now able to focus on the team (the Storm) and the task at hand with this commitment behind me."
Current USHL player Mitch Cain of the Des Moines Buccaneers is also committed to Bemidji State.
Seven members of the Beavers this season are former USHL players: Jake Areshenko (Fargo Force), Ryan Cramer (Waterloo Black Hawks), Kyle Hardwick (Lincoln Stars), Kinne (Sioux City Musketeers), Tyler Lehrke (Green Bay Gamblers), Chris Peluso (Sioux Falls Stampede) and Read (Des Moines).