You've got three guesses. Pick the team. In Hockey East contests, it ranks No. 1 in scoring, No. 1 on the power play and No. 2 on the penalty kill. (The numbers are similar in overall games.) It can claim a perfect 6-0 record at home.
Go ahead, write down your picks.
No peeking.
OK, here's some more information. So far this year it has a 2-1 record against teams in the last year's Frozen Four and split a two-game set against another recent national champion.
Is that a frown I see on your face?
Getting out an eraser?
OK, so you don't own an eraser. You don't make mistakes. But you're scribbling out those choices now, aren't you?
Now try this one on for size.
Five years ago, this team suffered through a 1-22-1 Hockey East record.
Whoa!
Gotcha, didn't I?
Yup, we're talking about the Merrimack Warriors. They're 6-5-0 overall and 3-3-0 within Hockey East. But that doesn't begin to tell the story. Their .500 league record has been earned while making their way through a gauntlet of Hockey East powers: a 5-2 win over Vermont, a national semifinalist last year; a split with 2008 national champion Boston College; a split with 2009 national champion Boston University; and a loss to the current No. 3 team in the country, Massachusetts-Lowell.
"That's the challenge for everyone in Hockey East, isn't it?" Merrimack coach Mark Dennehy says. "Every team and every coach and every player in the league has it. You're going to be tested on every night. You could be playing against last year's national champion or last year's Frozen Four team or Northeastern who won 28 games last year or a storied Maine program.
"When I took this job, that's the challenge that I relished most. In recruiting a lot of these players, that's what they wanted to be a part of. They want that every weekend. Really, there are no nights off in this league and I think this year that's the case more so than ever.
"For us to be able to have the type of success that we've had so far is great. No. 1, for our players. No. 2, for our students. And No. 3, for our alums. I don't know when the last time this program beat BC and BU back-to-back, if it ever happened at all. That's a tribute to the young men that we have in this program."
When it comes to paying dues, this program has paid and paid and paid. Its record within Hockey East over the past five years reads like this: 1-22-1, 3-19-5, 3-22-2, 6-18-3 and 5-19-3. Small wonder, then, that it hasn't just been fans and alums who have extended early season congratulations to Dennehy.
"You know what's funny?" he says. "I'm convinced everyone wants us to succeed. Even some of our opponents in the league have reached out and shown congratulations, knowing the depths of where we were in 2005. To emerge from that to where we are now, we're a team that's hard not to root for.
"We play David to most team's Goliath every weekend in this league. But there's reason why Merrimack belongs in Hockey East. Most people forget that David won the fight. So we do enjoy that role.
"It really rounds out Hockey East. There's a place for the school with a 20,000-student undergraduate population and there's a place in this league for the small Catholic college with 2,000 students."
Arguably, this year's early success has at least some roots in the agonizing 14 one-goal losses last season.
"That definitely plays a part," Dennehy says. "We knew that we were going in the right direction. There are no moral victories, but after putting yourself in that position enough times you learn where the game changes, where the game is in the balance. We lost them every which way, don't get me wrong, but putting yourselves in that position night in and night out definitely prepares you [for turning things around].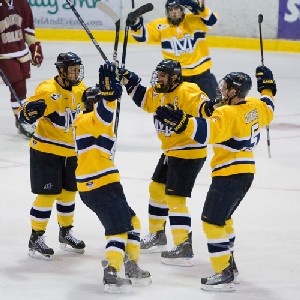 "At every point in a game, there is a moment when one team is sure they are going to win and the other team is not sure. Last year, we were on the wrong end of that, but we usually got to that point later in the game than it had been in the past.
"We're prepared now and I think we're starting to put in a belief system, based on the fact that we were in as many one-goal games as we were last year and based on the fact that we believe we're better this year. Seventy percent of our scoring last year came from our freshmen and sophomores, and that group is now sophomores and juniors. Then you add the freshman class that we added this year and there's a belief.
"Even though a week ago we lost at BU, 6-3, trailing 5-2 going into the third, there wasn't a guy that went on the ice for the third period who didn't believe that we could creep back into that game. The score ended 6-4, but we got it to 5-4 and then they got an empty-netter. That wouldn't have happened a year ago. It would probably have ended up 7-2 or 6-2.
"Our guys are starting to believe and I think the struggles that we went through last year, losing all those one-goal games, have a lot to do with it."
Perhaps even more stunning than the Warriors' success is how they're doing it. In seasons past, if they won, they did so primarily in the defensive zone. Year after year, they finished at the bottom of the league's offensive rankings, posting the following stark goals-per-game averages within Hockey East: 1.71, 1.59, 1.04, 1.78 and finally last season's breath-of-fresh-air, we're-not-last-in-offense, 2.11.
This year, the former 97-pound offensive weaklings have sprouted bulging, well-oiled muscles and are now kicking the sand in former bullies' faces. The Warriors rank first in Hockey East scoring with 4.33 goals per game and roll out the league's top power play, a group that has converted at a 31.2 percent rate. Since the second game of the season, no team has held Merrimack under three goals.
Last year's top line of Chris Barton, Jessie Todd and J.C. Robitaille, who between them total 13 goals, has been augmented by a second line of freshmen Stephane Da Costa (he of five goals in his first game) and Brandon Brodhag along with sophomore Jeff Velleca. The latter trio already accounts for 16 goals despite missing early games.
"It's amazing to me how much different this year's team is from the four teams I coached here previously," Dennehy says. "You don't have to go back too far. In 2006-2007, we played in 34 games overall and scored 37 goals. In our first 10 games this year, we had 40.
"We have a lot more balance. Scoring is a lot easier for us than it has been because of our power play and because of our depth. We feel as if we have three lines now that can score at any moment. We have not had that type of scoring balance since I've been here."
Which isn't to say Dennehy will be content to win shootout wars the rest of the season.
"[Because in past years we didn't score much], we had to play desperate in our own zone," he says. "We were a very tough team to play 5-on-5 and we have to get back to that a little bit. We can't score goals at will; no one in this league can. So now we've got to tighten it up and work a lot harder in our own zone and eventually win more 3-2 games and fewer 6-3 games."
Although the tightening has yet to happen in the five-on-five defense, the penalty kill ranks second in Hockey East games and third overall. The only concern is how often it gets to show its prowess. Among all its other firsts, Merrimack also leads Hockey East in overall penalty minutes (17 per game).
"The penalty kill has been pretty good," Dennehy says. "It starts and ends with the goaltender and we have two pretty good ones in Joe Cannata and Andrew Braithwaite.
"What we need to do is be smarter 5-on-5 and not take so many penalties. Penalty kill is an interesting situation. Even when you have a good one, you don't want to tempt fate by taking too many. I don't think there's been a game — maybe one — where we've gotten more power plays than we've had to kill. We have to do a better job in that area, for sure, but we know when we need to kill them, we're capable."
Merrimack can keep its momentum going with the next two games at home, where it is a perfect 6-0, but then must go on the road for seven straight games. The Warriors have yet to export their success to other teams' rinks, but there's a big asterisk that goes with that negative shutout.
"Our away record has a lot to do with who we've played," Dennehy says. "We played two games at North Dakota, then at BU, at BC and at Lowell. I would put that up against anyone's away schedule in the country.
"And we didn't play poorly in all those games. I'm thinking of the 3-2 loss at North Dakota. We played really well. [Even in the 6-3 loss] at Lowell last weekend, we played pretty well for large stretches of that game but Lowell was very opportunistic. So I think our away record has more to do with our opponents."
And as for defending home ice at the J. Thom Lawler Arena …
"You know, people talk about defending home ice," Dennehy says. "We attack home ice. We don't defend it.
"We recognize that a lot of teams in our league don't like coming to our building and we're fine with that. The only people we want to be comfortable are the players on our team, the students and the fans. Beyond that, we're very content with teams not being comfortable in our arena. We always thought it could be a home-ice advantage. We're a blue-collar team with a blue-collar rink.
"So we don't defend it, we attack."
Which is how Dennehy intends to approach the rest of the season. There will be no resting on laurels that are a mere seven weeks old.
"You're only as good," Dennehy says, "as your last game."