First and foremost, Happy Thanksgiving!
As is the norm for this space on this date every year since 2005, it's time to look at the teams that make up College Hockey America and make note of what each team is thankful for on this Turkey Day Eve.
First off, each team needs to look in their respective mirrors and realize that Division I college hockey is, in the grand scheme of things, a very small, tight-knit fraternity. Be thankful you all have the chance to play this great game at such a high level.
Be thankful for all four coaches — all class acts and very media-friendly.
Be thankful for all the behind-the-scenes people — ADs, equipment managers, trainers, Zamboni drivers, people like that who make the game happen.
Alabama-Huntsville
Be thankful for this season. Be thankful for reversed decisions because if utopia exists within college hockey, you'll be CCHA-bound in two years. Be thankful for warm winters — a huge recruiting tool. Be thankful for saveUAHhockey.com and all your supporters out there in the south and across the country.
Bemidji State
Be thankful for the talent you have this season. Be thankful for the WCHA saying "yes" in admitting you for next season. Be thankful for being one of two teams in the country with 10 wins. Be thankful for the new barn you'll have soon enough. Be thankful for Beaver Nation. And be thankful for Matt Read, as he could be the next Matt Dalton and find NHL greenery.
Niagara
Be thankful that the season is longer than the first six weeks and more wins are to come. Be thankful for the best jerseys and color scheme in the CHA. Be thankful for campus being located in one of the most beautiful parts of New York. Be thankful for three goalies that can all bring it. Be thankful for sunny days after rainy days.
Robert Morris
Be thankful for the tough schedule you've played so far. It will only make you stronger in the long run. Be thankful for Brooks Ostergard keeping you in many of your games. Be thankful for players like Denny Urban and Nathan Longpre and the emergence of Chris Kushneriuk. Be thankful for being a young program with a bright future.
Personally, I'm thankful for the most supportive wife on God's green Earth, Stephanie, and the two most perfect kids in our 4-year-old, Ethan, and 2-year-old, Wyatt. Oh, and our crazed, neurotic dog, Eddie. I'm also thankful for the wonderful families I am a part of, the delicious feast we'll all gorge ourselves on Thursday, meatballs included, and the joys that the impending holiday season bring.
Happy Thanksgiving!
Beavers Sweep UAH Convincingly
Bemidji State hosted UAH for their last-ever trip to Bemidji and took four points from the Chargers, outscoring UAH 12-4 in the process.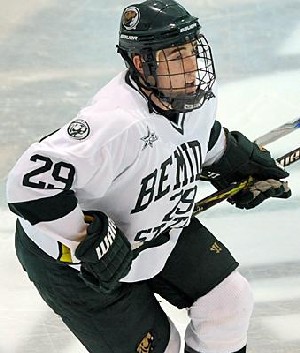 In Friday night's 6-1 win, Jordan George had a goal and two assists to lead the attack and Dan Bakala made 25 saves for the win. Ian Lowe chipped in a goal and a helper as well.
Brennan Barker was the lone Charger to beat Bakala. Cameron Talbot (who also assisted on Barker's goal) made 17 saves before giving way to Blake MacNicol early in the third period. MacNicol finished with four stops.
Saturday night, Brad Hunt tallied four points to lead the Beavers to a 6-3 victory over Huntsville. The defenseman's three-goal, one-assist night was the first hat trick by a BSU blueliner since March 13, 2004, when John Haider did it.
Mathieu Dugas made 28 saves in goal for BSU, while MacNicol and Talbot combined for 21 at the other end.
Andrew Coburn, Cale Tanaka and Kevin Morrison scored for UAH.
Robert Morris Battles, CC Takes Both
Taking on another ranked team, Robert Morris never gave up at then-No. 7 Colorado College, but dropped both to the Tigers.
Ostergard made a career-high 46 saves in Friday night's loss that saw Mike Testwuide score at 15:20 of the third period to give CC a 4-3 win.
Scott Kobialko scored two goals for RMU and Trevor Lewis, making up for his missed penalty shot 1:46 into the game, also scored.
In Saturday night's contest, the Tigers took a 4-1 win over the Colonials.
J.C. Velasquez scored RMU's lone goal, while Ostergard and Eric Levine combined for 36 saves.
"We played hard on Friday night, but a few costly mistakes hurt us," said RMU coach Derek Schooley. "We got excellent performances from Trevor Lewis and Scott Kobialko and Brooks Ostergard was very good in net. On Saturday, we played even with the Tigers for the second and third periods, but a poor start really hurt us. We never stopped competing and battling all weekend long."
Next up for the Colonials is a home game Wednesday against Niagara.
"We had an excellent series two weekends ago and this game will be no different," Schooley said. "They were finally rewarded last week with a win over RPI, so they are playing with more confidence. We want to go into Thanksgiving break on a positive note. We are finally excited to start being able to stay close to home until after the New Year. We have had a tremendous amount of travel and hopefully this has prepared us for CHA play. "
BSU Picks Up Another From NAHL
Bemidji State keeps loading up top-flight prospects for its first season in the WCHA next year and added another this week in Marquette Rangers forward Garrett Ladd.
Ladd, the team's captain from Fenton, Mich., leads the Rangers in scoring through 18 games this season with 22 points on eight goals and 14 helpers.  Ladd is also ranked in the top 20 in overall North American Hockey League scoring.  
"I'm excited about the chance the coaching staff at Bemidji is giving me," said Ladd.  "Like all of us who play juniors, it's been a lifelong dream of mine and my family to play D-I hockey, and I'm going to make the most of this great opportunity."
For his career in Marquette, the 20-year-old Ladd has 34 goals and 65 assists for 99 points in just over two full seasons.
"Garrett is the type of player that every coach loves to coach," said Rangers head coach Kenny Miller.  "Garrett competes in every way possible, both on and off the ice. He's a tireless worker and he deserves this opportunity."
Ladd is also the first Michigan native to sign with BSU since the program achieved Division I status 10 years ago.
"As an organization, we couldn't be happier for Garrett and his family," Miller added. "His hard work these past three seasons, both on and off the ice, have really paid off for him. Not only is Bemidji State getting a top recruit as a player, they're getting an even better young man."
He Said It
"I know that in my role as a senior, as a senior captain, I had to step up and play a bigger role and be a leader on this team. I just started taking it day by day. Control what you control. I've just worked hard and when you do that, you get rewarded." — NU forward Ryan Olidis, to the Niagara Gazette