A Rare Feat
Scoring a hat trick is an accomplishment to be proud of. Scoring a natural hat trick (three consecutive goals without anyone on either team scoring during that time span, and some would say it has to happen in the same period) is an even greater achievement, though it does rely on a bit of luck — all the other players have to avoid scoring during that span.
Scoring a hat trick with all shorthanded goals puts you in a very elite club. Doing so with a natural hat trick puts you in a group small enough to fit in my MINI Cooper.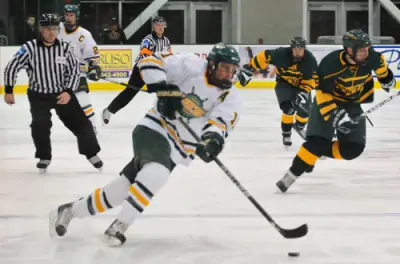 Senior assistant captain Neil Musselwhite of Oswego wowed the college hockey world by scoring three shorthanded goals in a span of 2:59.
The first two goals came on the same power play within 11 seconds at the end of the second period, one low stick side and the other off a deflection. The third goal came early in the third period as Oswego pounded Brockport, 10-1. Musselwhite also scored an even-strength goal in the first period for a total of four tallies on the night.
"Pretty impressive effort," Oswego coach Ed Gosek said. "He was a dominant player. It wasn't like they were flukes. They were hard working, winning 1-on-1 battles, and then taking off. If he isn't one of the fastest players in college hockey, Division I or Division III, he's got to be up there. What makes it more remarkable is the timeframe. And actually, he had a chance to get a fourth, and he shot it wide."
Musselwhite now has eight goals and seven assists for the year for a career total of 29-26-55 in 91 games. However, it's not just his performance on the ice that helps to contribute to Oswego's success.
"It's a credit to him," Gosek said. "He's a type of guy that accepted his role, took pride in it. He's the kind of guy you want all your players to be. Good in the classroom, in the community, works his tail off in the weight room. He's the strongest player pound for pound. Never takes a practice off."
How many college players have performed this shorthanded achievement is not easy to find. The NCAA Division I record book lists the record for shorthanded goals in a game as three, so that list is readily available. There are seven D-I players to have done so, including one just a few weeks ago. But even then, the number is a bit nebulous.
NCAA records prior to 1995 relied on information submitting to the NCAA by the schools themselves. And the 2010 record book doesn't include a shorthanded hat trick performed last year. How many others are missing?
Two of them did it with a natural hat trick — Zach Harrison of Minnesota State last year (scoring one goal a period with the last on a rink length empty netter) and C.J. Young of Harvard in 1988 (the only player to score his three goals all on one penalty, a minor penalty, which spanned over the second intermission, within 49 seconds).
The record in Division III is four shorthanded goals by David Garofalo of New England College vs. the Massachusetts College of Liberal Arts (MCLA) in 1988, which means there is no easy to find out if anyone else scored a shorthanded hat trick. Then, there is the question did anyone do so back from the Division II ranks, as I could not find any sort of records for those years?
Thus, what we know for sure is at least nine players have scored a shorthanded hat trick in men's college ice hockey. Only three of them have done so with a natural hat trick. No matter what the true list is, Musselwhite's is indeed a rare feat.
Midseason Review
The SUNYAC conference schedule is now half over. The first semester may have been short, but there was plenty of excitement and surprises to fill a season's worth.
The two top teams in the league, Oswego and Plattsburgh, have performed so well, a week ago their success placed both of them in a tie for the nation's No. 1 ranking.
"It's a pleasant surprise," Gosek said. "If you told me with 12 rookies and two transfers we'll be 8-0 in the league, I'll be happy to believe that. We have a long way to go. We keep talking long term. We're happy right now, but we think we can continue to improve, get better, compete every night."
One of the biggest question marks heading into this season for nearly every team in the league was netminding, and Oswego certainly fell into that category.
"Our biggest question mark going into the season was our goaltending," Gosek said. "I think Kyle [Gunn-Taylor] and Paul [Beckwith] both have proven they're very capable goalies for our team, so we're pleased with that."
Beckwith (2.50 goals against average, .906 save percentage in conference) started out as the number one netminder, but an injury gave Gunn-Taylor (1.34, .939) a chance to see 75% of the conference starts. They have combined for a league leading low 13 goals allowed in eight games.
The goaltending, added to a league high of 51 goals scored, combined with a Lakers win at Plattsburgh has given Oswego a three point advantage over the Cardinals.
Despite sitting in second place, Plattsburgh has been just as impressive. More so when you consider they had the biggest question mark in net, having to replace someone as solid as Bryan Hince. Bob Emery stated on WIRY's 'Behind the Bench' that he is very happy with both his freshmen goalies who split evenly the conference action, Josh Leis (2.12, .946) and Ryan Williams (1.25, .946). All told, Plattsburgh has 13 freshmen.
"I thought our defense has played well," Plattsburgh coach Bob Emery said on 'Behind the Bench'. "I thought our forwards have played well. We need to improve on our power play and that will improve our scoring output."
Just like in the standings, they are also second to Oswego in many conference categories: offense, defense, and net special teams.
The Cardinals are going to need some help in playing catch up to Oswego.
"They played some tough road trips early, so their schedule is easier in the league than it was in the first semester," Bob Emery said. "The only road trip they have left in the league is Brockport, Geneseo, [and Morrisville]."
Fredonia started out slow, losing the first two SUNYAC games, and got stronger, winning five of their last six, averaging five goals a game in those victories which has them in third place at the midway point. Pat Street (3.93, .879) has seen most of the action in net as James Muscatello paces the team in scoring (6-5-11 in conference play).
"Musco is 20 pounds lighter than he was a year ago," Fredonia coach Jeff Meredith said. "He's stronger than he was a year ago. He's reaping the benefits of a lot of his hard work. He's a great leader. He sets the bar and that brings everyone else up."
Potsdam has also gotten stronger as the semester has gone on. In fact, the Bears may be the sleeper team in the second half.
"They're a big, strong, tough team," Utica coach Gary Heenan said after facing Potsdam in a weekend series. "I think they have a really nice team. Their first line is tremendous. I think that goalie that played tonight played really, really solid. Everything hit him in the chest which is a credit to him."
That goalie Heenan is referring to is freshman Andy Groulx. He has played just two games, both nonconference (Skidmore and Utica), and has performed splendidly. However, Trevor O'Neill, who had a so-so freshman year, has also been outstanding in his second year, getting stronger with each start. So good in fact, he has not lost the starting job to the up-and-coming Groulx.
"I think we got a great situation in our net," Potsdam coach Chris Bernard said. "Both guys are playing great. There are two guys behind them that are quality goalies that people haven't seen yet. Trevor is our guy. It's nice to know that we have some guys who continue to push for opportunities."
Starting from fourth place down, it's a tight fit. Potsdam is one point ahead of Brockport, Cortland, and Geneseo. And those three teams are two points ahead of Buffalo State and Morrisville.
Brockport and Geneseo are not doing as well as some thought, and Cortland is doing a bit better than many figured.
Geneseo is last in conference scoring with only 18 goals, but they are third in goals allowed at 27.
"It's frustrating because I think we're playing well," Geneseo coach Chris Schultz said. "When your offense is anemic, you have to make sure you're playing great defense. We're playing pretty darn good defense. We're blocking a lot of shots, doing a lot of good things. There just has to be a focus on placing pucks on the net, getting our power play to at least getting some chances."
The key to keeping the puck out of the net has been Adrian Rubeniuk, third in save percentage (.922) and fourth in GAA (2.38).
"I think we're in good shape [in net]," Schultz said. "Rubeniuk for a while there was top five in the country in save percentage, making the big save when we need it. And [Cory] Gershon before he got hurt, he was playing extremely well, too. If you give us the goaltending that we're getting now and the offense that we had last year, there is a good chance that we only have three losses on the year. That's the way the game is. You've got to put the pieces together. Every single piece."
That what every team will be trying to do for the second semester. If the first semester is any indication, we're in for some huge battles for the top dog, home playoff spots, and playoff berths.
SUNYAC Short Shots
Nick Petriello scored a pair of goals to lead Buffalo State over Morrisville, 6-4 … Joey Christiano scored the first and last goals for Cortland as the Red Dragons scored four unanswered markers en route to a 5-3 win over Geneseo … Potsdam tied Plattsburgh by scoring three third period goals after falling behind, 3-0 … Eric Selleck scored the game winner midway through the third as Oswego beat Geneseo, 4-2 … Fredonia jumped out to a 4-0 lead thanks to two goals by Marc Deeley as the Blue Devils beat Morrisville, 5-2 … Brockport beat Cortland, 2-1, on goals by Tom Galiani and James Cody … Oswego fell behind Utica 2-0, took a 3-2 lead, fell behind 4-3, before scoring two third period goals to win 5-4.
Game of the Week
With the holiday break coming and this column going on hiatus until the first week of the new year, there are a lot of weeks to look ahead.
Two SUNYAC schools will be hosting strong tournaments and another will be competing in a tough tournament.
The Cardinal Classic has been a long time tradition as Plattsburgh takes on Castleton New Year's Day and then plays either Trinity or Skidmore.
The Oswego Pathfinder Classic may not have been around as long, but it has been gaining a strong reputation. The organizers always try to get a team from a different conference, including a western foe. This year, Oswego faces Connecticut College while Elmira takes on the Milwaukee School of Engineering (MSOE) in the first round on the day after New Year's. I'm sure most fans would love to see an Oswego-Elmira final for what would be a third meeting this year between these schools.
Potsdam competes in the Times Argus Invitational at Norwich, facing New England College on New Year's and then either the host or Curry. This will be an excellent measure of Potsdam's improvement this season. Morrisville also competes in a tournament, the Saint Michael's Holiday Tournament. In a predetermined scheduling format, the Mustangs first face the host school, and then coach Brain Grady's alma mater, Hamilton.
As for individual contests, two stand out. One is Manhattanville at Geneseo this coming Sunday. Both teams have struggled lately. Manhattanville has lost four of their last five with Geneseo dropping four of their last six. Something has to give this weekend.
Finally, there is the Plattsburgh at Norwich game to wind up the schedule during the break. Not knowing how the tournament matchups will turn out, this is the game of the week break. These two longtime powerhouses settled nothing in the Primelink final, tying 1-1, also at Norwich. They get another shot, and fans will be eagerly waiting.
On The Periphery
As I was attempting to research the players who have scored a shorthanded hat trick, I was tremendously disappointed in the lack of proper record keeping by the NCAA for hockey. Part of the reason is the NCAA did not formally keep track of hockey records and statistics themselves until relatively recent. Therefore, they had to rely on whatever the schools and conferences did, and in many cases, some of these schools and conferences don't even exist anymore. Thus, some of those records, and their histories, are probably lost forever.
As always, some sports received much better treatment, such as football and basketball. But even in these sports, the NCAA did not officially keep track of numbers from the very beginning. They just don't have as big of a potential gap as hockey does.
Then, there are the women's sports where the NCAA doesn't even acknowledge those schools when they played as a member of the Association for Intercollegiate Athletics for Women (AIAW). It's as if those teams never existed.
Potsdam had one of the top women's hockey programs in the country back in the early 80s, regularly playing NCAA Division I schools and beating them quite often. Yet, according to the NCAA record books, Potsdam's team did not exist back then because they were a member of the AIAW. Sadder, most people, even diehard college hockey fans, are totally unaware that one of the greatest woman players in college history, Kathy Lawler, played at Potsdam, and holds scoring records that are unmatched by today's players — records that the NCAA does not acknowledge.
Finally, there are the individual schools and conferences, whose record keeping is widely disparate. At times, it comes down to individuals whose love for the game commits them to gather records and statistics on a particular topic. One such person did just that, compiling a thorough database of SUNYAC records and statistics. More on that effort next month.
It's a shame a piece of the sport will never be recovered or acknowledged by the NCAA. But, a lot can be restored and accepted. We owe it to the history of the sport to do just that, regardless of what the NCAA has been able to do or limited us to see.