Last week, we discussed how Bemidji State was becoming mortal again.
Last weekend, the Beavers perhaps took notice of their slump and came out with a two-game sweep against then-No. 4 Minnesota-Duluth in a home-and-home series.
"This was important because UMD is in the WCHA and they've been ahead of us in the rankings," BSU goalie Dan Bakala said to USCHO. "To get two wins will give us more confidence."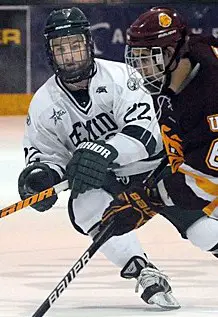 Friday night in Bemidji, Ian Lowe popped two goals and an assist, while Brance Orban and Brad Hunt also scored to back Bakala's 29 saves.
"When we forecheck like we can, there aren't a lot of teams that can stay with us," said Lowe, also to USCHO. "Our team starts with our goalie and then we'll block as many shots as we can. We don't give the other team a lot of room."
The next night in Duluth, trailing 2-1 after two periods, Bemidji State tied the game three times in the game's final 13 minutes and Jordan George would need less than a minute of extra time to steal the 5-4 win.
Ben Kinne sent the game to overtime with a goal just before the horn.
BSU captain Chris McKelvie, Matt Read and Lowe, with his fifth goal in five games, were the other goal scorers.
Bakala made 31 stops.
"This was unbelievable and I can't say enough about the character of this team," Bemidji State coach Tom Serratore said to USCHO. "They just willed themselves to win and our goaltender was our best player."
"We didn't do a lot of smart things with the puck; we played way too loose," UMD coach Scott Sandelin said in the same USCHO recap. "We gave the puck away, and they played hard for 60 minutes, and we didn't get the goaltending we needed in either game. It seemed as though the games meant more to Bemidji's players than ours. They played well."
BSU hosts surging Robert Morris this weekend.
Niagara Gets Three at Quinnipiac
Niagara came into last weekend's series at Quinnipiac owning a 10-2-0 all-time series advantage.
Needless to say, it was pretty much a given that the Purple Eagles would take the series and that they did, with a 6-2 win Friday night and a 3-3 stalemate Saturday night.
In the series opener, NU used six different goal scorers — Wes Consorti, Chris Moran, Dan Baco, Paul Zanette, Jason Beattie and Bryan Haczyk — and 48 saves from Andrew Hare for his first career win.
"We played a solid road game today against a good team," NU coach Dave Burkholder said. "In a nice facility against an ECAC team, we came out and played to our potential."
Down 3-1 going into the third Saturday night, David Ross and Consorti scored within the first two minutes to gain the tie.
Tyler Gotto also scored and Chris Noonan made a career-best 55 saves in net.
"The courage I saw from the guys in the third period says a lot about who is in our locker room," Burkholder said. "We had to come out and fight hard for 20 minutes, and we did just that."
The Purple Eagles are back in action this weekend when they travel to take on CHA rival Alabama-Huntsville in the final conference series between the two teams in Alabama.
Robert Morris Gains Point at Colgate
Robert Morris cooled off a bit last weekend with a loss and a tie on the road at Colgate.
Zach Hervato managed RMU's lone goal in a 4-1 loss Friday night.
Brooks Ostergard finished with 28 saves in a losing effort.
"Colgate was more intense and mentally ready to play from the start; we were not," Robert Morris coach Derek Schooley said. "We got better as the game went on, but the first period made the difference."
Saturday, the two squads battled to a 3-3 tie.
The Colonials held a 3-2 lead going into the final minutes, but Austin Smith scored at 19:11 with an extra attacker to force the game into overtime and ultimately to the tie.
Eric Levine made 28 saves for the Colonials.
"I was very pleased with our complete effort and willingness to battle," Schooley said.  "We played much better tonight and we deserved a better fate."
Andrew Blazek, Stefan Salituro and Josh Jones scored for RMU, which travels to Bemidji State this weekend.
"Their M.O. is puck possession and puck pursuit," Schooley said on rmucolonials.com. "They're an up-tempo team that plays with speed and plays very well down low.
"It's going to be fun, but it's going to be challenging."