If this story is as dull as the Beanpot opener, you'll be asleep before the next paragraph.
You still there?
Sadly, only one team showed up for this first half of the Battle for Boston. Harvard wasn't the team.
The word coming out of Cambridge was that the Crimson had recovered from their 2-10-2 start and were playing much better. Witness their three straight wins in the middle of January over Yale, Dartmouth, and Union. For the uninitiated, two of those victories were certified major upsets. At the time, Yale and Union were ranked fifth and 13th in the country, respectively.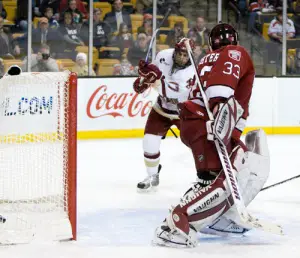 Despite a tie at Rensselaer and a 2-1 loss to Princeton since those three heady wins, Harvard seemed poised to at least make a good showing against 14th ranked Boston College.
So much for that idea.
Several minutes into the game, BC held a 1-0 lead and had outshot Harvard, 7-2. In fairness, the Eagles had enjoyed two power plays, the second of which they scored on. But those man advantages had been fairly won as the Crimson couldn't match BC's speed. Chasing after guys you can't catch, especially in your own zone, isn't a recipe for winning hockey.
When BC fans began chanting during one TV timeout, this writer interpreted the words as "Please start playing!" That would have been one of the most creative, and at the same time stunningly accurate, chants of all time.
Sadly, it was too good to be true. The fans were merely berating the Harvard band, begging it to stop playing.
Yours truly, however, was hoping that Harvard would in fact get off the stick and give BC a game. Exciting games are fun to watch and a lot more fun to write (and to read) about. Boring games, not so.
And this one seemed decidedly one-sided even though the first period ended with the score just 1-0.
Nonetheless, hope springs eternal, doesn't it? Santa Claus really is working on next year's toys, every last one of us will find our soul mates and live happily ever after, and that last piece of carrot cake in the press room had a fighting chance even after I spotted it.
Harvard's hopes lasted all of 18 seconds into the second period. Matt Price scored and the Crimson were for all intents dead men walking.
Pat Mullane made it 3-0 eight minutes later, Chris Kreider widened the gap further in the third and when BC went on a five-on-three, the pallbearers began limbering up. Brian Gibbons and Carl Sneep completed the romp with two power-play goals, finalizing the score at 6-0.
In short, quite the snoozefest. A jaded observer might even wonder if the misconducts taken by two Crimson players late in the third period were subconscious attempts to escape the fait accompli.
Perhaps Boston College will dominate all other teams every bit as thoroughly down the stretch and no blame should be sent Harvard's way. The Eagles are, after all, a very talented bunch.
But in the Beanpot, teams are supposed to rise to the occasion. The Crimson presumably tried as hard as they could but … well, the outcome wasn't pretty.
"I don't think we gave ourselves a chance to win," Harvard coach Ted Donato said after the loss. "They beat us to all the loose pucks. They used their speed to force us into taking penalties.
"They were able to make us play the game they wanted to play. Their speed put us back on our heels. They were able to pin us in our zone and get the matchups they wanted."
Harvard's academic reputation, of course, is that regardless of its athletes' won-loss record, they will still go on to be the country's leaders and captains of industry. Assuming that to be true, one can only hope that their success in "the real world" won't reflect their on-ice results on this evening.
Otherwise, our grandchildren will all be speaking Chinese.