A First and a Return
Last year, I used the above headline after the play-in round. It is just as appropriate this year.
Last year, it was Brockport making it to the semifinals for the first time after their first ever playoff win and Geneseo returning. This year, Brockport is the team returning to the semifinals, while Morrisville makes their first appearance after their first ever playoff win — in their first ever playoff appearance.
Morrisville coach Brian Grady said after losing to Fredonia on Saturday, "[w]e really wanted to get at least a point or a win tonight to jump ahead of Potsdam. It meant that we would have made the playoffs regardless of the sanctions."
However, like someone once taught me early in my professional career, it doesn't matter how you got the job, it only matters that you make the most of it once you have it.
To say Morrisville made the most of their opportunity would be the understatement of the Division III season. The Mustangs shocked Fredonia at 4:05 of overtime when Nick Kulas scored the most important goal in program history, to come away with a 3-2 victory.
After a scoreless first period, assistant captain Jeff Aonso gave the home team the lead at 1:55 on the power play. That held for almost 10 minutes when Jonathan Cristini tied the game. Forty-four seconds later, Fredonia was back on top thanks to Jordan Oye.
Morrisville never panicked, and at 2:27 of the third period, Rob Sgarbossa re-tied the game. Morrisville outshot Fredonia in the third period, 19-7. Fredonia had more shots in the extra period, 5-3, but the Mustangs' third shot was all that mattered.
Caylin Relkoff made 39 saves to once again lead his team to a big win.
"We're happy with the fact that we qualified in the first season of eligibility. To me at this point it lends legitimacy to the program," Grady said.
Morrisville took another huge step up the legitimacy scale.
Brockport's 3-0 victory over Potsdam was very similar to last year's playoff win over the Bears. The Golden Eagles played a controlled, defensive game to make Todd Sheridan's job easier than he normally needs, making 27 saves. The shutout was his third of the year, fifth of his career.
"It was great for Todd to get a shutout because it's a great memory for him, but really that was a team shutout," Brockport head coach Brian Dickinson said.
The Golden Eagles got a goal a period from captain Justin Noble with 40 seconds left in the first, James Cody midway through the second, and Cody again on an empty net.
Thus, for the second year in a row, Brockport goes to the semifinals with 14 overall wins. The Golden Eagles have been 8-3-1 since January 15.
For Potsdam, after some solid midseason performances, the last two months have been a disappointment, going 2-8 overall and 2-7 against SUNYAC teams, letting up 5.4 goals per game in those 10 contests, including 10 goals in a game twice.
"I think some bad habits caught up to us," Potsdam head coach Chris Bernard said. "When you win, it's easy to cover up mistakes. As the season progressed, our detail work wasn't quite as good, and we were paying the price for it."
Helping Others
This past weekend, two big fund raising games took place.
Fredonia hosted their third annual Pink the Rink event, their most successful one yet, thanks to a twist to this year's jerseys. Instead of auctioning them off, they sold them to anyone who wanted to put a loved one's name on the back.
"There was a lot of emotional attachment by the people in this building tonight because of the jerseys," Fredonia head coach Jeff Meredith said. "The presentation at the end — you had entire families, classes of school children coming out. Cancer is something that affects all of us. They wanted to see their loved one's jerseys on someone's back."
The event raised $8,100 for the American Cancer Society, and may reach $10,000 when the final tally is added up.
The event has become so successful, it actually has trouble getting publicity.
"I called the Associated Press and he was very instrumental in helping us promote our Pink the Rink the first time we did it with the jerseys and socks," Meredith said. "He said to me, 'I really can't sell it to my editor because so many people do it. That's the bad news. The good news is what you created through the Pink the Rink, so many people have copied it. That's such great news.'"
The day before, Brockport hosted the Saves for a Cure event, founded by their senior goalie, Todd Sheridan. The team wore special black uniforms with the cause logo on the front, which were auctioned off before and during the game.
The auctions and other fund raising activities as well as proceeds of the ticket sales being donated brought the total to over $3,400. Appropriately, Sheridan's jersey received the highest bid at $300. The money will be donated to help make as comfortable as possible the hospital stays of children undergoing cancer treatments at the James P. Wilmot Cancer Center in Rochester.
"A smashing success," Dickinson said. "This was the second year of doing the Saves for a Cure. Friday night, it was a great night. We had a great crowd. Nice for us to be able to help Todd and what he is doing for the Wilmot Cancer Center."
It is this effort that got Sheridan nominated for this year's Humanitarian Award.
SUNYAC Short Shots
David Arduin scored twice as Geneseo beat Cortland, 7-3, … Plattsburgh overcame a 2-0 deficit to beat Potsdam, 7-3 … Eric Selleck scored twice to lead Oswego over Brockport, 4-2 … Morrisville scored two goals within 26 seconds in the first period en route to a 4-2 win over Buffalo State … Geneseo upset Oswego, 3-1, to go 6-0-1 down the stretch as Cory Gershon made 33 saves … Matt Hehr got two goals as Fredonia beat Morrisville, 7-1 … Assistant captain Sean O'Malley got two in the second period to help Brockport beat Cortland, 4-2.
Semifinal Previews
Single game elimination with 20 minute sudden death overtime periods, if necessary.
(All statistics in the previews are for conference play only unless otherwise stated.)
Brockport (7-8-1 in SUNYAC, 14-11-1 overall) at Plattsburgh (13-2-1, 17-4-4)
Everybody was expecting to see Brockport in Oswego once they got past the play-in round. However, thanks to Morrisville's surprise, the Golden Eagles once again go to Plattsburgh like last year.
Plattsburgh may not be the juggernaut they were a year ago, but this year's version of the Cardinals is still intimidating and it's never easy playing in Stafford.
The Cardinals play a very disciplined game: they are the least penalized team at 11.8 minutes per game. And when they do give up a penalty, they usually don't get scored upon with the second best penalty kill at 84.7%. They have given up 11 power-play tallies while scoring four shorthanded goals.
Though Plattsburgh has struggled to score this year by their standards, they are still second best in conference play at 4.75 per game. They also have the second stingiest defense at 1.88 despite at times struggling goaltending amongst two freshman.
Ryan Williams seems to have taken the top spot, finishing up with a league best 1.64 goals against average and .927 save percentage.
Of course, on the other end, Brockport has both experience and the SUNYAC First Team goaltender in senior Todd Sheridan (3.50 GAA, .903 save pct.). Brockport doesn't score much (2.69 per game), but they have been upping those numbers recently, getting 3.25 in the second half of the season.
Dickinson wasn't too concerned about where he ultimately had to go.
"Wherever we go, we'll go in and give our best effort," he said. "I think the Friday game against Oswego [a 4-2 loss] really proved to our guys we can play with the big boys."
They will have to perform at that level as they previously lost to Plattsburgh, 4-1 and 7-1, this season.
Morrisville (5-11-0, 9-16-0) at Oswego (15-1-0, 23-2-0)
Morrisville's reward for upsetting Fredonia is to get to play Oswego, a team that has been ranked number one nationally most of the year, and is currently in ranked second.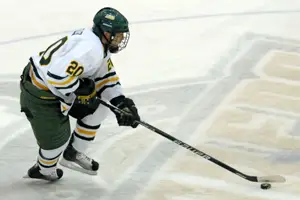 A team that has the nation's leading scorer in Eric Selleck at 2.08 points per game (20 goals, 30 assists, 50 points) and four of the top six conference scorers: Selleck (14-25-39), Chris Laganiere (14-16-30), Justin Fox (5-22-27), and Jon Whitelaw (8-14-22).
Don't forget having a goaltender, Kyle Gunn-Taylor, who's tied for the best save pct. (.927) and with the second best GAA (1.69).
They also have the best offense (5.44 goals/game), best defense (1.74), best power play (28.1%), and best penalty kill (86.8).
Perhaps the only flaw with the Lakers is their second highest number of penalties per game (18.8).
That's something Morrisville can take advantage of as they have the fourth best power play, clipping along at 20.0%. And of course they have Caylin Relkoff, whose numbers may not be that great due mostly to the simple fact his team has been overwhelmed in some games. However, no one in the league underestimates him. When Morrisville lets up three or less goals, they've won every time but once.
The most interesting stat concerning Morrisville is how well they do in the first game of the weekend. Eight of their nine wins came when they weren't coming off another game, going 6-6 in such situations. The only exception was when they beat Geneseo in overtime back in November after losing to Brockport the day before, also in an extra frame.
It was most consistent down the stretch. They beat Potsdam, then lost to Plattsburgh. They beat Cortland, then lost to Oswego. They beat Buffalo State, then lost to Fredonia. On Tuesday, after not playing the day before, they beat Fredonia. Of course, they are coming into Saturday's game against Oswego without having to play on Friday.
"It's a one game season, so throw the records out," Grady said before the first round.
It's also a one game weekend. . . .