It Took Some Work
I finally caught my breath. I think.
The Oswego-Morrisville semifinal game was quite a roller coaster. From thinking you were witnessing a major upset to seeing Oswego declare enough is enough, scoring five straight goals for the comeback.
"The positive is some other teams, some other years, there would have been some finger pointing, some blaming of someone, but there was none of that," Oswego head coach Ed Gosek said. "We told them afterwards, it wasn't pretty. But the ability to come back, to hold together, not come unglued, not take stupid penalties, not get running around, not get selfish, not self destruct, that's a positive sign for the team and what they accomplished this year."
The Mustangs scored three goals within 1:53 for the shocking, early 3-0 lead, chasing Kyle Gunn-Taylor out of the net. Oswego scoring two goals late in the period were a key factor in making sure their opponents didn't get any ideas.
"That was huge," Gosek said. "So now going into the second period, you have some momentum. They clearly came out at us hard in the first. So for us to answer that, I thought was huge."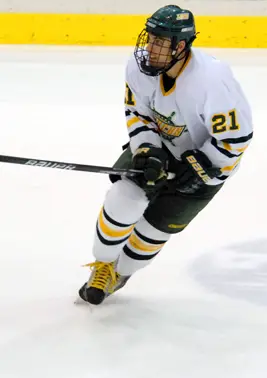 After Tyler Leimbrock completed the hat trick to knot the game at four apiece after two periods, the other key moment in the game came 27 seconds into the third when Neil Musselwhite scored his sixth shorthanded goal by blowing by two Morrisville defenders for the breakaway.
"Pretty special kid as far as his speed is concerned," Gosek said. "We certainly hope he gets in that Frozen Four Skills Challenge. Tonight is an example of what his speed can do. He's come through in clutch times for us."
"Big goal there starting the third period," Morrisville head coach Brian Grady said. "Musselwhite just turning on the jets and beating our guys. That set the tone for the third period."
The tone was Oswego outscoring Morrisville, 4-1, the last an empty net shorthander, to win 8-5.
The performance showed Morrisville's upset of Fredonia earlier in the week was no fluke.
"Credit to them, they played extremely hard," Gosek said. "I can see why they upset Fredonia. They play hard, they're opportunistic, and they got great goaltending."
"All in all, I love this team. There's all fight in them. There's no quit in this group," Grady said. "We made a statement. There were probably 32 people in this building who expected us to be here. Our guys believe that we deserve this, that we should be here. There is absolutely a winning feeling in that room. We made a huge, huge step forward this year. There a young, talented, hard working group of guys. The confidence is sky high for next year."
Meanwhile, up in the northeast corner of the state, Plattsburgh defeated Brockport, 5-2, also with an empty-net goal at the end. This, too, was not easy for the winning team.
The Cardinals did jump out early, scoring 35 seconds in and then midway through the first for a 2-0 first period lead. Then, Brockport got their game back under them.
"We definitely made the adjustment as a team," Brockport head coach Brian Dickinson said. "Worked the forecheck extremely well. Worked a lot of turnovers in the neutral zone. We had a lot of good looks. Unfortunately, the period where we controlled the play we only got one goal while the period they controlled, the first, they scored two."
"I thought Brockport had a pretty good game going," Plattsburgh head coach Bob Emery said. "We came out and got on the board early. Brockport did a good job in the second period causing us a lot of neutral zone turnovers. We did okay in the third. Brockport had a game plan and really executed it."
After Brockport got that goal in the second, Plattsburgh scored two early in the third to put the game away. A goal midway through the period was too little, too late for the Golden Eagles.
"All in all, a much better effort than it was last year when we went up there in a similar situation," Dickinson said. "We were close to even with the shots. We kept them under 30 shots which was our goal. We felt we could win if we kept them under 30."
Like Morrisville backing up their win over Fredonia with a solid effort against Oswego, Brockport followed up their successful season last year with an impressive showing this season.
"Definitely a successful season for us," Dickinson said. "From where we've been in the history of the program, it was really important to back up last year with a similar season. We had 14 wins like last year and made it to the SUNYAC semifinals again. I'm excited where we are. We certainly have a lot to build on. We started to be competitive on a regular basis."
All Rookie Team and Defensive Awards
This is the fifth year we've been helping out with these awards. I'll repeat what I always do — I only coordinate this effort. I do not select these awards nor does USCHO. The coaches do in the same way they select the other SUNYAC year-end awards. I just count the votes since the SUNYAC did not want to handle more than what they already do.
The purpose is to bring some publicity to players who are not recognized by the traditional end-of-season awards. They may not be sanctioned by the conference, but I believe they hold the same credibility as the other official SUNYAC awards.
Here are the 2009-10 All Rookie Team and defensive awards:
Forward: Jon Whitelaw (Oswego)
Forward: Mat Hehr (Fredonia)
Forward: Luke Moodie (Oswego)
Defense: Cody Adams (Plattsburgh)
Defense: Taylor Farris (Oswego)
Goalie: Ryan Williams (Plattsburgh)
Best Defensive Defenseman: Jeff MacPhee (Geneseo)
Best Defensive Forward: Brad Dormiedy (Oswego)
Final Preview
Once again, Plattsburgh and Oswego meet for the SUNYAC championship and the automatic berth into the NCAA playoffs. Last year, Plattsburgh took the title, 5-4, in overtime. This year, they play in Oswego, the first SUNYAC championship to be decided in the new Campus Center Ice Arena.
If you cannot make the game, you can listen to the Web cast, watch the videocast, or keep track with the live stats.
(All statistics in the preview are for conference play only.)
Plattsburgh (13-2-1 in SUNYAC, 18-4-4 overall) at Oswego (15-1-0, 24-2-0)
There's a reason these two teams have been the top two teams in the SUNYAC. The numbers say it.
Top two teams offensively. Top two teams defensively. Two of the top three teams on the power play. Top two teams on the penalty kill. Top two goaltenders.
There are two numbers where they diverge, however, and that may tell the story on Saturday.
Oswego has some big powerhouse scorers — Eric Selleck (14 goals, 25 assists, 39 points), Chris Laganiere (14-16-30), Justin Fox (5-22-27), Jon Whitelaw (8-14-22), and Neil Musselwhite (11-6-17), whereas, outside of Dylan Clarke (7-14-21), Plattsburgh doesn't have that big sniper. They do it by committee as the Cardinals do have the second best offense in the league.
Plattsburgh commits the least number of penalties in the league while Oswego commits the second most. Oswego may have the best penalty kill, but it's still something you don't want to consistently test against Plattsburgh.
It's also interesting to note that despite these two teams having the top two goaltenders statistically speaking, there is a question mark coming into this game.
Kyle Gunn-Taylor may have been pulled against Morrisville to shake up the team, but he has not looked sharp down the stretch. In fact, Oswego looked flat against Brockport, lost to Geneseo, and nearly were shocked by Morrisville. Do you stick with the netminder who got you here or go with Paul Beckwith who looked strong in relief?
In any case, Oswego has got to play better than their last three games.
"Let's not get into a false sense of security," Oswego's Ed Gosek said after the comeback against Morrisville. "We certainly have to play better defensively than we did tonight. Plattsburgh is a hard working team with a lot of skill. We're going to have to do a better job. The whole package. I don't know the last time we gave up five goals. Playoff hockey, defense wins. We were fortunate tonight to put up some numbers, but you can't expect to do that against a team like Plattsburgh."
Plattsburgh has been rotating their freshmen goaltenders, so it is Ryan Williams turn. Expect Williams to play especially since Josh Leis struggled the last time these two teams met. Then again, Williams struggled the next big game Plattsburgh had against Middlebury. Both goalies were yanked in those instances.
"Coach Gosek knows us really well, and we know them really well," Plattsburgh's Bob Emery said. "It's going to be a matter of execution and really good goaltending."
The teams are extremely even across the board. Even home ice might not matter.
"I don't think there's any advantage for any team going in," Emery said. "They'll have the advantage of their home crowd getting them going. We've proven in the past that we can be successful there."
On the Periphery
Since this is the last column of the 2009-10 season, I need to provide some updates.
How well did I do trying to convert my nephews to become hockey fans? Well, to be honest, between my schedule and their activities, I never really had the time to give it a shot. However, I did get my youngest nephew signed up for the Learn to Skate program at RIT. He won't be the next Sidney Crosby, but every time the 8-year-old left the ice for the day, he had a huge smile on his face.
The Best Pretzel in SUNYAC once again goes to Brockport. However, they almost choked in the playoffs, as the pretzel I had that Tuesday was not up to par at all. Oswego still has the best cookie in all of SUNYAC. The chocolate chunk cookie will kill you … with a smile on your face.
I didn't keep count of how many games I attended this year. I think it's best not to say a number if my wife asks me. She already asks every Thursday, "Where are you this weekend?" The fact she takes the answer in stride deserves a big thanks.
A big thanks also to the coaches who as always have been very gracious and patient with me. Ditto to the sports information directors and SUNYAC Commissioner Pat Damore, as well as certain athletic directors and college presidents, who in a very difficult time were willing to talk to me.
Of course, great appreciation to you readers. It wouldn't be any fun writing if no one was reading what I wrote. All of you are what keeps me going when I run out of steam.
Hope to see you all in Lake Placid!