For senior defenseman Eric Tallent, this weekend was to be the culmination of a terrific four year career playing for Norwich in the Frozen Four with the goal of hoisting the national championship trophy on Saturday after one more win against St. Norbert.
The outcome of the game has yet to be decided but the role of the All-American defender from Garland, Texas has been determined by a lingering injury that has him sitting out his final collegiate game, unable to skate.
Tallent sustained a foot injury during the ECAC East championship game against Babson back on March 6. While not believed to be terribly serious at the time, Tallent found that he could walk without great difficulty but could not skate with the foot problem. Following a week of treatment and no skating, the senior was unable to suit up in the NCAA quarterfinal round against Elmira but was clearly focused on being able to play in Lake Placid.
"We didn't want to force anything," said head coach Mike McShane. "He just couldn't put any pressure on the foot inside the skate so we wanted to have him get some treatment and rest and see if he could come back after the Elmira game."
The week leading up to Lake Placid wasn't much different as treatment continued and Tallent was limited to just one full practice on Thursday which had the Norwich camp optimistic that one of their defensive stalwarts and special team leaders would be on the ice to face Plattsburgh on Friday night. Based on the practice things looked good and when No. 44 skated out for the warm-up, the
Norwich faithful were excited and relieved by his return to the line-up.
Paired with his usual partner, captain Tyler Stitt, Tallent did not skip a beat and logged significant ice time on his regular shift as well as power play and penalty kill duty. Adrenaline from the excitement of playing in the Frozen Four probably helped to mask any discomfort during the game which the Cadets won by a 3-2 score. However, as the game wore on, Tallent was looking to treat the foot between periods.
"He said he could ice it between periods," noted McShane. "We didn't think it was a good idea to take the boot off between periods since we didn't know if he would be able to get it back on to keep playing. He's a real tough kid and he wasn't going to miss being out there with his teammates."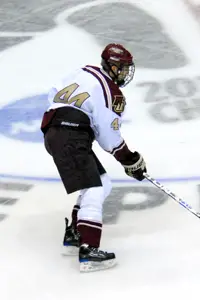 Apparently, the considerable ice time and physical play from Friday night's contest against Plattsburgh combined with the short turnaround time to the championship game on Saturday was too much for the foot to recover from. During the warm-up for the championship game something snapped in the foot and Tallent told his coach he couldn't go.
"We really didn't have a lot of time to think about it," said McShane. "We have been dealing with injuries all season. I never had so many knee injuries as we have had this season so we have had guys all year that have had to step up and get the job done for other guys when they have been unable to play. We went and found Pasha [Kozhokin] and got him dressed and out quickly for a little warm-up and then went over the game plan in the locker room and off we went."
"I really feel bad for the kid [Tallent] that he couldn't play. He didn't play the last four minutes of the game last night, His last game as a senior and he couldn't play but he helped us win all season and was a big part of last night's win over Plattsburgh."
As young as this year's Cadet team is, the leadership from Stitt, Tallent, Serino and Klingensmith has been a big factor in the team gelling quickly and playing up to their number one ranking.
So the question was could the team pick-up for their ailing assistant captain and bring home the trophy in this the 100th year of hockey at Norwich.
After an arduous and draining 99:29 minutes of hockey including two overtimes, the Cadets scored with just 31.2 seconds remaining. Ten years after winning their first tile in 2000, Norwich is again national champions and Eric Tallent has seen his team leverage their talent to complete a dream season.