Overtime Finals
This was the fifth national championship to be decided in overtime. None of the prior ones went into a second overtime period. It's the second time each of these teams were involved in one. Both lost in previous attempts.
The first was 1993, the first time they used a neutral site for Division III. Held at the Aldridge Arena in Maplewood, Minn., the final consisted of an interconference battle between UW-River Falls and UW-Stevens Point. Stevens Point took the win, 4-3. This gave the Pointers their fourth title in five years.
It was another nine years before a final match needed extra time. Norwich led Superior, 2-1, when Colin Kendall scored not one but two of the most historic goals in Yellowjackets history. Kendall tied the game with 1:26 left in regulation. Then, just 26 seconds into overtime, Kendall ended it, giving Superior its one and only title in the quickest overtime game in a Division III championship final.
Two years later, fans were treated to free hockey again. In a defensive, goaltending battle, Middlebury and St. Norbert played to a scoreless tie after 60 minutes. However, when overtime started, it didn't take long to finally see a goal. Kevin Cooper scored at 2:58 to kick off another string of national championships for the Panthers, who went on to win three in a row.
The last overtime final before today saw Middlebury on the wrong end of the results sheet. In 2007, Middlebury and Oswego fought a see-saw battle. The Panthers tied the game with 2:25 left in the third, but it was Oswego that got the last goal at 12:55 by Garren Reisweber. It was the longest championship game in Division III until today.
The previous longest NCAA Division III playoff game went 93:26 between RIT and Union in 1984, which Union won, 5-4, in the semifinal round.
The new record, of course, is now 99:29.
"Thank God it ended," Norwich coach Mike McShane said. "That was a tiring game."
"Getting longer and longer, you just keep getting tireder and tireder," Norwich forward Chad Anderson said.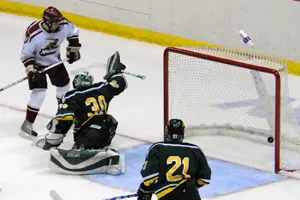 "Definitely the longest game I've been a part of," the winning goal scorer Pier-Oliver Cotnoir said.
All Tournament Team
After resurrecting the All Tournament team last year, they continued the process for 2010. The team was consisted of players from the two finalists.
Forward: Pier-Oliver Cotnoir (Norwich)
Forward: Chad Anderson (Norwich)
Forward: Johan Ryd (St. Norbert)
Defense: Steve Coon (Norwich)
Defense: Sam Tikka (St. Norbert)
Goalie: Ryan Klingensmith (Norwich)
MOP: B.J. O'Brien (St. Norbert)
"B.J. gave us the best opportunity possible," St. Norbert coach Tim Coghlin said. "I was a little concerned that Norwich goaltender was the goaltender of record here and then I didn't realize there was an outstanding player award coming. I truly thought B.J. was the most outstanding goaltender here."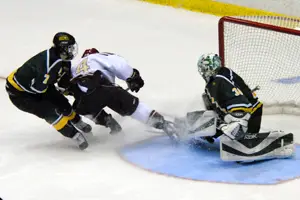 All American Watch
Six All Americans competed in this championship weekend, five of them First Team All Americans.
On top of the list was the First Team All American epic goaltending duel with Ryan Klingensmith coming out on top over B.J. O'Brien. In total, Klingensmith stopped 62 shots on the weekend while O'Brien turned aside an amazing 90. Klingensmith's career is complete, while O'Brien has one year remaining.
"Unbelievable feeling," Klingensmith said. "You're last chance as a senior before your career is over in college hockey. To come out on top in the fashion we did, there's no better feeling than that."
O'Brien said, "Going down the stretch it was getting tiring, but at the same time we got here this far, I figured just keep making the saves and get a chance to put one in."
The lone second teamer this weekend, junior forward Chad Anderson of Norwich, scored the opening goal in the final game. It was his only point of the tournament.
Norwich's first team defenseman, Eric Tallent, sat out the final game due to a foot injury. He helped provide the defense in the first game, which enabled his Cadets to beat Plattsburgh.
"Eric has been a great player for us," Norwich coach Mike McShane said. "He helped us win it last night and all year."
Junior defenseman Nick Tabisz of St. Norbert was a plus one in the two games.
Eric Selleck, the sophomore forward from Oswego, was the only All American from one of the losing semifinal teams. He did not get any points on Friday, despite the box score showing him with an assist on Neil Musselwhite's goal, which was clearly Justin Fox's assist, not Selleck's.
Repeat Champion
The past three years, Division III hockey saw brand new national champions: Oswego (2007), St. Norbert (2008), and Neumann (2009). This year, there was once again a repeat champion as Norwich took their third title (2000 and 2003).