Gustavus Adolphus senior forward David Martinson has been selected the USCHO.com National Division III Player of the Year. The St. Louis Park, Minn. native tallied 29 goals and 20 assists to lead the Golden Gusties to a 20-7-2 record and a berth in the NCAA Division III tournament.
USCHO.com has also named Norwich coach Mike McShane National Division III Coach of the Year.
McShane's Norwich Cadets captured their third NCAA title under his guidance, finishing with a 25-1-4 record. He is 318-90-21 all-time behind the Norwich bench.
The winners and all-star teams are selected by the USCHO.com staff. The complete list:
East First Team
Goal: Ryan Klingensmith, sr., Norwich
Defense: Kyle Shearer-Hardy, jr., Bowdoin
Defense: Eric Tallent, sr., Norwich
Forward: Chad Anderson, jr., Norwich
Forward: Eric Selleck, so., Oswego
Forward: Alex Smigelski, sr., Williams
East Second Team
Goal: Scott Barchard, so., Tufts
Defense: A.J. Mikkelsen, sr., Manhattanville
Defense: Steve Rizer, jr., Fredonia
Forward: Mickey Lang, jr., Manhattanville
Forward: Neil Musselwhite, sr., Oswego
Forward: Coleman Noonan, jr., St. Anselm
Honorable Mention: Cole Anderson (Amherst), Chris Chambers (Plymouth State), Paul Conter (S. Maine), Martin Drolet (Middlebury), Justin Fox (Oswego), Craig Houle (Johnson & Wales), Skylur Jameson (Wentworth), Jeff Olitch (Wentworth), Darcy Vaillancourt (Elmira)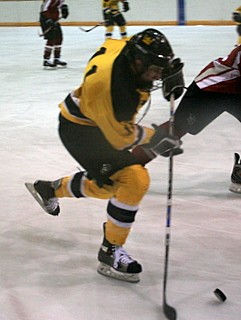 East Rookie Team
Goal: John Leis, Plattsburgh
Defense: Shaun Jameson, Wentworth
Defense: Jack Hawkrigg, Amherst
Forward: Tucker Mullin, St. Anselm
Forward: Jason Pietrasiak, Johnson & Wales
Forward: Kyle Thomas, Norwich
Honorable Mention: Mathieu Dubac (Middlebury), Blake Forkey (Norwich), Trevor John (Tufts), Zach Kohn (Nichols), Mike Testa (Babson), Jon Whitelaw (Oswego), Richie Zobak (Plymouth State)
West First Team
Goal: B.J. O'Brien, jr., St. Norbert
Defense: Mitch Carlson, jr., Gustavus Adolphus
Defense: Nick Tabisz, sr., St. Norbert
Forward: Jordan Chong, sr., St. Scholastica
Forward: Joel Gaulrapp, sr., UW-Stout
Forward: David Martinson, sr., Gustavus Adolphus
West Second Team
Goal: Josh Swartout, jr., Gustavus Adolphus
Defense: Chris Berenguer, jr., Hamline
Defense: Chris Stansik, jr., Adrian
Forward: Mike Dahlinger, jr., Adrian
Forward: Chris Johnson, sr., Augsburg
Forward: Chris Wilson, sr., UW-Superior
Honorable Mention: Tyler Czuba (UW-River Falls), Jeremy Klaver (Adrian), Sam Tikka (St. Norbert)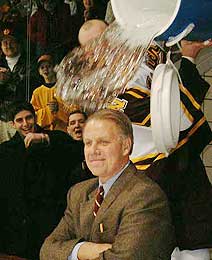 West Rookie Team
Goal: Justin Lochner, Augsburg
Defense: Justin Favreau, St. Norbert
Defense: Brady Horn, UW-River Falls
Forward: Dakota Dubetz, Marian
Forward: Zach Graham, Adrian
Forward: Cody Keefer, St. Norbert
Honorable Mention: Spencer Anderson (Hamline), Jon Crouse (Bethel), Tommy Fitzpatrick (Marian), Johnny Meo (UW-Stevens Point), Tyler Miller (St. Scholastica), Kraig Wright (Northland)
D-III Player of the Year: David Martinson, Gustavus Adolphus
D-III Coach of the Year:Mike McShane, Norwich