From the beginning of the season, Wisconsin coach Mike Eaves has built a team that is well-balanced and relaxed, relying on a potent offense and a dangerous defense in front of decent — but not spectacular — goaltending.
The results have worked out well, propelling the Badgers to second place in the WCHA and now a trip to Detroit and a Frozen Four berth.
All of the above mentioned items will help contribute to the Badgers' success, should they continue winning, along with a few more factors.
"We as a team are an upperclassmen team for the first time since '06 when we were in Milwaukee and I think that's been one of the keys to our success this year with our team," said Eaves.
2006, if you recall, is the last time the Badgers won a national championship.
2006 was also the first year the Badgers played in an outdoor game at a football stadium. This season was the second. Now, they'll get the chance to play an indoor game at a football stadium.
The comparisons aren't exact, of course; for example, Scott Gudmandson is no Brian Elliott. However, this year's version of the Badgers has the chance to be as successful, thanks to a focus on simplicity by Eaves — something even more crucial this time of the season.
"The biggest thing is to just play," he said. "There's no need to think too much. You know our systems, you know what we need to do as a group of people, and you just go and play and if you do that, then you give yourself the best chance to be successful."
Obviously, things are a little more complicated than that, but not by much.
"The basis for any success that we've had as a team is our ability first to play hard, to win races, win battles, to support each other physically, to get pucks in and out of key areas, to have a net-front presence, to make sure we're strong in front of our net," said Eaves. "These are all gauges that we look at when we want to get out to the kind of start that we would like, so we need to emphasize those things."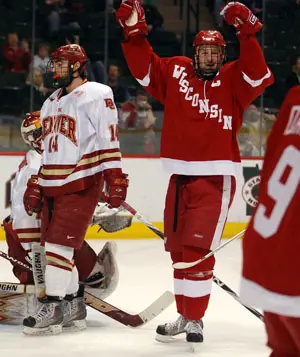 Those things, of course, are all things that the Badgers themselves can control. Eaves knows, though, that there are other factors that might be an issue relating to the building, ones that he and his coaching staff are working on.
"One thing that we're concerned about is … what's the temperature going to be like, are we going to be cramping up, is it going to be really warm in there, how far is the walk; I've heard rumors that they're going to have golf carts for the goaltenders," he said. "The biggest difference between the outdoor and the indoor is going to be the heat and the building and how we sweat in there and how we replenish those nutrients and fluids."
Still, when it all comes down to it, it'll be just a hockey game for the Badgers (two, they hope), starting off Thursday against RIT.
Eaves knows a lot of questions are being asked about how his team will handle the upstart Tigers, who already knocked off the WCHA's regular season top dog in Denver, given that the Tigers are somewhat of an unknown quantity. Though he and his coaching staff have been researching RIT and learning about their opponent, everything eventually goes back to what the Badgers have been doing all year long.
"It's still about us doing the things we want to do and playing to our strengths," he said. "The emphasis will be on doing what we need to do."