It has been three years since Michigan Tech fans have had much to get excited about. Year after year, they've watched their Huskies fall to the WCHA's elite squads.
If this year's squad has anything to say about it, that will change.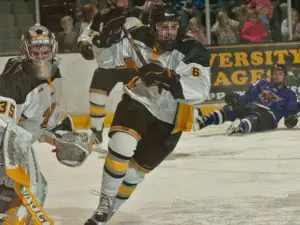 The Huskies have begun the season on a five-game unbeaten streak. While they haven't exactly beaten the nation's best, they have defeated teams that they will need to if they are going to take a run at a home playoff spot in March.
"It's a great start for us; we've protected home ice [with] three points at home," Michigan Tech coach Jamie Russell said. "It's a great start, but to put it in perspective, it's only a start. We've got a long way to go."
The Huskies are winning games with more scoring and a hungry group of freshmen and sophomores who are not interested in surrendering their spots in the lineup.
"Guys see the progress we are making and it's a long journey," Russell said. "We had eight freshmen in the lineup [last Friday against Minnesota State]. There's going to be peaks and valleys in their play, and mistakes, and teaching opportunities for us as a coaching staff."
Currently, the Huskies have the nation's sixth-best scoring offense, averaging 4.8 goals per game, which is up significantly from the paltry 2.06 they posted last season. One of the big keys to the offensive resurgence for the Huskies has been a willingness to play hard, even when behind.
Another reason for the offensive boost has been the power play, which ranks fourth in the country at 37 percent, with 10 goals in 27 tries. Last season, the Huskies had one of the worst power plays in the nation, scoring only 26 times at a rate of 15.7 percent.
Senior winger Bennett Royer is leading the way for the Huskies on the man advantage; three of his four goals have come on the power play. Freshman linemate Milos Gordic has a pair of power-play markers as well.
Last season, the Huskies had the worst penalty kill in the nation at 71.8 percent. This season, the Huskies are killing penalties at a rate of 85.7 percent, which means that the Huskies have been doing a much better job of getting into passing lanes and blocking shots.
Junior winger Alex MacLeod has also done his part to help in kills — he leads the nation in short-handed goals with two after picking up one on Saturday night against Minnesota State in the first period.
"It's nice to get off a quick start," MacLeod said. "Every day is a day to improve. … You get a lot of self confidence by getting some points."
Another component in the Huskies' offensive prowess has been a philosophical change to the attack, as Russell has encouraged his defensemen to be more aggressive all over the ice, whether carrying the puck in the neutral zone, or pinching in the offensive zone.
The change, which was implemented to help the Huskies compete during their trip to Europe in August, has been nothing short of a revelation so far.
Sophomore Steven Seigo and co-captain Deron Cousens have benefited from the change in tactics. Seigo has put up eight points in the first five games, and Cousens is tied for the lead in the nation in assists with seven.
Two of Seigo's three goals this season have been game-winners, and the other put the Huskies ahead 5-4 on Saturday night.
"We are becoming a lot more aggressive on our forecheck," said Seigo. "[Really] we are just more aggressive overall, [trying to force] the other team to make a lot of turnovers."
The final puzzle piece to the Huskies' solid start has been the play of their freshman class. From forwards Gordic, Dennis Rix and Jacob Johnstone to defenseman Daniel Sova, this group has shown a hunger to be in the lineup and perform.
Gordic, who played eight games and scored one goal last season, has notched three goals and five points this season after being granted a medical hardship waiver. He has begun to figure out that he is physically strong enough to push off of defenders and take the puck to the net.
Two other young forwards, Ryan Furne and Daniel Holmberg, have also shown a penchant for the physical aspects of the game.
"They've done a good job of adapting to the systems that we've instilled this year," Russell said. "We're happy that they are showing up on the score sheet. We need contributions from everybody."
In total, six of the eight freshmen who have played have at least two points. As they mature, they will be counted on to continue to find the back of the net.
Off to their best start since 1972-73, when they went 8-0-0 to start the season, the Huskies have earned some downtime this week before hitting the road next weekend to face No. 15 Wisconsin.