Eleven of the 12 WCHA teams play this weekend, and a couple of the series are extremely key for the participants. Here are what I think are the important series and why:
Denver at North Dakota
With this series, we're treated to what has become one of the best rivalries in the WCHA. It may still not garner the hype that, say, a Denver-Colorado College or a North Dakota-Minnesota or a Minnesota-Wisconsin or, really, a Minnesota-practically anyone would, but the games between the Pioneers and the Sioux have been anything but boring the last several years.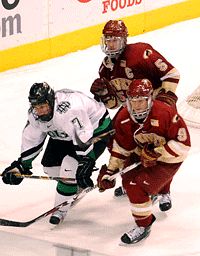 From the Geoff Paukovich-Robbie Bina incident in 2005 and the fallout from that to Denver coach George Gwozdecky being ejected twice (once in 2006 and then in 2009), combined with the great hockey one usually sees at these games, they're never boring.
That being said, this weekend is key for both teams for a variety of reasons.
For the Pioneers:
Gwozdecky said that last Saturday's tie against Wisconsin was probably the best game his team has played thus far. The team obviously wants to capitalize on that momentum and put forth its new best games of the season up in a hostile environment. If the Pioneers are successful, they could sweep the season series for the second straight year and the second time ever.
The Pioneers had arguably one of the toughest starts to the season around and have come out of it relatively OK, at a 2-2-2 record. However, that start may be more helpful than not as it has definitely prepared the team for the challenge that faces them this weekend.
"I think our experience over the past three weekends certainly has been challenging for us," Gwozdecky said at his weekly press conference. "I certainly think that those six games we have played certainly prepare us for our second WCHA opponent of the year."
Denver has to contend with what will undoubtedly be a fired-up Sioux squad, and winning these games would not only be great for the Pioneers going forward, but could be a huge factor on the Sioux's mind-set as well. "They're certainly going to be upset by how they played and it's certainly going to be an emotional task for us to deal with their emotion and determination and their will to win starting Friday night, but certainly I feel good about what we've been doing so far," said Gwozdecky.
For the Fighting Sioux:
This weekend is the first time the Sioux have been able to enjoy the comforts of the Ralph Engelstad Arena in the regular season. If there was ever a time for them to hope for home-ice advantage, this is it.
Even though the Sioux have played six games thus far and are 3-2-1 in those games, this weekend feels like do or die for the team. Maybe it's only because of the high expectations placed on the team at the beginning of the year or the fact that coach Dave Hakstol had a grim response when he was asked what they needed to do better this weekend: "Everything," he said. "I'm not kidding, everything. … we were very sporadic in all areas of our game."
This series is the start of a tough stretch for the Sioux (after this, it's Minnesota-Duluth, Wisconsin and Nebraska-Omaha) and a great chance for the team to get back on track, especially given the rivalry atmosphere."It's a great rivalry, it'll be a great series and I'm looking forward to our team having a chance to put our game back on the map," Hakstol said.

Minnesota-Duluth at Bemidji State
The Bulldogs have been on a roll so far this season, outscoring opponents 24-7. Therefore, while a chance to gain league points is always important, the Bulldogs aren't the team we're worried about.
On the other hand, this series could prove crucial for the Beavers and here's why:
The team needs to get some points here soon in league play. Right now, the team is fresh from a bye week and is primed to do so.
BSU had higher expectations coming in than Nebraska-Omaha and we all know how the Mavericks are doing. To grab some points here against an upper-echelon team like Duluth would be a huge boost of confidence for the team going forward and make it feel like the WCHA is the right fit.
Michigan Tech at Wisconsin
In years past, this series would probably not warrant being labeled as an "important" one. This year, however, things are a bit different. Here's why:
Michigan Tech has had a remarkable start to their season so far, but, as my colleague Tyler Buckentine pointed out last week, its schedule hasn't exactly been the toughest out there. Granted, the Huskies have been doing what they should (and what they should have been doing for the past … well, many years), but this weekend is arguably their first real test. Should they split, take three points or sweep the Badgers, this weekend will be a continuance of the Huskies' success.
The Badgers, on the other hand, need a good weekend against the upstart Huskies. Wisconsin's start to league play wasn't what it had hoped for (a sole point against DU) and traditionally weak Tech is a great place to start gaining a foothold in the league standings.
Quotable
"Given that I have stayed at a Holiday Inn Express, in my expert medical opinion, he's maybe two weeks out." — Gwozdecky, when asked on the progress of injured players; in this case, freshman Nick Shore.