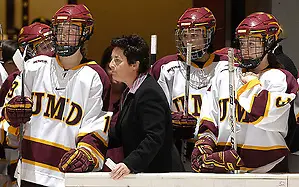 With half the season over, it's time to take a look at some trends and see where we are for this season. Though there have been some occasional hiccups, it seems the reigning hegemony in women's D-I hockey is still in place. However, the competition, particularly in the west, has never been fierecer.
After making four straight NCAA championship games from 2006-2009 and winning three of them, the Wisconsin Badgers didn't even make the tournament last year. Of course, part of the problem was that coach Mark Johnson, as well as leading scorers Hilary Knight and Meghan Duggan, were off with Team USA at the Olympics, winning a silver medal. With the return of those three, as well as the continued strong play of assistant captain Mallory Deluce and sisters Brooke and Brittany Ammerman, Wisconsin is back on top, and has spent most of the season ranked No. 1.
Wisconsin's only losses have been to WCHA opponents Minnesota and Minnesota-Duluth. Coincidentally, those two schools are the only ones besides Wisconsin to win an NCAA Women's Hockey Championship. Defending champion Minnesota-Duluth currently sits in second place in the WCHA, and while they have played strong for much of the season, they have also suffered some bouts of inconsistency.
The real story of the first half, aside from Wisconsin's return to strength, has been the overall level of competition in the WCHA. No longer is the conference about the big three. North Dakota, led by twins Jocelyne and Monique Lamoureux, has wins against all the top schools except Wisconsin, and sits in a third place, just ahead of Minnesota, who, led by freshman Amanda Kessel, is as dangerous as ever. Right behind the pack are Bemidji State, Minnesota State, and Ohio State, who have all scored big wins this season and could, on any given night, play spoiler. The only WCHA team not in the race at all is St. Cloud, who remain winless on the season.
What of the East? Last year's NCAA runner-up and current No. 1 Cornell is running away with the ECAC. They are undefeated in conference play, and have rarely been challenged. Though Cornell is playing well, their only game against a nonconference top-10 school is also their only loss on the year, a 4-3 overtime loss to No. 4 Mercyhurst. Aside from a January 18 rematch against the Lakers, the Big Red have no out-of-conference games the rest of the way. The lack of tests could hurt them come tournament time.
The other big story in the ECAC is the emergence of Quinnipiac, who currently sits in second place in the ECAC, just ahead of traditional ECAC powers Harvard and Dartmouth. The Bobcats are led by freshman phenom Kelly Babstock, who is tied for second in the nation in points with 36. Babstock has already set school records for goals, assists, and points in a season, and is averaging a torrid 1.80 points per game.
Mercyhurst, aside from an inexplicable loss to Niagara and surprise losses to Bemidji State and St. Lawrence, has looked very good this season. With the return of Meghan Agosta from gold-medal-winning Team Canada, the Lakers have a lethal 1-2 punch of Agosta and Vicki Bendus. Agosta currently leads the nation in scoring, averaging 2.53 points per game, while Bendus is sixth with 31 points, averaging 2.07 points per game.
Hockey East is led by the big Boston squads. No. 6 Boston College, who also had a down season during the Olympic year with top forward Kelli Stack and goalie Molly Schaus off playing for Team USA, are back to their winning ways. Stack is currently fifth in the nation in scoring with 32 points, while Schaus is fourth in goaltending.
The Eagles sit one point ahead of No. 3 Boston University in the Hockey East standings. The two squads split their first home-and-home series, and in addition to another two conference games face each other in the first round of the Beanpot on February 8. Whoever wins that will be favored in the championship against Harvard or Northeastern.
Northeastern and Providence have both emerged this season as dangerous opponents, and sit in a three-way tie for third with Connecticut in the Hockey East standings. While the Eagles and Terriers should be on top of Hockey East at the end of the season, they must be prepared every night the rest of the way, or the Huskies and Friars could play spoiler.
The second half of the season has some excellent games on tap, starting January 2, when Mercyhurst will face Wisconsin in the Easton Showcase. Minnesota-Duluth starts their second half with a bang, traveling to Minnesota for a pair on January 14-15 and then hosting Wisconsin the next weekend for a pair, followed by a pair at home against Bemidji State.
Ultimately, while Cornell, Boston University, Boston College, and Mercyhurst are strong squads and can beat anybody, looking ahead to March, I expect either Wisconsin or Minnesota-Duluth to be hoisting the hardware once again.