Physically, it's simply a round discus, less than a centimeter thick, about two inches in diameter and suspended around one's neck by a ribbon that's probably about 34 inches or so long.
For the United States World Junior Championship team, though, the bronze medal that hung around their necks on Wednesday evening meant so much more.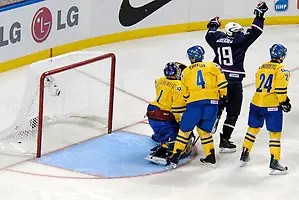 This is a medal about redemption. It's a medal about character. It's a medal about resiliency.
It certainly wasn't the color that this U.S. team hoped for when it arrived in Buffalo just before Christmas. But, in a way, the bronze medal that the United States earned Wednesday afternoon at HSBC Arena took just as much character and heart as the gold medal that last year's team won.
This was a U.S. team that less than 48 hours before had hit the low of lows after a 4-1 shellacking at the hands of Canada in Monday's semis. They were about to face a Sweden team that was but a late rally from Russia in the final two minutes of Monday's other semifinal away from playing for gold.
So how, then, did this team turn things around to become the first ever entry from the United States to win medals in back-to-back years and, equally important, the first to win a medal on home ice?
"We just regrouped," former Notre Dame forward Kyle Palmieri said. "[Monday] was the low point for our team. But we had an upbeat practice yesterday. We came into today's game excited to be a part a game like this and have the opportunity to go home with a medal."
Regrouping, in essence, became the mantra for this U.S. club. It wasn't just regrouping from Monday's loss. It was regrouping on Wednesday when Sweden's Oscar Lindberg gave his team a 1-0 lead 11:58 into the second period. Until that point, the U.S. had dominated the Swedes. But Lindberg's shot from his knees that barely eked under goaltender/team hero Jack Campbell easily could've sent the Americans into a tailspin.
That, though, wasn't in the game plan for the U.S.
"We knew we were right there with them," said Boston College forward Chris Kreider, who scored two goals on Wednesday to finish with a team-best four in the tournament. "With Canada, they were definitely outplaying us but with Sweden we were exchanging chances. We were positive and optimistic about our play and knew we'd have the opportunity to come back."
And come back they did. It took only 94 seconds for Kreider to one-time a Chris Brown pass and knot things. Three more goals in the third, capped by Kreider's insurance marker with 1:53 remaining, had the pro-American crowd ready and waiting to bust out the lyrics to the "Star-Spangled Banner" as the American flag raised to the rafters.
"It was special to see that flag being raised on home soil, to have my family and friends here with me and the team," Brown said. "You felt as one. You felt a little bit of rejuvenation for the country."
You also might have felt a collective sigh of relief. This was, of course, a U.S. team that had extremely high expectations coming into the tournament.
But as coach Keith Allain said, this is a tournament about pressure and the smallest mistake, the slightest letdown can take you from gold-medal contenders to medal-less also-rans.
"Sometimes it feels like you have a hockey season condensed into three weeks," Allain said. "You go through the whole process of trying to pick a team, build a team, develop a team identity and win a medal in your last game.
"I think mental toughness is one of the most important traits to be successful as a hockey player. This game of ours constantly challenges you. The people that rise to the top are the people who win the medals. They are the people who can handle the down times as well as the up times.
"I think that's what I'm most proud of about this group, the way they responded tonight after not playing well the other night. They came back and had a great start to the game today and were able to push through even though we fell behind in the game. That's what I'll remember most about this group."
And this team will remember that little bronze discus that can sit in each player's personal trophy case. It's one very special, hard-earned medal.