Clarkson has pursued a season unlike almost any other in ECAC Hockey. It's not their fortunes or their superlatives that have set the Golden Knights apart, but their immensely intimidating docket.
The Knights have played three of their non-conference games against Nebraska-Omaha and Minnesota-Duluth — each of which has earned first-place votes at one point or another this year. They played St. Cloud State in Omaha, Air Force and Lake Superior State in Denver, and — just for fun — threw in a non-conference game at a neutral site against the one team that would know Clarkson best: St. Lawrence.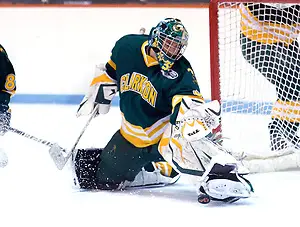 Wouldn't you know it, 'Tech has survived all of it, and now gets to meet the real challenge: the heart of the league schedule. At 6-2-0 in their last eight ECAC contests, that should be a piece of cake.
"I was pleased with our stretch. Other than the Union game … I thought we played hard five out of [our last] six games," said coach George Roll. "In the last six road games in our league, we've gone 4-2 in those games, so I like the identity of our team. I'm really pleased with the direction of the program right now."
One of the team's biggest problems approaching the holiday break was the power play, which barely registered on the stat sheet for the Knights' first dozen-plus games. It's not setting the world on fire now, either, but hey, 11.2 percent beats low-single-digits any day of the week.
"The percentage on the power play has improved, and the big thing for me is generating opportunities, and we've done that," said Roll. "I think we've gotten better in that area. Our penalty killing has been strong all year, our power play has gotten better … we've scored six short-handed goals and only given up one. Overall, I think there's always room for improvement, but in the last couple weeks, it's come to life a little bit. We're generating chances on just about every one."
One of Roll's other primary challenges has been in replacing the productivity of rookie sniper Ben Sexton, lost in his sixth game with a broken leg and still a few weeks out from game shape.
"He's still two to three weeks away. I talked to [Boston College coach Jerry] York yesterday; [former Eagles forward] Brock Bradford had the same injury, and I think he came back too early," Roll stated, after consulting his former coach from his playing days at Bowling Green. "You may recall he broke it in his first or second game back. Jerry couldn't recollect exactly how many weeks he was out — thought it was around 10 — he came back, they thought it was healed, and it's not so much the bone that needs to heal, but the muscle surrounding it.
"I think Ben's close to coming back, but right now the issue is the muscle around it, and he's not quite back yet. We're hopeful that he'll be back before the playoffs begin, but we're not going to rush it."
Even without Sexton's nearly point-a-game contributions, the veteran coach feels vastly more confident about this year's Knights than in previous vintages.
"I think we have [first-round bye] potential, and I think our team has improved from where we were earlier in the season, so obviously we have an opportunity to get a first-round bye.
"More importantly, the culture within the program has changed: They expect to win now, as compared to the last two years, where we were more worried about not losing than winning. Losing became contagious, and conversely this year we step on the ice every game and the players expect to win. It's a completely different mentality change from where we were at this stage last year. So, yeah, I do like the makeup of our team, and I do obviously feel that we can finish in the top four this year."
The young and the restless
You don't have to think too far back to the last time the Tigers stole hockey headlines. No, I'm not talking about Rochester Institute of Technology — though that was fun, wasn't it? I am, of course, reminiscing about the jet-fueled, 20-cylinder, twine-twisting shooting machine that was the 2007-09 Princeton Tigers.
Twenty-win NCAA contenders each, the '07-08 and '08-09 P-Cats were Yale before Yale was Yale. And guess what? They're back.
The Tigers are tied for third in the conference with 15 points and a .625 winning percentage. They've scored the fourth-most goals in the league (34, 2.83 per ECAC contest), have a top-half defense (fifth, 2.33 goals-against per league game), and — would you believe this, after all the Union hype? — have the league's best power play, at 23.2 percent (again, in ECAC play). They're also 5-1-0 on the road this year.
Oh yeah, and they're all freshmen. (At least, it seems like it sometimes.)
"I think for the number of freshmen we have — and we have 10 freshmen — that they've been coming along great. I think we're very happy with the progress that they've made, and the results that we've had," said coach Guy Gadowsky.
"It's not only [leading scorer Andrew] Calof: I think in terms of freshmen, we're getting great performances from a lot of them. Matt Farris, Andrew Ammon, Jack Berger, Kevin Ross, obviously Sean Bonar, Will Ford scored a huge overtime goal at Cornell. I think a lot of freshmen have contributed greatly."
Gadowsky has also groomed a stable of veritable thoroughbreds in the net, featuring freshman Bonar and sophomore Mike Condon, but also sprinkled with a solid dose of senior Alan Reynolds. Each one boasts an overall save rate over 90 percent.
"We're very happy with it," the coach said of his goaltending. "Not only did Alan Reynolds have a great night [Tuesday] night [in a 7-1 trouncing of Sacred Heart], but I think we've got three guys that the team's very confident in, and that's a great situation to be in. We're just going to let it play out, and however it plays out, that's what we're going to do.
"We don't have any preconceived notion on what's going to happen," he said, when asked about his preference for a single No. 1 goalie or a platoon.
As solid a season as Princeton is having, Gadowsky isn't taking all the credit: He admits that while last season was simply a black hole of bad luck, this year has been practically bountiful in good fortune.
"There's a number of things: As a freshman, Sean Bonar coming in and putting up the numbers he has so far is a tremendous surprise," Gadowsky said. "I think having two freshmen playing along with [junior] Brodie Zuk and having a line that's been so effective is a nice surprise. Having a freshman come in and lead our team in scoring with the great offensive seniors that we have, that's a surprise. Seeing Kevin Ross have such a quick transition to D in Division I hockey is a great surprise. Having another freshman score the OT winner at Cornell, such a difficult building to play, that's a wonderful surprise."
Is this the year where Princeton picks up where it left off, a year and a half ago?
"Every team's different because of the personnel, but I see similarities in the style that we try to play," Gadowsky said gamely.
The Tigers look ahead to the North Country trip, which is the longest road trip for any team (other than Clarkson and SLU, of course) in the league. No sweat, says the coach. Not only are his boys 5-1-0 on away from Baker Rink, but if anything, it's perfect timing.
"If you look at the standings in the ECAC, every trip is a big trip," he began. "We just finished exams, so the guys have been sort of away from each other for a couple weeks. I think it's good timing; they can spend some time with each other and head to the North Country.
"We like to see the progress that we've made. We were sort of anticipating a good team, but the results, we thought would take a lot longer. So we're very happy that a young team has been able to have some success on the road."
But let's get to the good stuff: Will these Tigers be ready to roar come playoff time?
Gadowsky: "We've got a long way to go before we think about that.
"I don't see us as being very different from a lot of teams in the league right now. I'm very happy to be in the spot we're in, with the number of great teams in the ECAC right now. We're happy with where we're at, and we're trying to get better every day."
Joe is back in the saddle
Great to hear that St. Lawrence coach and ECAC Hockey institution Joe Marsh is set to return to work this week after complications from a medical procedure kept him for overtime at Massachusetts General Hospital. He missed last weekend's deuce at Brown and Yale, but — according to Dan Cassavaugh at the Watertown Daily Times — Joe is good to go once more.
It's great news with which to end the week, and the column. I hope he never leaves us again.