There are two sides to every story: While many were stunned by Yale's sweep this weekend, there is also the matter of the Capital District's recent supremacy. Union got a lot of attention early in the year as it slaughtered its way through an early schedule, simply annihilating all comers to Messa Rink, but Rensselaer has been churning through foes in quite the impressive fashion as well.
Somewhat quietly — at least, in the national context — RPI amassed an 8-1-3 non-conference record and is 12-1-0 at home. Skulking around the 15-20 range in the polls all year, the Engineers might be the best team that's being left out of everyone's NCAA contender conversations.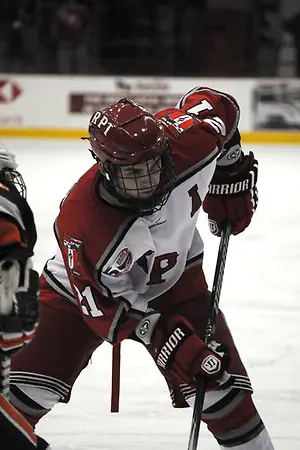 "I think we are a tough road trip, combined with Union," said coach Seth Appert, who humbly continued: "I don't know if I'd say we're the toughest — I think there are a lot of tough ones in our league, including the one we have this weekend: Quinnipiac and Princeton are both very good teams."
Union and RPI are a combined 24-2-1 at home; the Bobcats and the Tigers, 14-8-1. It was nice of him to exhibit a little modesty, though. As for last weekend, the 'Tute rolled through Brown and Yale, drawing itself even with Dartmouth in the race for the final first-round bye and positioning the Engineers within four points of front-running Yale.
"It was a good weekend, it was an exciting weekend of hockey in the area," Appert said. "Both teams are playing well, lots of media attention, both Yale games were televised, both Yale games — at our house and [Union's] — were sold out, and we had a good crowd versus Brown. It was a fun weekend for college hockey in this area, and certainly Yale added a dramatic amount to that as the No. 1 team in the country."
It was RPI's third win against Yale in the last two years (and four meetings), and senior striker Chase Polacek scored three goals with six assists — 1-2–3 each game, in fact — in each of Rensselaer's wins. The Engineers' leading scorer is on a seven-game scoring streak (14 points), and is making a strong argument for another Hobey Baker Award campaign with 16 goals and 39 points in 26 games overall.
"He has been quoted numerous times as saying that that's not what this is about," Appert said regarding Polacek's Hobey odds. "I think that would be nice icing on top of the cake. I think he's deserving of consideration — I think he's a slam-dunk top 10 finalist — and I think he's arguably the best player in the country, and we feel that that's a just reward that he could get at the end of the year. He had some pro opportunities this offseason, and he had no interest.
"His quote, that he's given in the paper, is that he didn't come back this year to be an All-American or to win a Hobey Baker; he came back to try to win a championship for RPI. When your best player is as focused on being a team player as he is, that really puts you in a good position to have a chance to win."
Appert's other statistical superman has been junior goalie Allen York. The Columbus Blue Jackets draft pick currently boasts a .932 save percentage (seventh in the nation) and 1.86 goals-against average (third).
"We feel he's the best goalie every night we go on the ice. Yeah, I think he deserves to be in consideration [too]," said Appert, promoting York as another Hobey hopeful. "They're both very, very talented players, they're both leaders for us on and off the ice. There are a lot of great goalies in our league, but we feel very good, stepping on the ice, that we have the best goalie … whoever we're playing."
On Saturday, especially, York elevated his profile with 38 saves on 40 Yale shots. Yale coach Keith Allain credited him with a stolen game, and Appert acknowledged that as much as the win was a team win, a lesser goalie never would've earned that W.
"He was, at times, spectacular, especially in the middle 30 minutes of the game [against Yale]. The first 10 minutes, we were outstanding; the last 20 minutes, we were very, very good. The middle 30, Yale dominated us," Appert said. "We were on the penalty kill a lot, and that's where he was at times really spectacular. We did a good job at protecting the middle, we did a good job of keeping shots to the outside, we didn't give up any breakaways or two-on-ones or things of that nature, where you can start getting exposed. I thought we did a good job of not getting traffic to Yorkie, and I'll say that he saw almost every shot — if not every shot — of the 40 taken.
"Not all of them were [easy stops], like I said, he made some big-time saves … but if we can defend the interior, and Yorkie can see the puck, he's pretty tough to beat."
Appert also ruminated on the external perception of ECAC Hockey as a hyper-defensive, sniper-deficient conference, in which strong numbers don't necessarily indicate strong goalies.
"I guess the perception of our league in that way is because Cornell dominated our league for much of the last 10-15 years, and they're a great defensive team, so I think that some people assume that whenever any goalies in our league have great numbers, it's because of that," he said. "I don't think that's quite the case anymore. Yale is the most talented team in the country: I'd put their offense against anybody's in the country, and we've played some pretty good teams non-conference, and none of them stack up to the firepower that Yale has. Dartmouth has one of the highest-scoring teams in the country, Union's a high-scoring team, Princeton's a high-scoring team, so I don't feel that that's quite the case anymore. It might be the perception because of Cornell, but I don't think it's the case."
Appert doesn't need to look further than Polacek to prove that the ECAC can light 'em up with the best of them. York, likewise, is proving that goal-getters and goalies can co-exist on the same roster in this league … and RPI is proving itself, one quiet win at a time.
Notepad
• Clarkson will be without defensemen Mark Borowiecki and Nik Pokulok this weekend, both out with injuries. As reported last week, forward Ben Sexton is likely still a month or more from returning.
• Brown's game at Harvard, which had been scheduled for Wednesday night, was postponed due to the super-mega-storm that terrorized the Northeast. It has been rescheduled for Tuesday, Feb. 22.
Stay tuned for next week's column, when I roll out 10 years' worth of research (OK, just research covering the last 10 years) on home-ice advantages around the league. The results might surprise you.