Robert Morris has had a promising first year in Atlantic Hockey. The Colonials are 15-8-4 overall and 10-6-4 in league play, good for third place. RMU's 15 wins is already the most in school history. Its 5-2 non-conference record is the best in the league. There's no doubt in coach Derek Schooley's mind that the move from the now-defunct CHA was a positive one, albeit with some challenges.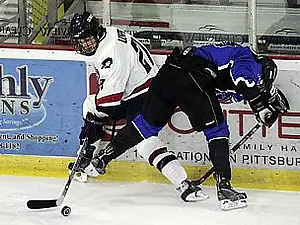 "It's been different playing teams for points almost every game," he said. "Every game is a big game even if it's in November, and that's been interesting for our team to learn. Of course, every point now is critical as we fight for a bye in the playoffs."
The Colonials are one point out of second place and the first-round playoff bye that comes with it.
"We're one point out, one big point," said Schooley. "Now that we're just playing the teams in our pod, you can make up some ground. Things can change dramatically."
I asked Schooley how important the bye is, considering his team is in very good shape to host a playoff game in the first round if it doesn't earn the week off. And there can be advantages to keep playing: just look at what happened to several teams in the NFL playoffs that seemed rusty.
"I absolutely want [a bye]," said Schooley. "It's very big. You don't want to get into a one-game knockout situation, even if you're at home. A bounce can end your season."
The Colonials have a home-and-home series with Canisius this weekend. Who'll be in net for RMU? Schooley has two talented netminders to chose from in sophomore Eric Levine and junior Brooks Ostergard, with Levine playing the majority of games over the past few weeks.
"Brooks played a lot of games for us early, and played well," said Schooley. "Lately, Eric has been getting the majority of time. We have confidence in both. We're going with what we feel gives us the best chance to win that day."
Schooley recently recorded a "Hobey Watch" podcast for USCHO.com. Look for it soon here. He discusses the prospects of several AHA players, including his own Nathan Longpre.
"Ask any coach and he'll tell you how Nathan can dominate a game," said Schooley.
I asked Schooley about his thoughts on the conventional wisdom that Atlantic Hockey will, at best, get a single player onto the list of finalists and that this year with several to choose from, the AHA might get shut out without a single dominant player.
"We shouldn't discount how well these players have done on a national level," he said. "The AHA has done well with some teams with good records. I think we deserve to have more than one player [on the list of Hobey Baker finalists]. I disagree just because you're from the AHA you can only have one."
Ties are OK
In my latest entry of the Atlantic Hockey Blog, I covered the large number of ties this season. One coach who's fine with that is Rochester Institute of Technology's Wayne Wilson, whose Tigers have six ties so far on the season, including one over the past four weekends. Wilson says a draw beats the alternative.
"I'm dead set against the shootout," he said after Saturday's 3-3 tie against Mercyhurst. "I think there are good ties. It's OK for teams to go at it and each come away with something. I don't know why we think it's such a bad thing.
"I think a guy on a showdown [shootout] is a joke. I'd rather play 10 more hours and have a great play decide it. Someone to be the hero and there's no hero in a showdown."
Around the league
Some miscellaneous factoids from a look around the AHA:
• Air Force is has been a big mover in the standings since Christmas, going 9-3-5 in its last 17 games after a 2-6 start. Connecticut has been moving the other way, winning just once in its last nine games after a decent 6-8-3 start. The Huskies can point to a lack of production as the cause for their recent decline. UConn scored 4.6 goals per game in December but only 2.1 in January.
• Holy Cross will be holding its second annual "Pink the Rink" game on Saturday. The team raised over $10,000 last season to help fight breast cancer.
• Niagara's Bryan Haczyk saw his school record 21-game point streak come to an end last Saturday. The senior failed to register a point for the first time since Oct. 23 in a 2-2 tie against Robert Morris.
• Canisius' Cory Conacher needs two points to become the all-time leader at the school. He's chasing Josh Heidinger's record of 132 points, set just last season.
Perfect predictions
In Tuesday's edition of the Atlantic Hockey Blog, I predicted the league's player, goaltender and rookie of the month for January. I was right on all counts. Congrats to Niagara's Haczyk (player), RIT's Shane Madolora (goalie) and Mercyhurst's Taylor Holstrom (rookie).