As I sit here surrounded by feet upon feet of snow, lack power and heat and am ready for the groundhog's prediction of an early spring to come true, here are some random musings about Hockey East: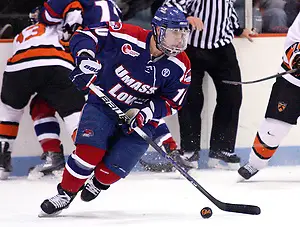 • The Massachusetts-Lowell River Hawks, who have been cannon fodder for this column this year, are seemingly playing their best hockey of the season. That's the good news. Unfortunately for Lowell, that hasn't translated into victories of late. Twice in the span of eight days, Lowell played now-No. 1 Boston College about as tough as it could. The River Hawks held the lead part of the game two weekends ago before falling late, and last Saturday night were trailing by only a goal with 10 minutes remaining in what will go down as the ultimate case of the final score not representing of the overall game, which ended up a 5-1 decision for the Eagles. As my colleague Dave Hendrickson wrote in the Hockey East blog this week, though, it may be too late for Lowell.
• And speaking of BC, it took me a bit of soul searching this past Monday, but eventually the Eagles ended up on top of my ballot for the USCHO.com poll. I think that Yale, Denver and Minnesota-Duluth all could've earned the top spot, but ultimately BC's play of late and realizing this might just be a better all-around team than last year's national champions, had me placing the Eagles No. 1. Curious, though, is the fact that the Eagles rank fifth in the PairWise rankings and wouldn't even earn a No. 1 seed if the NCAA tournament began today.
• Boston University might go down in my book as the most consistently inconsistent team in the league. The Terriers ran off an impressive unbeaten streak to begin the season, hit the skids and looked like they might be chum for even the smaller of sharks and then walked into Orono last weekend and took three of four points from Maine. I remember a Jack Parker quote years ago that went something to the effect that the Terriers are always playing their best hockey come Beanpot time. Parker's explanation for that was early February is generally when he stops screwing things up for the team and just lets them play.
• This past Monday, as I recapped the past weekend in the Hockey East blog, I intentionally didn't say too much about Merrimack. The reason is that I felt almost anything I've written this season has been praising the Warriors, and deservedly so, and I worried that if I wasn't somewhat subtle every now and again that I'd begin to look like a Merrimack bandwagon homer. Well, that was met by the comment from a reader who sarcastically complained that my two passing references to Merrimack "must be a record" for me. Oh well, I guess you can't satisfy all of the readers all of the time.
• Speaking of Merrimack, it should be noted that Chris Barton reached the 100-point plateau for the Warriors last weekend, making him the first player since Anthony Aquino to accomplished that for Merrimack. Hats off to Chris.
• This weekend's Providence-Vermont series might be the most important of the season for both of these teams. One point separates the two clubs for the final playoff spot and both have daunting schedules coming down the stretch. If either sweeps this weekend series, you can almost punch that team's playoff ticket, in my opinion.
• I'll have more on this later in the week, but Northeastern has once again put itself in position to become the Beanpot dark horse. The Huskies have played extremely well of late. Since Dec. 4, Northeastern is 6-2-2, after beginning the season 2-7-3. It seems like so many times in the past decade, I've felt this could be the Huskies' year to capture the most well-known regular season tournament in college hockey. Maybe this is finally the year?
• While the Beanpot may be on the mind of Boston-area fans, it's no doubt that those who live north of the New Hampshire border (excluding Vermont fans) are thinking about the two-game set between New Hampshire and Maine in Durham this weekend. A lot is made of Michigan-Michigan State and Boston College-Boston University as the nation's top two rivalries. But having witnessed the Maine-New Hampshire rivalry, I have to say for those two schools this is THE series of the season. It's nice to have a year where both of these teams are playing pretty well.
• Speaking of Maine, it may be about time to begin hitting the panic button. After an impressive win over Boston College on Jan. 16, the Black Bears have struggled, tying Northeastern on the road before blowing a two-goal lead against BU last Friday and then settling for a 1-1 tie on Saturday. Saturday's game highlighted some of Maine's frustrations, particularly the opening period where Maine held a 20-2 advantage in shots but was tied at 1 heading to the second. Goal scoring hasn't come as easy as you think it would for a team that has some of the nation's most talented scorers. Since a seven-goal outburst against North Dakota way back in October, Maine has eclipsed four goals just once, a 5-0 win at Providence. The Black Bears have put up the magical four goals a couple of times, but when you have a healthy Maine team you would expect 4-5 goals per game to be more of a norm than an exception.
• As I look over the league and begin thinking of Hobey Baker Award candidates for Hockey East, the one player that continually stands out to me is New Hampshire's Paul Thompson. Granted, he's part of an uber-talented top line with Mike Sislo and Phil DeSimone, but Thompson is putting together a very special year. He's already matched his career high in points (39) that he set last season in 39 games. He may play another 15 to 17 games this season and thus would be on pace to beat the 53 points scored last season by Bobby Butler, who earned a spot in the Hobey Hat Trick for his efforts.
• Final thought: Seeing as Hendrickson laid out his picks for which teams will and will not make the playoffs, I might as well give you mine. Like Dave, I say all of the top six teams are safe. I, though, believe that Providence will take the final playoff spot, edging out Vermont. Seeing as I've had the better of the picks over Hendrickson this season, you can take that one to the bank.