Rochester Institute of Technology goaltender Shane Madolora's first start this season was a baptism by fire. Struggling with an ankle injury, the sophomore was competing in what was then a three-goalie rotation to see who would fill the shoes of the departed Jared DeMichiel. In front of a record 10,556 fans at Rochester's Blue Cross Arena, Madolora allowed the game-tying goal with a second left on the clock.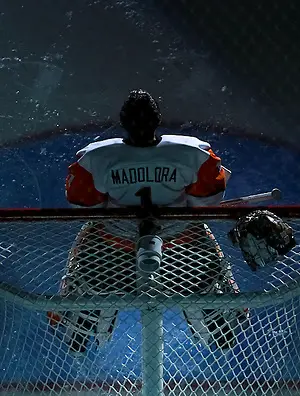 "Some of the goals I let in [in that game] were saves I make every day," he said. "It was frustrating but I knew I would get better."
Did he ever. Last weekend, Madolora posted back-to-back shutouts, his fourth and fifth of the season, to lead the Tigers to a sweep of Canisius and the Atlantic Hockey regular season title.
Madolora now leads all Division I goalies in save percentage (.938), goals-against average (1.82) and winning percentage (.850). He's yet to lose a game in net (14-0-6) this season.
Madolora's rise has been dramatic. RIT coach Wayne Wilson stuck with a two- (and sometimes three-) goalie rotation until the middle of December. Madolora posted a shutout at American International on Dec. 3, but then yielded the starting spot the next night as usual. But the following weekend at Mercyhurst, things changed.
"Coach had mentioned the week before that he was looking for someone to step up," said Madolora. "That it was getting to be the time in the season where he was ready to settle on one guy.
"I had a shutout the week before at AIC. I played pretty well [in a 4-2 win against Mercyhurst on Friday] and coach told me I would be playing the next night."
Madolora claimed the starting job with a 42-save performance for another 4-2 win and has since started every game with the exception of a non-conference tilt against Merrimack on New Year's Day. He's since posted four more shutouts, including three in his last four starts. Those games have put him on top of the national charts.
"I've kind of been following [the statistics] off and on," he said. "People have been mentioning it to me and it's an honor with so many great goalies in Division I."
RIT is undefeated in its last 11 contests, and hasn't lost in conference play in 15 games. That's made comparisons to last year's record-breaking season inevitable.
"It's not the same team and I think it took us a while [to jell]", said Madolora. "This year, you could see in the early games at [Nebraska-] Omaha that our offense had a lot of skill. But we had lost a lot on D with the seniors and Chris Tanev [who signed with Vancouver after his freshman season]. And of course DeMikes [DeMichiel]. So it took us a while to develop."
Madolora has worked on keeping his cool. He's calmer in net than he was during limited action last year and the start of this season. Lately he's been happy to skate away from confrontations, including last weekend, when some Canisius players tried to get in his head.
"There were a couple of times this year where the coaches told me I had to calm down and that I was losing concentration," he said. "I'm getting better at this as I get older. I'm trying to keep a level head and focus on the shot."
Madolora is glad to be able to focus on school and playing hockey after a junior career that saw the Salinas, Calif., native making many stops. So many, in fact, that it hurt his chances to play college hockey.
"I had been playing all over," he said. "My last season [of juniors] I was in Omaha [with the Lancers of the USHL]. Some schools were interested but I got denied by the NCAA [clearinghouse] because my high school transcripts were from all over, California, Texas, Portland [Ore.]. They didn't fit together and I was short a science credit and had to sit out a year. The schools talking to me didn't want to wait.
"That summer I was working at a camp in Stockton [Calif.] and it was run by [former RIT player] Matt Thomas. He called RIT. They had been looking at me off and on but then got interested. Coach Wilson said, 'We can wait'".
And for the Tigers, the wait was worth it.
Around the league
Check out the most recent edition of the Atlantic Hockey blog for each team's playoff possibilities entering the penultimate weekend of the regular season.
To supplement the playoff hunt, here's this week's set of miscellaneous factoids from around the AHA:
• Air Force has literally been working overtime lately. The Falcons have played extra hockey on five of their last seven games. They're 0-2-3 in those contests. Air Force's last nine games have been decided by a goal or less. The Falcons are 3-3-3 in those games.
• Air Force senior Jacques Lamoureux scored his 55th goal in league play last Saturday, tying him with Owen Meyer (Army, 2010) for the all-time league record.
• Connecticut goaltender Garrett Bartus has made 902 saves this season, tops in Division I. He's made 30 or more saves 20 times this season.
• Holy Cross has won six games in a row and the Crusaders' 12 league victories are the most since the 2006 season, when Holy Cross went to the NCAA quarterfinals.
• Robert Morris senior Nathan Longpre needs one more point to become the most prolific scorer in school history. Longpre is tied with Chris Margott (2009) with 136 career points.
• The Gridiron Club of Greater Boston has announced 15 semifinalists for the 59th annual Walter Brown Award, presented to the "best American-born player in New England." Holy Cross sophomore Rob Linsmayer is on the list. Linsmayer leads the Crusaders in scoring with 10 goals and 20 assists. The winner will be announced in April.