With three weeks left in the regular season, I'm left with a puzzling question that I've had a difficult time answering: How good is Northeastern?
In days prior to the Beanpot, which saw NU advance to the championship game and put up six goals, only to lose to No. 1 Boston College, which netted its seventh tally in overtime, I wrote a feature that intimated the fact that Northeastern could be a dark horse in this year's Beanpot. I think even I couldn't truly believe how close I would be to being right.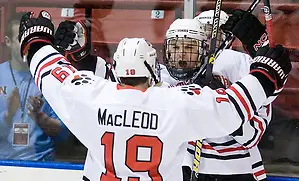 Now, after the Huskies proved their mettle among its Boston brethren, I am once again left asking myself the question: How good is Northeastern?
Though mathematically it's not finalized, it's highly unlikely that Northeastern can get a home-ice spot in the Hockey East playoffs. But if I'm Boston College, New Hampshire, Merrimack or Boston University, do I really want to look out on the ice in the Hockey East quarterfinals and see Northeastern? Right now, my gut is probably not.
Forget that Northeastern has played well of late. Things couldn't get much lower than the first half of the season for the Huskies.
Look instead at what kind of a playoff team Northeastern has been. The club has made the playoffs twice in the last three years. Three years ago, the Huskies played Vermont tough at home, forcing a decisive third game. Vermont went on to reach the Hockey East finals. Two years ago, Northeastern reached the Garden and lost a heartbreaker to an upstart Massachusetts-Lowell team. In the NCAA tournament that season, the Huskies were minutes away from reaching the regional final in their first appearance since 1994.
My take on that is this is a pretty good playoff team coached by a pretty darn good playoff coach. A lot of people could take the other side of the argument and say that Greg Cronin isn't able to win the big game. That could be justified. Twice Cronin was minutes away from big wins (2009 Hockey East semis, 2009 NCAA regional) and twice Cronin has gotten his team to what he still portrays as the biggest game his team will play, the Beanpot final. In all of these games it has been close but no cigar.
But Cronin is, more than anything, a battle-tested coach. International festivals, NHL playoffs, Frozen Fours — Cronin has either led or been part of the staffs that have played at these levels. That experience alone is beneficial and gives Northeastern an edge.
Earlier this week, I made a rare trip to the USCHO.com Fan Forum and read a thread that was titled "Cronin Must Go." It was one of the most poorly-assembled arguments I've ever read for why a coach should be replaced. Thankfully, the majority of the NU faithful supported their coach against what seemed like a lone opinion.
I think that Cronin's peers in Hockey East would also say this is a bench boss who has done wonders for this program. I know right now many would prefer that the club would've taken one additional major step forward Monday night. But down the stretch, I'm pretty convinced that Northeastern has both the players and the head coach to be oh so dangerous in the opening round of the Hockey East playoffs.
Crunching the numbers
Maybe I'm a little over-inspired by watching Watson, the supercomputer that is running over the "Jeopardy!" field this week, but I decided to try to assemble a formula to predict the final Hockey East standings.
Because each of the three remaining weekends will see all games played in two-game series, I came up with the following formula to predict the number of points each team will receive:
• If the teams are separated by 0-3 points: Each team will get two points in the series.
• If the teams are separated by 4-7 points: The team with the higher point total will receive 3 of 4 points.
• If the teams are separated by 8 or more points: The team with the higher point total will sweep.
I will save all of you the boring math by showing the results only. Using the above formula, the standings would be:
1. New Hampshire — 42 points
Boston College — 42 points
3. Merrimack — 40 points
4. Boston University — 39 points
5. Maine — 31 points
6. Northeastern — 21 points
7. Vermont — 17 points
8. Providence — 15 points
Massachusetts — 15 points
10. Massachusetts-Lowell — 8 points
There would be two major tiebreakers in these results:
• New Hampshire would take the No. 1 seed over BC with either a 2-1-0 record or a 1-0-2 record (only possible records if BC and UNH split the final weekend series, as my formula says they would).
• Providence would take the No. 8 seed (and final playoff spot) by virtue of a 1-0-2 record over Massachusetts.
Now, there is one thing that this formula doesn't take into account, and that is home-ice advantage. In home-and-home series, that's irrelevant. But when Maine and Vermont either travel for or host two-game series, I think home ice is usually worth one of the four points in those series.
Believe it or not, that would have some major standings impact with New Hampshire traveling to Vermont this weekend and UMass hosting Maine on the final weekend of the season.
So taking into account home ice, my "formulaic" standings would be as follows:
1. Boston College — 42 points
2. New Hampshire — 41 points
3. Merrimack — 39 points
Boston University — 39 points
5. Maine — 30 points
6. Northeastern — 21 points
7. Vermont — 19 points
8. UMass — 16 points
9. Providence — 15 points
10. Massachusetts-Lowell — 8 points
The one tiebreaker here would go to Merrimack, which won the season series against BU, 1-0-2.
One thing I learned putting together this little experiment is that, aside from BC/UNH on the final weekend and Maine/Merrimack next weekend, most of the top five teams in the standings will play games against the bottom of the league that they "should" win. Thus, the bottom of the league will have a chance not just to battle for a playoff spot, but also to play the role of spoiler.
Of course, these are just standings based on a silly standardized formula that I developed. That said, they can certainly get us thinking about how the remainder of this season might play out.