There's so much at stake this weekend that there promises to be drama that affects the standings in every rink this weekend. Even the battle for last place — between Bowling Green and Michigan State in East Lansing — sees the end of an era with MSU's Rick Comley's imminent retirement.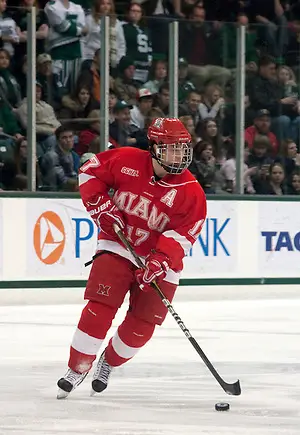 One point separates first-place Notre Dame from second-place Michigan, so the regular season title is on the line and the Irish go into the weekend knowing they can finish no lower than second place. Michigan and Miami can finish no lower than third, so the coveted fourth and fifth places — with their first-round byes — are up for grabs, and there are five teams vying for those spots.
But enough of this standings nonsense. That's what Friday's blog is for. It's time for hardware.
Hardware
It's time for the annual Girl Reporter awards (can we nickname them? "Girlies" perhaps?), the completely unofficial and literally nonexistent hardware that I toss out at the end of every season. I'm the committee of one that decides these, but as always, I welcome your feedback and derision.
Player of the Year
This year was a strange one in the CCHA and, I'd argue, for all of college hockey. The parity seemed real across all of D-I, and coaches — at least the coaches in these parts — often pointed to a rather shallow talent pool, one depleted by the lure of professional hockey.
In the CCHA, there were a few standout players, but very few outright game-changers emerged until the second half of the season, with the notable exception of Carter Camper, whose fast start was breathtaking.
The player that impressed me most this season, though, was Camper's teammate, forward Andy Miele. Miele (17-39–56), a native of Grosse Pointe Woods, Mich., enters the last weekend of the season averaging more points per game than any other player in Division I (1.75).
It seems that every time Miele's on the ice, he's the best player on the ice — and that's saying something, given the company he keeps with his RedHawks teammates.
Michigan senior forward Carl Hagelin (15-27–42) was a close second. He's just an extraordinary player who has become the driving force behind a likewise talented team.
Coach of the Year
With all due respect to the three coaches whose teams will finish in the top three, this is a no-brainer: Western Michigan's Jeff Blashill.
Blashill moved essentially the same Broncos team that finished in last place last season (4-17-7-2) significantly up the standings, and with a record of 9-8-9-5 in league play, WMU has 41 points to last season's 21. The Broncos are the hardest-working team in college hockey right now.
It doesn't matter where Western will finish — anywhere from fourth to seventh, depending on the outcome of their games against Notre Dame this weekend. Blashill has earned this virtual hardware, and I'd be surprised if the real thing weren't coming his way in Detroit next month.
Rookie of the Year
I'm so glad I went with Alaska's Andy Taranto last season, even though he was old enough to buy booze when he hit the campus in Fairbanks. Look where Notre Dame's Kyle Palmieri is now.
Palmieri's departure doesn't sour me on the notable newcomers from Notre Dame, though. (Say that three times fast.)
This year's Girl Reporter Rookie of the Year is Irish freshman forward T.J. Tynan of Orland Park, Ill. Tynan (19-25–44) leads all rookies nationally in points per game (1.29). He also leads the nation's fifth-best offense in scoring, narrowly edging out classmate and forward Anders Lee, who has the same number of goals (19-19–38) heading into the last weekend of regular-season play.
Yes, it's a tough call. Tynan came into the league just 18 years old; Lee is two years older. Lee started the season with better numbers, too — and he could finish the season with better numbers than Tynan.
But it's Tynan's birthday this weekend. He'll be 19 on Friday. My awards. My rules.
Other rookies that caught my eye: WMU forward Chase Balisy (12-17–29); LSSU goaltender Kevin Kapalka (.925 save percentage, 2.25 GAA); Michigan defenseman Jon Merrill (7-12–19). All three will develop into significant impact players in this league — if they stay. (Any bets on Merrill?)
Team of the Year
As tempting as it is to give this to Western Michigan, my Team of the Year has to be Notre Dame. Any team that can overcome the obvious issues they had last season — a bit of entitlement early on, a slate of injuries later — to rise from ninth place to the top of the standings with a shot at the regular-season title gets my vote.
Ferris State Memorial Defenders-of-the-Realm Award
Even though Alaska still has two games against Alaska-Anchorage this weekend, the Broncos have this one all sewn up. With a nonconference record of 6-1-1 that included no games against Alabama-Huntsville, Western Michigan earns this year's Defenders of the Realm award.
The Broncos get bonus points for sweeping current No. 5 Union back in December.
Honorable mention goes to Lake Superior State. The Lakers took on the entire province of Ontario and — after dropping a season-opening exhibition game to Western Ontario, 5-4 — went 5-1-0 against our Canadian foes, spurred by a decisive five-game run in early January.
The fact that no other CCHA team played that many games is irrelevant.
Chris Richards Most-Likely-to-Be-Overlooked Memorial Award
This goes to Ferris State senior goaltender Pat Nagle, a workhorse in net whose overall numbers are great (2.00 GAA, .923 save percentage), but who will likely be eclipsed by goalies who haven't played as much but whose league numbers are better.
I fear the same will happen for Alaska junior Scott Greenham.
Mike York Poetry-in-Motion Memorial Award
Michigan's Hagelin. Again. His overtime goal against Western last weekend cemented it for me.
Best Offensive Goalie Award
It was a down year for goalie scoring in the CCHA, with a disappointing five assists spread out among five league goaltenders. In the end, I had to go with points per game.
Michigan State junior Drew Palmisano narrowly edged Michigan junior Shawn Hunwick for this most insignificant of goaltending awards.
Palmisano had one assist in 24 games; Hunwick had one in 25 games. Palmisano averaged .042 points per game to Hunwick's .040.
Other goalies with single assists include Alaska's Greenham, Ferris State's Nagle and Notre Dame's Mike Johnson.
Should the numbers change this weekend, I'm not opposed to rescinding this award and giving it to any goalie who can add a second point or score two from scratch in the final weekend of regular-season play.
Two categories for which I need your help
I don't know who's going to leave early, and I don't know who can pick up the trash. Can you help me?
Last year, the Mike Comrie Most-Likely-to-Leave-Early Memorial Award went to Zac Dalpe, who did leave early. I'm leaning toward BG's Jordan Samuels-Thomas for reasons different than those that decided the Dalpe pick, but I am not at all certain about who's looking like he might bolt.
I also need help with the Aniket Dhadphale Garbage Man Memorial Award, named for the former Notre Dame player who knew how to capitalize in chaos close in. I am absolutely flummoxed as to who to pick this season, quite possibly a side effect of having spent a lot of time in two specific rinks this year.
Once again, I'll take nominations. Give me a reason to award these next week. You can e-mail ([email protected]) or tweet (@paulacweston) or just slap an opinion into the comments.
My ballot
1. Boston College
2. North Dakota
3. Yale
4. Denver
5. Michigan
6. Minnesota-Duluth
7. Notre Dame
8. Merrimack
9. Union
10. New Hampshire
11. Miami
12. Wisconsin
13. Nebraska-Omaha
14. Western Michigan
15. Boston University
16. Rensselaer
17. Maine
18. Colorado College
19. Dartmouth
20. Ferris State