Three of the four teams earning a bye in the Atlantic Hockey playoffs go into the postseason on a roll. Air Force, Connecticut and Holy Cross are hoping that the extra down time doesn't cool them off:
• Air Force went 6-2-2 down the stretch, including 4-0 in its final two weekends, to leapfrog Niagara and Robert Morris and claim a bye.
• UConn has won three games in a row and five of its last six, including a bye-clinching sweep of American International last weekend. The Huskies' three-game winning streak is their longest in three years.
• Holy Cross is on a school-record 11-game unbeaten streak (8-0-3) that dates to Jan. 21. The Crusaders broke the 31-year-old record last weekend with a win and a tie against Bentley.
Rochester Institute of Technology, the other bye team and regular season champion, has cooled off, going winless in its last three games. The Tigers' 18-game home unbeaten streak in AHA play was snapped last Saturday in a 5-2 loss to Niagara.
Getting over it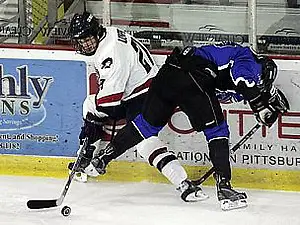 Robert Morris went out to Air Force last weekend looking to make history on several fronts. Senior Nathan Longpre was poised to set the all-time career posts mark at the school (he did, scoring his 137th point on Friday) and he and teammate Denny Urban were about to set the school record for most games played (they both did, participating in their 135th games on Saturday).
But the big goal for RMU was to lock up second place overall and a first-round playoff bye. The Colonials needed two points to clinch, but were swept by the Falcons in a pair of 4-2 contests. As a result, Robert Morris tumbled all the way down to fifth place.
"[Air Force] got what they deserved, which is four points," said RMU coach Derek Schooley. "And we got what we deserved. We got good goaltending by Brooks Ostergard but it wasn't enough. We had chances in both games. We were leading 2-1 [on Saturday] with 10 minutes to go."
Now, instead of a week off and a best-of-three series, the Colonials face a single-game elimination contest against Mercyhurst.
"We've played a lot of one-game knockouts. We know what we have to do," said Schooley. "We've got to readjust. We haven't been below third place all season but that's over and everybody starts fresh. We have to be ready for our first playoff game.
"[Mercyhurst was] the only team to beat us at the Island Sports Complex this season, so we know we have to be ready. They're a good team and it's a tough matchup where the fifth-place team has to play the seventh-place team."
Round one
Here's your playoff outlook for the first round:
No. 6E American International at No. 3E Army
How they got here: AIC was looking to escape the AHA basement this season, but dropped seven of its last eight games, resulting in a last-place finish. Army was flirting with a bye, winning three of its last four games, but finished ninth overall but third in the East pod.
Outlook: This is a battle of the worst defense in the league (AIC) against the worst offense (Army). Army swept AIC two weeks ago, but the shots on goal in both games were fairly close, with the Black Knights having big second periods in both games.
Yellow Jackets player to watch: Sophomore Adam Pleskach leads the team in goals (12) and points (25).
Black Knights player to watch: Cody Omilusik is having another strong season at Army in his senior campaign. He's got 18 goals and 31 points to date.
No. 5E Sacred Heart at No. 4E Bentley
How they got here: It's been a rough season for the Pioneers, who managed to avoid last place with a win in their final game of the regular season. The Falcons had an outside shot at a bye, but managed a single win in their last five games.
Outlook: It'll be interesting to see who starts in net for each team. Steven Legatto saw most of the action down the stretch for Sacred Heart, but senior Olivier St. Onge played well in the Pioneers' final game. Bentley had gone with Kyle Rank for the past several games, but also went with a senior in its last home game — Joe Calvi, who earned a point against Holy Cross.
Pioneers player to watch: Junior Matt Gingera leads the team with 16 goals.
Falcons player to watch: Brent Gensler is making a bid for AHA rookie of the year with a team-leading 13 goals.
No. 6W Canisius at No. 3W Niagara
How they got here: Canisius was in the middle of the pack in the AHA all year, while Niagara's dynamic duo of Paul Zanette and Bryan Haczyk had the Purple Eagles near the top of the standings throughout the season.
Outlook: The Western New York rivals meet for the fourth time this season and the third time in their last five games. Niagara leads the all-time series 14-7-1, including 2-1 this season. The Purple Eagles' goaltending was a little inconsistent down the stretch, but both Cody Campbell and Chris Noonan played well against RIT last weekend. The Griffs had trouble scoring goals earlier this month, but broke out in a big way against Niagara with a 6-3 win on Feb. 19.
Golden Griffins player to watch: Senior Cory Conacher has broken all the major career scoring records at Canisius. His 22 goals is more than twice as much as any other Golden Griffins player this season.
Purple Eagles player to watch: Paul Zanette was the AHA player of the month for February and leads the nation with 29 goals.
No. 5W Mercyhurst at No. 4W Robert Morris
How they got here: The Colonials were at or near the top of the standings for most of the season, but a sweep at the hands of Air Force in the final weekend of the regular season dropped them from second to fifth place. The Lakers have just one win in their past six games, but it was in their final game of the regular season.
Outlook: Mercyhurst was the only team to beat Robert Morris at the Island Sports Center this season. Since then, RMU is 8-0-2 on home ice. The teams were 1-1-1 head-to-head.
Lakers player to watch: Senior goaltender Ryan Zapolski has played in 28 games so far this season, posting a .921 save percentage.
Colonials player to watch: Senior defenseman Denny Urban has 39 points this season, tops among AHA blueliners.
Close proximity
The AHA wanted to decrease travel in the first round of the playoffs with its "pod" system, and it's had the desired effect. The four first-round games on tap are between teams very close distance-wise.
• Canisius at Niagara: 20 miles
• Mercyhurst at Robert Morris: 125 miles
• Sacred Heart at Bentley: 135 miles
• AIC at Army: 125 miles
In an alternate reality (known as the ECAC or the WCHA), the Atlantic Hockey playoff picture would look quite different. Like the AHA, both the ECAC and WCHA have 12 teams, and everyone makes the playoffs.
The WCHA's final six isn't really an option (and I don't like it anyway), but the ECAC's setup would be fairer. The top four teams get byes and seeds five through 12 play down.
Using that system, the matchups would be:
• No. 12 AIC at No. 5 Robert Morris
• No. 11 Sacred Heart at No. 6 Connecticut
• No. 10 Bentley at No. 7 Mercyhurst
• No. 9 Army at No. 8 Canisius
OK, a lot more travel, but a fairer system. Making the fifth- and seventh-place teams face each other in a single-elimination game while the sixth-place team has a bye and the 10th-place team gets a home game hurts the league's credibility.
The quarterfinals will go back to a straight standings-based seeding, but that means that either Robert Morris or Mercyhurst will be gone while two teams that finished ninth through 12th will survive. UConn, which has a bye, will not get a home quarterfinal series unless Niagara and Robert Morris both lose.
Fix this, please.