All Notre Dame needed to capture the regular-season title was a win at home. Heading into last weekend's games, the Fighting Irish were a point ahead of Michigan in the CCHA standings. Friday night, Notre Dame beat Western Michigan in Kalamazoo while the Wolverines kept pace by beating Northern Michigan in Marquette.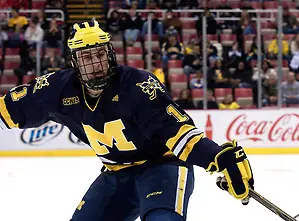 When the season was over, though, the Irish were two points behind the Wolverines, because ND lost at home to WMU, 2-0, and UM beat NMU on the road again.
After the loss, Notre Dame coach Jeff Jackson credited a tough opponent. "They wanted fourth place more than we wanted first place," Jackson told the South Bend Tribune.
The Irish weren't the only team to prove that home ice was no advantage. The Wildcats lost twice at home. The Buckeyes — who could have claimed a bye spot — lost five of six points to the Bulldogs at home. The Lakers lost two at home.
The only team that took care of business on its own ice was Michigan State. The Spartans swept Bowling Green in a series that did not affect the standings one bit; because Ohio State earned a point last Thursday, neither MSU nor BGSU could finish anywhere but where they were when they started their series.
A look at the final points is as good an argument for parity as any I've ever heard from a league that throws the word around frequently enough: two points between first and second; four points between second and third. Six points — two games — separate Nos. 4 and 7.
Makes me wonder how much home ice is going to matter in the first-round series.
For some people, exceptional isn't good enough
MSU coach Rick Comley is an exceptional guy.
He's a great family man. That's drawn criticism from Spartans fans who faulted him for keeping regular hours at the rink in order to spend time with his family.
He's a great coach. Among his many accomplishments, he won MSU a national championship in his fifth year as head coach — and that's as many NCAA titles as Ron Mason brought to East Lansing.
He's a class act. He's always easy to interview, someone reporters want to spend time with — as much for his sincerely warm personality as his huge breadth of hockey knowledge.
What he isn't, though, is disingenuous. He's frank, direct, he doesn't lack diplomacy, but people are quick to jump to conclusions that fit their own agenda when he speaks.
After Friday's win over Bowling Green, Comley was asked — yet again — to reflect on his career coming to an end, and what he said was taken completely out of context.
"I keep saying this — and I mean this with no disrespect to Michigan State or anything — it's not leaving Michigan State," said Comley, "it's the fact that there's going to come a point here in a couple weeks when college hockey will be over. I'm a college hockey guy, not a Michigan State guy. That's been obvious since the first day I got here."
I was there. I got it immediately. The man's been around college hockey his entire adult life, not just his nine years in East Lansing. He's retiring from something that has defined the entire arc of his professional life, the bulk of his waking hours, and he's doing it sooner than he'd like.
Perhaps predictably, there were people who took his comments the wrong way. I'm not entirely certain that there weren't reporters who didn't misconstrue his comments — and his last games in East Lansing brought plenty of people who aren't exactly regulars in Munn Ice Arena.
So, after Saturday's win, Comley felt the need to clarify a few things.
"Last night I made a comment that I'm a college guy more than I'm a Michigan State guy," said Comley. "I don't mean that. I want everybody to understand what I mean. I think of myself in a broad term. I'm really proud to have been at Michigan State. There are great memories. It's a great institution. It's a big, big part of my career, but I've got respect for all three schools that I've been at, so when I described myself as a college guy, it's in no way intended to be a non-Michigan State guy. You know what I mean?
"I don't know who last night, but somebody took exception to it. I'm trying to tell you in all honesty that I can tell you.
"One of the issues is that this has gone on and on. People want you to reflect. It's not reflect just on the nine years [at Michigan State], so it kind of all gets capsuled. Please understand, this has been a very important nine years for me."
It's hard to get an audience to understand you when the audience has such a narrow filter. Comley even had to clarify a few things about the tie he wore on Friday night. It was a beauty. I remember diagonal purple stripes — wide stripes — but I think I've blocked out the rest. Comley explained that the tie was a gift from his granddaughter, Katie.
"Katie bought this for me for Christmas," said Comley. "Her dad tried to talk her out of it, but she said, 'No.' I came downstairs before I came to the rink and she said, 'Oh, Papa, I love your tie.' So this is a Katie tie."
When I remarked that video wouldn't do the tie justice, Comley laughed and said, "No, not justice."
That very tie was at the root of something else Comley felt compelled to clarify after Saturday's win.
"I wore a tie last night that was a Christmas tie from my granddaughter," said Comley, "so after the game a certain sports director said, 'Look how happy Coach Comley is, giving me the thumbs-up.' Well, who I was giving the thumbs-up to was Katie in the press box and I showed her the tie. So, yes, I enjoyed the win but …"
Comley and the press corps laughed. There was no need for him to finish his sentence.
For some folks, it's not enough for someone to prove an exceptional class act on his way out of town. No, some would like to see the person on the receiving end of the bum's rush reply with, "Thank you! May I have another?"
And clarification about another coach
Last week, I inadvertently ruffled feathers when I reported an offhand remark that Michigan captain Carl Hagelin made following UM's 5-4 OT win over Western Michigan on Feb. 19. In my picks blog, I said that Hagelin had been told by Broncos' head coach Jeff Blashill that WMU would get a win — helping out the Wolverines — against Notre Dame.
Blashill contacted me to tell me that he'd never talked to Hagelin. OK. So the reporter that I got the paraphrase from checked his post-game notes, and it turned out that Blashill was identified. The exact quote is this: "Talked to the Western coach and he said they're going to get a win next weekend."
As it turns out, this did transpire in the handshake line, but it was assistant coach Rob Facca — the most outgoing, funniest, exuberant and best-dressed guy in college hockey — who uttered the line, according to Matt Trevor, the assistant athletic media relations director at UM who handles hockey.
I apologize to Blashill — a total gentleman when he called — for the mix-up, and I appreciate his contacting me to set the record straight. It was a really nice moment after an intensely emotional game. The comment in the line, Hagelin sharing it in the spirit in which it was intended, Blashill's phone call, Trevor clarifying — it all shows you how collegial this league is.
Girl Reporter awards, Part 2
Ladies and gentlemen, there's a new decision regarding the award for Best Offensive Goalie. Last week, I said that MSU's Drew Palmisano edged out UM's Shawn Hunwick for this hardware, but I failed to take into account WMU's Jerry Kuhn.
In fact, Jerry Kuhn is our Best Offensive Goalie for the 2010-11 season, having averaged .043 points per game. Palmisano averaged .040 PPG, and Hunwick .037.
Having examined all the stats again, however, I realize that I've missed a category deserving of an award: Most Penalized Goaltender.
With four penalties for eight minutes, Drew Palmisano is the inaugural Girl Reporter Most Penalized Goaltender. Henceforth — or until someone draws more than eight minutes — his name will grace this award, too.
Aniket Dhadphale Garbage Man Memorial Award
My plea for help with this award brought a lot of e-mail from Buckeyes fans about OSU senior Sergio Somma. With 10 power-play goals, Somma leads the league in the category and is tied for sixth in the nation. Most of these, I'm assured, have been of the trash-picking variety.
Congratulations, Sergio Somma!
Mike Comrie Most-Likely-to-Leave-Early Memorial Award
This year, there is a dearth of drafted, ready-to-go-pro talent among the underclassmen in the CCHA, so this one was hard. I had one nomination from a Nanooks fan, but I'm not sure the person nominated is someone likely to leave.
My pick is the player I was leaning toward last week: Bowling Green's Jordan Samuels-Thomas. The sophomore from Windsor, Conn., has eight goals and 10 assists for 18 points in 31 games — three fewer goals and seven fewer total points than he had his rookie season in 35 games. He's certainly a better team player this season than he was last year, but he still needs to work on his skating.
So why do I think he's bound for glory? Because of Bowling Green. I think coach Chris Bergeron is doing an excellent job with what he inherited there, but that program has quite a way to go and the Atlanta Thrashers, who own the rights to Samuels-Thomas, may decide that he'd develop better somewhere else.
Ballot
My vote this week:
1. Boston College
2. North Dakota
3. Yale
4. Michigan
5. Denver
6. Union
7. Notre Dame
8. Merrimack
9. Miami
10. New Hampshire
11. Nebraska-Omaha
12. Minnesota-Duluth
13. Western Michigan
14. Maine
15. Rensselaer
16. Boston University
17. Colorado College
18. Minnesota
19. St. Cloud State
20. Wisconsin
Friday …
… I'll preview the first-round CCHA series in my blog.
Need more misery from me? Tweet: @paulacweston. You can e-mail, too.