Three teams advanced from the first round of the CCHA playoffs last weekend. Congratulations to Alaska, Bowling Green and Lake Superior State.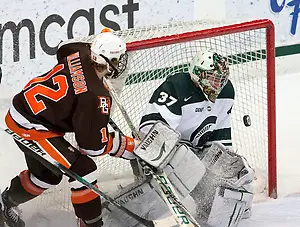 I was completely wrong in my predictions on the outcome of the first round, which surprises no one. That I picked as I did was as much a symptom of the real parity of this season as it was my own feeble-mindedness.
Other than learning that you shouldn't make book on what I have to say, a few interesting lessons emerged from the first round of the CCHA playoffs.
Finishers win
OK, so that oversimplifies things. Two of the three visiting teams ended their seasons, and I was struck by the number of one-goal games each played and their records in those contest this seasons. Including games with late third-period empty-net goals prior to the playoffs, Michigan State was 7-10 in one-goal games; Ohio State was 7-13.
Both playoff games between the Spartans and Nanooks ended in overtime and one of the Buckeyes' losses to the Lakers was a one-goal game.
All season long, it just seemed as though the Spartans and Buckeyes were this close to better records, frustrating one new head coach and knocking the other out of a job.
After being swept in Sault Ste. Marie, OSU coach Mark Osiecki told the Soo Evening News that the Lakers were successful because of their sense of urgency. "I thought they played well," said Osiecki, "and they played desperate hockey like you want to do to close out a series."
When the Nanooks eliminated the Spartans in back-to-back overtime decisions, MSU coach Rick Comley told the Lansing State Journal that, aside from the loss, he liked what he saw from the Spartans. "I think this team has grown and they're showing that," said Comley. "They have a bright future and I want to wish the new coach all the best luck in the world with this group."
Inconsistency is costly
The other losing team, Northern Michigan, was 8-4 in one-goal games and both of the Wildcats' home losses to Bowling Green last weekend were decided by a goal.
NMU is an anomaly in many ways this season, though. The Wildcats allowed 117 goals to the 91 they scored, overall, and Northern seemed bipolar in its scoring this season, with seven games decided by four goals or more and a 3-8 record in those contests. That's 18 percent of NMU's games decided by a four-goal margin.
The Wildcats won the first game of the series, 6-3, before losing 2-0 and 2-1 in double overtime. This marks the first time since Walt Kyle was hired as NMU's head coach in 2002-03 that his team hasn't advanced past the first round of the CCHA playoffs, and the second time under Kyle that the Wildcats will be absent from the CCHA tournament in Detroit.
Consistency pays off
Heading into the playoffs, the Falcons had won just eight games in the regular season, three in the CCHA, and BG had just two road wins — but one against Northern Michigan.
The Falcons registered half of their eight regular-season wins in one-goal games and were 4-7 in the 11 contests that were decided by a single goal (including ENGs). One of the keys to BGSU's success, though, comes from the slow-and-steady-wins-the-race attitude that first-year head coach Chris Bergeron took to BG from Miami. Bergeron himself is a very animated guy, but the overall philosophy of keeping an even keel and working steadily toward goals is what he helped Enrico Blasi (and Western's Jeff Blashill) develop in Oxford, Ohio.
"We grew up tonight," Bergeron told the Marquette Mining Journal after prevailing Sunday. "We grew up this weekend as a program and as a team. I'm really happy for our guys. It's been a long year for us."
In the same article, Kyle said that persistence paid off for the Falcons. "They hung around and we turned the puck over in overtime. We had a guy turn it over and they took advantage of it."
John Markell was right
Every time I've run into the former Buckeyes head coach this season, he's given me some pretty good insight about the league. Freed from the shackles of coaching, Markell is scouting — and because of that, viewing the ice with fresh eyes.
From the earliest part of this season of parity, Markell has said that it would all come down to goaltending.
Alaska's Scott Greenham posted a .918 save percentage on the weekend, while MSU's combined save percentage was .900. Drew Palmisano (.919) and Will Yanakeff (.882) split time in net.
Bowling Green's Andrew Hammond posted a .986 save percentage in the two games he won; NMU's Reid Ellingson's save percentage was .943 in the games he lost.
Lake Superior State's Kevin Kapalka posted a .974 save percentage for the weekend; OSU's Cal Heeter's was .930.
Greenham has played every minute in Alaska's net this season and has been as steady and good as they come. Hammond and Kapalka may prove true the old sayings about playoffs and hot goaltenders.
Next up for Michigan State
Now that MSU's season is officially over, the attention in East Lansing turns to hiring a new coach. According to my friend and esteemed colleague, Neil Koepke — who has been covering the Spartans forever — there are three legitimate contenders for the job: former Spartans player and current U.S. Under-17 team coach Danton Cole; Denver head coach George Gwozdecky; and former Spartans player Kelly Miller, who is currently not coaching hockey.
In an article in the Lansing State Journal earlier this week, Koepke said that the announcement of a new head coach could be soon or "may not happen until April."
This makes my head hurt
I've been straddling two camps of the academic world for 16 years now. In one camp, I teach college. I was raised to value education, to understand how an education can enrich one's life and improve one's personal economy over the course of a lifetime. I believe in what I do, and I'm grateful that my parents — my father born into poverty in northern Maine and my mother the daughter of a steelworker in eastern Pennsylvania — put me on this path almost from birth.
In the other camp, of course, I cover NCAA Division I men's ice hockey. Perhaps because I do value education, I can put into perspective much of that which is associated with college athletics that seems inequitable and counter to real learning. For every showboating, stupid, arrogant idiot who shames his (or her, but far more often his) school, family, and team with inappropriate or outright illegal behavior, there are hundreds of student-athletes whose participation in collegiate sports enhances rather than hinders their college education.
I know, too, that funding for what happens in the classroom often comes from a different source than that which funds what happens on the court, track, field or ice. Still, I can't help but feel a little unease about what's unfolding in Pennsylvania this week.
Yesterday, Gov. Tom Corbett revealed his budget for 2011-12, which cuts funding to Penn State University by $165.1 million — half of the institution's current funding.
Half.
Penn State isn't alone, of course. The University of Pittsburgh's funding would drop from $167.9 million to $80.2 million. Temple University's funding will drop from $172.7 million to $82.5 million.
All of this is happening as Penn State is gearing up for Division I men's ice hockey. Private donors will pony up as much as $100 million, when all is said and done, to make this happen.
That is, the cost of making men's ice hockey a reality at Penn State is about the same as the amount of money Corbett proposes to cut from the University of Pittsburgh's or Temple's budget.
Yes, I get the difference in the funding. What I have a difficult time wrapping my brain around is the difference in values. I'm happy that Penn State is starting its hockey program, something that will heighten the profile of college hockey (albeit at the expense, I fear, of some of the coziness we love about our niche sport). I'm happy that the Nittany Lions have such generous friends.
I guess I just wish that the academic side of Penn State — and the University of Pittsburgh, and Temple, and every other public institution of higher education in Pennsylvania that will be affected by drastic budget cuts — had friends that were just as generous.
Funniest note of the year
The week before the playoffs, the CCHA — in noting the league's overall nonconference record this season — remarked that it's 9-1-1 against "Independents."
My ballot
Didn't change from last week.
1. Boston College
2. North Dakota
3. Yale
4. Michigan
5. Denver
6. Union
7. Notre Dame
8. Merrimack
9. Miami
10. New Hampshire
11. Nebraska-Omaha
12. Minnesota-Duluth
13. Western Michigan
14. Maine
15. Rensselaer
16. Boston University
17. Colorado College
18. Minnesota
19. St. Cloud State
20. Wisconsin
As always
Friday, I'll post a blog with picks for the second round of the CCHA playoffs — bound to be completely wrong.
E-mail ([email protected]), tweet (@paulacweston) or just vent in the forum below.