Will the Midwest Regional of the 2011 NCAA Division I men's hockey tournament provide as much drama as it did the last time it was in Green Bay?
Five years ago, Wisconsin made it to the Frozen Four with a 1-0, three-overtime victory over Cornell. This season, North Dakota, Denver, Western Michigan and Rensselaer take to the Resch Center ice.
Here are the previews for the Midwest Regional. Check to the right for game times and locations.
Coach: Dave Hakstol, seventh season
Record: 30-8-3 (21-6-1 WCHA, first)
How they got in: Automatic qualifier, WCHA tournament champion
Regional seed: First
Last NCAA tournament appearance: 2010
Best NCAA finish: Champions, 1959, 1963, 1980, 1982, 1987, 1997, 2000
Why they'll get to the Frozen Four: The team has very few visible weaknesses and a singular focus on winning the national championship.
Why they won't get to the Frozen Four: The grind of winning both the WCHA regular season and playoff titles may lead to yet another first-round exit. That, and a ridiculous amount of pressure is on the team this year.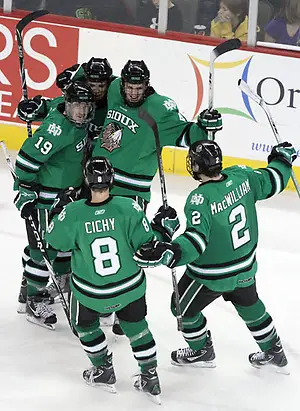 Aside from a few non-conference struggles early in the season and a bit of inconsistency in January, North Dakota has been steadily good all season. The team enters the NCAA tournament on a 13-game unbeaten streak, tied with Miami for longest in the nation.
According to the polls, the Sioux are the best team in the country and they've earned that position by being a solid team with solid goaltending from Aaron Dell, a Hobey Baker candidate in Matt Frattin and, as mentioned above, very few visible weaknesses.
For all intents and purposes, UND is at the top of its game. However, coach Dave Hakstol won't necessarily agree with you.
"I've said all year, we want to keep trying to get better," he said after his team's win over CC at the Final Five. "There are still little things that we can improve on."
Hearing that could be scary for an opponent. Rensselaer, the Sioux's first NCAA opponent on Saturday, may hope that UND will overlook it, but the Engineers shouldn't count on it. The Sioux didn't overlook Michigan Tech in the last weekend of the regular season (when they easily could have) or in the first round of the WCHA playoffs.
Part of the reason why is the intense focus of the Sioux senior class.
"This is a tight group," Hakstol said after the WCHA championship victory. "Six of them came in together four years ago; Chay [Genoway] came in five years ago. They've had an awful lot of success along the way. They have very clear goals that they want to achieve. We haven't talked about those goals outside of our locker room all season long, but these guys have set the bar.
"They know what they want to accomplish, but more importantly, they're aware of the things they need to do on a daily basis in order to have a chance to accomplish those and to me, that's the real special thing about this class. It's easy to have goals. It's not quite as easy to be willing to do the hard things day in and day out that give you an opportunity to achieve those goals."
— Theresa Spisak
Coach: George Gwozdecky, 17th season
Record: 24-11-5 (17-8-3 WCHA, second)
How they got in: At-large bid
Regional seed: Second
Last NCAA tournament appearance: 2010
Best NCAA finish: Champions, 1958, 1960, 1961, 1968, 1969, 2004, 2005
Why they'll get to the Frozen Four: The Pioneers are a balanced overall team with a strong freshmen class that doesn't seem to be tiring.
Why they won't get to the Frozen Four: Despite the balance, DU is inconsistent and has difficulties holding a lead.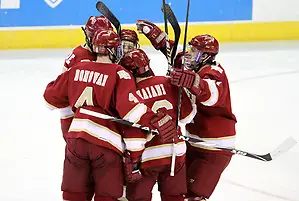 After a bit of a rough start, the Pioneers had a better-than-expected season in the WCHA this year. The team was picked to finish mid-pack in the league and instead ended up contending for the league title before finally finishing in second place.
The finish was partly due to some breakout performances of a couple players — namely, sophomore Drew Shore and freshmen Jason Zucker and Sam Brittain.
Now, the team is in position to try to avoid the "one-and-done" situation it's been in the last three years in the NCAAs. One thing that should help is that Denver is healthy this year, as opposed to last season. However, the Pioneers have a tough first-round matchup in Western Michigan.
"They're good," said coach George Gwozdecky. "Western Michigan has had a terrific year. … It's going to be a huge challenge for us. Certainly, we're excited about that challenge and looking forward to taking on the Broncos on Saturday."
If they get past WMU, the Pioneers will face either Rensselaer, which has DU connections on the coaching staff (former DU assistant Seth Appert at the helm and former DU captain Bryan Vines as an assistant) or North Dakota in a rematch of the WCHA Final Five championship game.
Although either possibility is undoubtedly in the back of Gwozdecky's mind, he's focused on only one game right now — his team's first.
"Our plan is to give ourselves the best chance to get through this first game," he said. "It's going to be tough; it's going to be very difficult."
— Theresa Spisak
Coach: Jeff Blashill, first year
Record: 19-12-10 (10-9-9-5 CCHA, fourth)
How they got in: At-large bid
Regional seed: Third
Last NCAA tournament appearance: 1996
Best NCAA finish: Three appearances (1986, 1994, 1996), no wins
Why they'll get to the Frozen Four: They play great team defense and disciplined hockey in front of goaltender Jerry Kuhn, who's having a career season.
Why they won't get to the Frozen Four: None of the players has tournament experience, and they struggle offensively.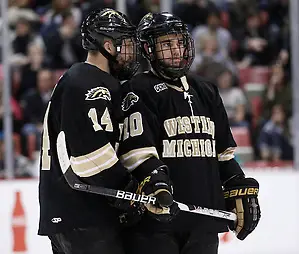 In an NCAA tournament field that has plenty of Cinderellas, the Broncos may have had the best fairytale season.
Western Michigan finished the 2009-10 season with a record of 8-20-8 and just four wins in CCHA play. Under first-year coach Jeff Blashill this season, though, the Broncos finished fourth to earn a bye week in the first round of league playoffs, outlasted Ferris State in a best-of-three, second-round series that went to a 5-4 overtime third game, and slew the No. 1 seed Wolverines, 5-2, in semifinal action in Detroit last weekend.
The Broncos had Miami tied up 2-2 early in the third period of the CCHA championship game before losing to the RedHawks, 5-2.
"You have to go through lessons along the way," said Blashill. "This is a tough, tough lesson to learn."
Blashill came into WMU after two seasons as head coach of the Indiana Ice, where he captured the USHL title in his first season. Before that, Blashill spent six seasons as an assistant coach in Miami. He came into Kalamazoo with an open mind and told his players from the start that everyone would have an equal opportunity.
Now he credits his team and specifically junior captain Ian Slater (8-8–16) with having bought into the kind of hockey culture that Blashill wants to establish at WMU.
"Ian Slater has been an unreal leader for this hockey team all season," Blashill said after the loss to Miami. "He's instilled an attitude on this team to not be denied, and it doesn't surprise me at all that we were able to battle back and put ourselves in position to win the hockey game. It's a great group of character kids in there."
The Broncos don't have a flashy offense, but they do have players like senior Max Campbell (18-17–35), who's having a career season, and freshman Chase Balisy (12-18–30) and sophomore Dane Walters (9-12–21), who had a goal in each game in Detroit last weekend.
WMU plays tight defense in front of dynamic senior goaltender Jerry Kuhn (2.38 goals-against average, .913 save percentage). Kuhn, who played just seven games in 2009-10, emerged as the starter in December — after not having played a game since a 5-3 loss to Canisius opened the Broncos' season Oct. 8.
Another thing on WMU's side is the Broncos' fan base, which filled half of Joe Louis Arena last weekend. "We're excited that we're going to Green Bay," said Blashill. "That's within driving distance of Kalamazoo. It's great to give the fans a chance to cheer for us in the NCAA tournament."
— Paula C. Weston
Coach: Seth Appert, fifth season
Record: 20-12-5 (11-9-2 ECAC, tie-fourth)
How they got in: At-large bid
Regional seed: Fourth
Last NCAA tournament appearance: 1995
Best NCAA finish: Champions, 1954, 1985
Why they'll get to the Frozen Four: Hobey Baker candidate Chase Polacek and senior classmate and wing-man Tyler Helfrich are tough to contain, totaling 35 goals and 86 points in 37 games.
Why they won't get to the Frozen Four: Three weeks off and a 2-6-1 record down the stretch don't bode well for NCAA neophytes.
The Engineers qualified for the national tournament despite a first-round exit at the hands of last-place Colgate in the ECAC Hockey playoffs, and the grumblings from fans of more successful postseason teams were more than a little audible. But on the strength of wins against league leaders Union and Yale, a season sweep of Dartmouth and a non-conference win over Boston University, RPI did just enough to earn the 15th spot in the PairWise rankings.
"At the end of the day, we had a very good season and earned our way into the national tournament," said coach Seth Appert, who is by no means a stranger to the NCAAs, having assisted George Gwozdecky at Denver through back-to-back national titles in 2004 and 2005.
The protracted hiatus from competition has the 'Tute (for Rensselaer Polytechnic Institute) in an odd position: The team didn't even practice for almost a week and a half following its playoff ouster, but has been back on the ice since last Tuesday.
"We were beat up, we were angry about the loss. They didn't want to see me, I didn't want to see them, so we gave them that week off," said Appert. "If we go out and play very well, people will say we're well-rested; if we struggle, people will say we're rusty. You just don't know; you can't predict those things and you don't worry about those things. I think they probably negate each other — the rest/rustiness end up washing each other out."
One player who should be anything but rusty is forward and Hobey Baker finalist (for the second year running) Chase Polacek. The senior playmaker is champing at the bit for another game with his team before beginning his life as a pro. In 153 career games at RPI, Polacek boasts 65 goals and 160 points. He and winger Tyler Helfrich have accounted for over a third of the Engineers' offense this season, while in back junior goaltender Allen York is having a career year with a 2.05 goals-against average and a .927 save percentage.
— Brian Sullivan