The Northeast Regional of the 2011 NCAA Division I men's hockey tournament features three of the last eight national runners-up.
Miami was second in 2009, Notre Dame lost the title game in 2008 and New Hampshire got the silver in 2003. Will any of those three or Merrimack get the big prize this season?
Here are the previews for the Northeast Regional. Check to the right for game times and locations.
Coach: Enrico Blasi, 12th season
Record: 23-9-6 (16-7-5-2 CCHA, third)
How they got in: Automatic qualifier, CCHA tournament champion
Regional seed: First
Last NCAA tournament appearance: 2010
Best NCAA finish: Second place, 2009
Why they'll get to the Frozen Four: They're loaded in all positions, peaking now, and have made two consecutive Frozen Four appearances.
Why they won't get to the Frozen Four: They're so offensive-minded that they are capable of letting down defensively.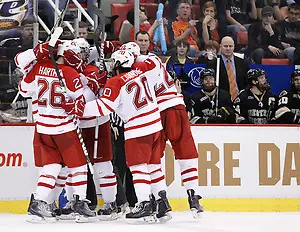 When tied with Western Michigan, 2-2, early in the third period of the CCHA championship game, Miami did what every seasoned, talented team does. "The veteran team that we have showed its true colors," said coach Enrico Blasi. "When they scored, we started to take the momentum back."
It's no surprise that senior and Hobey Baker finalist Andy Miele (24-47–71) scored first for Miami to break that deadlock, nor that seven different RedHawks players factored into those three goals that ensured Miami's first league postseason championship.
"When you talk about Andy Miele," said Blasi, "you've got to talk about Carter Camper, you've got to talk about Pat Cannone, you've got to talk about Reilly Smith, you've got to talk about Trent Vogelhuber — the entire Miami hockey team, because Andy can't do it himself.
"Teams try to match up against Andy, and then they've got to worry about Carter. Teams try to match up against Carter and they've got to worry about Cannone. It's been a team effort like that all year long. It's a team effort all the way, and that's the way we want it."
Miele, Camper (19-37–56), Cannone (14-23–37), Smith (28-26–54) and Alden Hirschfeld (12-13–25) account for 97 of 145 overall goals and make up the core of the fourth-best offense in the nation. What makes this team even more intimidating, though, is its newly solidified team defense; the RedHawks beat Notre Dame and Western Michigan by a combined score of 11-4 in the CCHA championship tournament, and heading into Detroit, Miami had allowed five goals in its previous five games.
In fact, since giving up seven goals to Michigan State on Jan. 21, Miami has allowed 1.75 goals per game, and that includes five goals given up in a tie game to the Irish Jan. 28.
Having appeared in the Frozen Four in 2009 and 2010, the RedHawks are a known quantity heading into this year's tournament. They're also familiar with their first opponent. Miami and New Hampshire split a pair of 6-3 games in Oxford to start the season, Oct. 8-9, and the RedHawks beat the Wildcats in the NCAA tournament in 2007.
"It's going to be a tough draw to play New Hampshire in Manchester," said Blasi. "We've been there before. It was tough. Their fans are right behind them."
— Paula C. Weston
Coach: Mark Dennehy, sixth season
Record: 25-9-4 (16-8-3 Hockey East, fourth)
How they got in: At-large bid
Regional seed: Second
Last NCAA tournament appearance: 1988
Best NCAA finish: Regional finalist, 1988
Why they'll get to the Frozen Four: This team has showed great composure all season and the bigger the game, the better they've played. They'll also have great support of their fans playing just an hour away.
Why they won't get to the Frozen Four: If the pressure of the NCAA tournament gets to this team, they could succumb. They also have some extremely talented teams in their region, making it even more difficult.
Merrimack coach Mark Dennehy has walked to his office on the Merrimack campus hundreds if not thousands of times. In all those walks, though, he's never seen the sight he did on Tuesday morning.
"I just walked past a line of people waiting for tickets on my way to my office," Dennehy said of the demand for tickets for Merrimack's first NCAA tournament game since 1988. "I can tell you I've never done that before."
Dennehy's Warriors will take on Notre Dame on Saturday at 7:30 p.m. EDT in Manchester. The arena is just an hour from Merrimack's campus in North Andover, Mass. The fact that the Warriors will play so close to home, Dennehy feels, is a testament to the support his team has received this season.
"We're really proud of the support from our students, our alums and the people in our community," said Dennehy. "Anybody that was at the Garden [for the Hockey East tournament] got the impression that Merrimack was very well represented and I know the NCAA takes that stuff into consideration."
While a great following may have put Merrimack close to home, it doesn't do anything to get a more favorable opponent. Merrimack will face a Notre Dame team with plenty of weapons, namely two freshmen having outstanding years in T.J. Tynan and Anders Lee. Both have scored 22 goals this season.
"Lee is a big, strong kid with great net presence and Tynan is a littler guy who sees the ice well. He's really dynamic on their power play," said Dennehy, who also went on to say that they are hardly Merrimack's only concerns. "They've got good players throughout their lineup. This is not Cinderella. This is a team that's gearing up for a pretty good run."
If Merrimack is going to stop that run in its tracks, it'll need to use its own group of talented players, many of whom may have been passed over by programs like Notre Dame in the recruiting process.
"We've prided ourselves in turning over every stone and finding guys that may end up being blue chippers," Dennehy said. "Not necessarily coming in with all the hoopla. We've taken a lot of guys that other teams have passed on. We happen to think they're good players.
Dennehy will prepare his team for each of its opponents (Merrimack would meet either Miami or New Hampshire in the regional final with a victory over Notre Dame.) But he also realizes that at this time of year, playing well one game at a time is what gets it done.
"We think we match up well with a lot of teams," said Dennehy. "At this time of year you still have to play well. It is the trick … to get your team to play as well as it can when it matters."
— Jim Connelly
Coach: Jeff Jackson, sixth season
Record: 23-13-5 (18-7-3-2 CCHA, second)
How they got in: At-large bid
Regional seed: Third
Last NCAA tournament appearance: 2009
Best NCAA finish: Second place, 2008
Why they'll get to the Frozen Four: They've added impressive offense to a team that already played good overall defense.
Why they won't get to the Frozen Four: They're young and a little tightly wound in recent weeks, and goaltending is inconsistent.
After surviving a best-of-three, second-round home CCHA playoff series against Lake Superior State in South Bend March 11-13 — beating the Lakers in OT, losing the following night and winning the third contest — the Irish lost two games in Detroit during the CCHA championship tournament, 6-2 to Miami and 4-2 to Michigan.
"I thought we played well on Friday night," said coach Jeff Jackson. "I thought we played better on Saturday. That looked like the semblance of my team."
After Friday's loss, Jackson said that the contest was more about Miami than about Notre Dame, and he was right; the RedHawks played the entire weekend like a team that could not be beaten. Saturday, though, found both second-seed Notre Dame and top-seed Michigan in unfamiliar territory — the third-place game.
"From a coaching perspective," said Jackson, "coaches don't like it. They're not playing for a championship, so they'd rather go home."
However, after Saturday's game Jackson said that the contest gave his players an opportunity to gain a little confidence and loosen up a bit after being dominated by Miami.
"I think our guys were tight," said Jackson. "I think our guys were nervous. It's difficult to read because they look like they were focused. They were focused, but they were a little nervous."
The nerves come from being a young and relatively inexperienced team. The Irish have made the tournament two of the last three years, but last season ND finished ninth in the CCHA and bowed out early in the league playoffs. That means that 17 of Notre Dame's current players, the sophomores and freshmen, made their first appearance at Joe Louis Arena last weekend.
With that youth, however, comes offense. The Irish are led by freshmen T.J. Tynan (22-30–52) and Anders Lee (22-19–41); Tynan was the league's rookie of the year. Their classmate, Jeff Costello (11-6–17), sophomore Nick Larson (10-8–18) and senior Calle Ridderwall (14-9–23) are the five double-digit goal scorers for Notre Dame, a surprisingly offensive-minded team. The Irish have the 10th-best scoring offense in the country, averaging 3.46 goals per game.
Even with the losses in Detroit, Jackson said he's encouraged heading into Manchester.
"We had 45 shots on the University of Michigan and they're not too shabby defensively," said Jackson. "I thought we had some good chances and I thought that Shawn Hunwick played an incredible game."
— Paula C. Weston
Coach: Dick Umile, 21st season
Record: 21-10-6 (17-6-4 Hockey East, second)
How they got in: At-large bid
Regional seed: Fourth
Last NCAA tournament appearance: 2010
Best NCAA finish: Runner-up 1999, 2003
Why they'll get to the Frozen Four: If UNH's top offensive line gets back to form and goaltender Matt DiGirolamo plays his best, the Wildcats have a shot. Playing in front of a home crowd doesn't hurt, either.
Why they won't get to the Frozen Four: Could easily be run over by Miami's potent offense in the opening game.
The New Hampshire Wildcats may see Miami and, if they get past the RedHawks, either Notre Dame or Merrimack on the opposite bench in this week's Northeast Regional in Manchester, N.H., but the biggest opponent that UNH might face this weekend is itself.
The struggles for the Wildcats are well documented. UNH has qualified for each of the last 10 NCAA tournaments and 17 times in 21 years under coach Dick Umile. Despite the success in qualifying for the dance, rarely has UNH been left standing come the Frozen Four.
UNH has played in four Frozen Fours but none since losing in the national title game in 2003. Since then, getting out of the regional has become the problem for the Wildcats.
The school has done its part in hosting the Northeast Regional every other year since 2005. Thus, the Wildcats have played in front of their home crowd — many times as a heavy favorite — with the Frozen Four bid on the line.
If anything, though, the pressure of the home crowd has worsened things for the Wildcats, something they'll look to change in Manchester this weekend.
When asked whether playing in Manchester and the pressure it brings is an advantage or a disadvantage, Umile was straightforward, saying it's a little of both.
"There's no question just the fact we're playing in Manchester doesn't automatically mean we'll win," said Umile. "It's going to be an exciting atmosphere and it's a great venue. But obviously, we're going to have to play our very best."
This year, even UNH's best might not be good enough going up against the high-powered offense of Miami. The RedHawks possess the nation's top scorer in Andy Miele as well as fellow Hobey Baker finalist Carter Camper. Add to that the fact that a year ago both of Miami's goaltenders — Cody Reichard and Connor Knapp — were ranked first and third, respectively, in goals-against average (this year, they've slipped to sixth and eighth, with Knapp the leader), and UNH will have its hands full just to reach the regional final.
"[Miami] is a very skilled team," said Umile. "You look at some of their players, we're all familiar with Miele and Camper, but [Reilly] Smith has 28 goals, [Pat] Cannone's got 37 [points], they're just a very talented team. They're a team that has been to the Frozen Four the past two seasons."
If there is any silver lining to Miami being UNH's opponent, it's that the two clubs split a series in Oxford, Ohio, giving the Wildcats the knowledge they can beat this team. That, though, came way back in the opening weekend of play.
"They've got talent from the net out and they're playing very well right now," said Umile. "But you have to pay attention to yourself."
Even if yourself is the toughest opponent you may face.
— Jim Connelly