In Wednesday's press conference, Minnesota-Duluth coach Scott Sandelin said that five-on-five gets tougher as the year progresses, and that special teams get more important.
His Bulldogs embodied that thought in Thursday's 4-3 Frozen Four semifinal victory over Notre Dame, scoring three of their four total goals with the man advantage and going 50 percent on the night on the power play.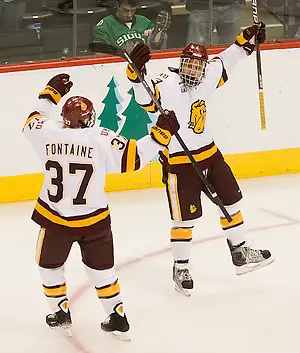 "[The] power play's been great all year; though we weren't in the top of the nation, it's been one thing we've relied on and one thing we've capitalized on," said forward Justin Fontaine. "[We] wanted to come out and bury a few ourselves, and that's what happened tonight and it allowed us to get the lead."
Duluth went down just 49 seconds into the game, but was able to get back on the board thanks to an early power play. The second time they went down, they got back at even strength, but built their lead with two more power-play markers.
"[We] battled back when J.T. [Brown] got a big power-play goal for us there and going down 2-1 and then [Kyle Schmidt] got a goal for us as well," said Jack Connolly.
"They move the puck really well," said Notre Dame's Calle Ridderwall. "They have a lot of movement, not just puck movement, but they move around the zone [and] they find the seams. Obviously, they have guys that can finish, so I think we saw that a couple of times tonight."
Puck movement is obviously a big component to a successful power play, but according to Sandelin, the main key to his team's success is the people who run it.
"Bottom line is, we've got the personnel," he said. "I've said that a number of times through our year. We went through stretches where we were getting opportunities and not scoring. Right now, they've been going in.
"We have a plan and they create within that plan and when they do that, obviously they're pretty good players. I mean, I could sit up here and say we diagram all this stuff, but no. We have some set plays, and you know what? You've got to have the players, and that unit has been very, very good all year, not just with Jack [Connolly] and Mike [Connolly] and Fonzie [Fontaine]. Those guys have been on there for two or three years, so they're pretty familiar with each other; those guys just have good chemistry and they create within what our plan is."
Though he didn't elaborate exactly on what the plan was, one can guess that moving one's feet is probably a big part.
"We drew penalties by moving our feet," said Jack Connolly. "It was hard work that drew those penalties, and we take it upon ourselves to try and capitalize for our team. We're out there for a reason, and that's to get some momentum and try to put the puck in the net when we can. Fortunately, we were able to do that tonight, and hopefully we can carry the power play into the championship game."
"Just give credit to all 10 of our power-play guys tonight," added Fontaine.