Jeff Costello's goal for Notre Dame less than a minute into the first period of Thursday's first semifinal game was like the opening gunshot for a fast horse race. Eleven minutes into the first, each team had scored twice, and Minnesota-Duluth led, 3-2, after one en route to its 4-3 victory.
Opening night jitters?  You bet, especially for Bulldogs goaltender Kenny Reiter and Fighting Irish netminder Mike Johnson, each making his NCAA tournament debut this year.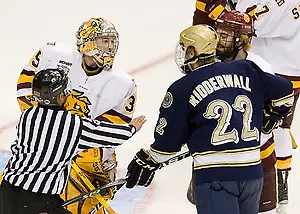 "I think every player feels that," said Minnesota-Duluth coach Scott Sandelin. "It's hard not to, but it's like any player. You've got to get settled into the game."
Sandelin said spotting the Irish the early one-goal lead wasn't what the Bulldogs planned.
"Reiter would be the first one to say … he should have had it," said Sandelin. "It doesn't matter. You can look at the bad ones, but I look at all the good ones, and you know what?  He was outstanding."
Although each goaltender is new to tournament play this year, Reiter may have had a slight advantage, said Notre Dame coach Jeff Jackson. The Bulldogs played in front of over 13,000 fans in their last game of the WCHA championship tournament in this very building, while the Fighting Irish played in front of very small crowds in the CCHA championship tournament in Joe Louis Arena in Detroit, with an especially empty building for their Friday afternoon semifinal game against Miami.
"Neither one had been in this type of environment before," said Jackson, "although Reiter played in probably a similar environment when they played in the playoffs here, I would assume. The Joe wasn't quite … filled when we played there."
Both coaches said that their goalies settled down at the end of the first. For Reiter, it was a save on T.J. Tynan that did the trick, said Sandelin.
"It was kind of a short breakaway and he made that save and I thought that was a big save for him, and obviously it was a big save in the game, but I think he was really good for the rest of the way. Really good."
"After the first period, I thought [Johnson] relaxed a little bit," said Jackson. "Just time to probably take a deep breath. I don't bother talking to him in the game. I leave him alone. Every time I've done that, he seems to respond. I did challenge him going into the third."
Jackson didn't need to make many saves in the third period, when the Irish outshot the Bulldogs, 15-2. That's when Reiter showed just how focused he was.
"Sometimes in the year, your goalie needs to win games for you," said Sandelin.
As for the nerves, said Sandelin, "You can't hide it. It's just human nature."
Sandelin said the whole Bulldogs team may have been a little jumpy in the first.
"We just talked about going out there and trying to get some shifts under your belt, touch the puck, get a hit, be hit, whatever, get a shot, try to get into the game. Some guys handle it better than others.
"I mean, I was nervous, but I'm nervous before every game."