In a close contest, Notre Dame center T.J. Tynan was voted as USCHO's rookie of the year, narrowly edging Denver's Jason Zucker.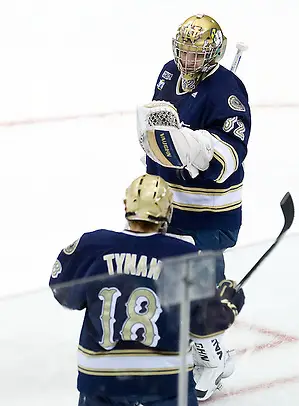 A 5-foot-8 19-year-old from Orland Park, Ill., Tynan led the nation in scoring among freshmen with 54 points on 23 goals and 31 assists.
His scoring prowess was important to Notre Dame's winning ways, as the Irish went 15-4-2 when Tynan recorded a point. Tynan's point total is the highest for a Notre Dame player since Dave Bankoske notched 56 in the 1989-90 season, and trails (by five points) only John Noble in 1973 and Dave Poulin in 1982 for scoring by a freshman at Notre Dame.
Tynan's season highlights include:
• Four two-goal games.
• 16 multi-point games.
• Five power-play goals and two short-handed goals.
• Two game-winning goals.
• Scoring a goal in the Frozen Four loss to Minnesota-Duluth.
Tynan earned many honors on the year, including CCHA rookie of the week four times. He was the CCHA rookie of the month for November, the CCHA player of the month in December and the team's most valuable player.
Tynan was selected by CCHA coaches as a second-team All-CCHA player and was named to the CCHA all-rookie squad.
Tynan was also named the Hockey Commissioners' Association rookie of the year in a vote of the Division I assistant coaches.
USCHO's awards were voted on by staff members at the Frozen Four. Still to come this week: the nation's top coach and the All-USCHO first, second and third teams.