Ask for a show of hands of any surprised that coach Dave Flint's Northeastern Huskies are off to a strong start, and all extremities should remain down. The Huskies exited October with records of 5-0-2, 7-1-1, and 6-1-2 in Flint's first three seasons at the helm, and have jumped out to a 4-0-0 mark halfway through this month.
"My last few years here, second semester we've really run into the iron of our schedule," Flint said. "Not to say that we don't have good opponents in the beginning, but I think we have a lot more demanding schedule second half. Also, I think it's a credit to the kids for their preparation and the shape that they show up on campus in and they're ready to go. I think it has a little bit to do with leadership, getting the freshmen acclimated and getting them all on the same page as the rest of the team. I like to think it's kind of a combination of all that stuff."
In those earlier campaigns, the teeth of the schedule has taken a toll on the Huskies and made them unable to extend their season beyond the Hockey East tournament. What may make this season different is one new player in particular who showed up at Northeastern prepared in multiple ways.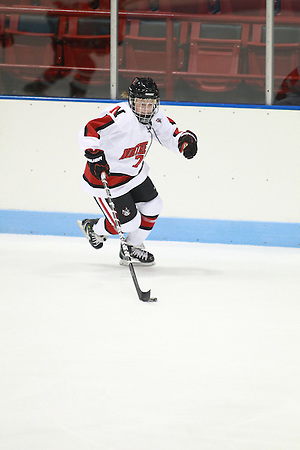 "My route to my college decision was actually a little bit different than most," said freshman center Kendall Coyne, of Palos Heights, Ill. "When a little situation happened last year, I ended up taking the year off and going to the Berkshire School [in Sheffield, Mass.] I felt that taking that year off to go to the Berkshire School really helped me just find myself as a student. With that came my decision to Northeastern. The academic part here has been a lot easier than if I didn't go to Berkshire."
Just as Coyne needed that extra year of prep school after her original college plans fell through, Northeastern needed someone like Coyne.
Flint said, "We've been making strides over the last three years, and in and out of the top 10 nationally, but we were still lacking that big recruit. We were real close with some blue-chip kids in previous years, and we just missed out on kids, and it was getting a little frustrating. Kendall had a lot of options, obviously could have gone anywhere she wanted to, and put a lot of thought into the process. We were lucky that she chose Northeastern. That's going to attract other top-notch kids."
For an example of the positive impact a player of Coyne's ability can have on the Huskies, one need look no further than their most recent game Saturday hosting Quinnipiac, likely Northeastern's strongest opponent to date. The Bobcats had taken a 1-0 lead in the latter stages of the middle period on a Kelly Babstock goal, spent most of the next three minutes buzzing around Florence Schelling in the Huskies net, and looked destined to skate into the second intermission with a minimum of a one-goal lead. Coyne flew up the right side with the puck, shifted first to her forehand, then back to the right and fired a low backhand that found the net.
"That goal on Saturday was a big-time goal; they had the momentum and she stole it right back," Flint said. "That's the kind of dynamic that she brings to our team that we maybe necessarily didn't have in the past. It kind of rubs off on the rest of the team. After she got that goal, all of a sudden the bench is back up, everyone is pumped up, everybody is fired up and then we go pump in another goal not too long after that."
Junior Rachel Llanes scored 49 seconds after Coyne, Northeastern was the team holding the lead after two periods, and they went on to win, 3-1.
"We're a team that's never going to give up; we're going to fight no matter who is on the ice and who is not," Coyne said. "Even with some of the momentum shifts that we had the last few games, our team found a way to come out and just fight through adversity and just come out on top. I think that's the kind of team we're going to be this year."
The Huskies promise to be a more difficult opponent to face than in the past, because Coyne adds another dimension.
"She's like that little water bug that will give you fits," Flint says. "The abuse she takes during a game is unbelievable, because the defensemen, they're trying just to get a piece of her when she's flying by with a stick or a body or whatever. I certainly wouldn't want to play against her."
According to Coyne, so far she's been giving as good as she gets when it comes to contact.
"I probably got six penalty minutes this weekend; I think it's more than I've had in a year," she says. "I think the body contact is a little bit less in college hockey. That's one of the main aspects I've noticed. Being a smaller player, I know when I get hit. I've been the giver more than the receiver these past few games."
Northeastern lists Coyne at 5 feet 2 inches, but as players like Erika Lawler, Natalie Darwitz, and Vicki Bendus have demonstrated, players can't be measured by size alone.
"Coming into college hockey, there are other players who are like (me), if not smaller than me, so I don't feel any disadvantage from my height," Coyne says.
Big or small, hockey players are defined by what they do with and away from the puck. According to her coach, Coyne attracts double and triple teams, then moves the puck to open linemates who can score.
"The thing I like about Kendall is she's not concerned with how many goals she has," Flint says. "She'll give up the puck because she wants to win. That's first and foremost in her mind."
The Northeastern schedule increases in difficulty in a month, as the Huskies close the first semester with a stretch where they travel to Dartmouth plus play twice each against Boston College, Boston University, and New Hampshire, four teams that have reached the NCAA tournament in the last year or two. Flint says there are a number of things that need to happen in order for NU to keep winning once that aforementioned iron of the schedule tests the team's mettle.
"We need to get better every day. We need to be more consistent. Some of the young kids that we've waited for them to get their feet wet and get acclimated, we need for them to be running on all cylinders. Obviously, the big thing is to stay healthy. If we can do those things, I feel like we can compete with anybody. Time will tell, and that will be a tough task for us come the end of the semester and even into the next semester."