The NESCAC begins its standalone schedule this coming weekend, and if past performance in the interlocking schedule with the ECAC East supplies any barometer for what is to come, this may be the most competitive conference in the country. Last season, the top seven teams in the league finished with records over .500, five of the seven had 10 or more wins in conference play, and a mere six points separated first from seventh in the league.
This season sees two games between all of the teams, which places a higher premium on the points, and likely continues the overall close results and positioning within the conference standings — there are seriously no nights off.
The first season of the new conference format also brings in three new coaches. Dave Cataruzolo at Trinity has moved on to lead hockey operations at Harvard, and has been replaced by former Bantam Matt Greason. Norm Bazin, now at his alma mater of Massachusetts-Lowell, has been replaced by former Army assistant Rob Haberbusch, and veteran college coach Stan Moore heads behind the bench at Colby, where Jim Tortorella has left to become an assistant at UNH under Dick Umile.
New coaches, new players, new schedule, all will create new excitement, but I think one thing will remain a constant in this new separate conference — all of the games are going to be close, and the standings are going to be tight right up until the last day of the season.
Here's what may come to fruition come the end of February:
Williams Ephs
2010-11 Conference record: 11-6-2 (Second)
2010-11 Overall record: 16-8-3
USCHO Predicted finish: First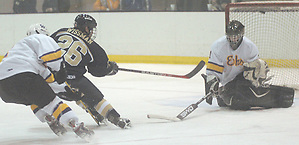 Overview: The Ephs were at or near the top all season last year, and will rely heavily on a strong returning core of defensemen and a terrific goaltender. Ryan Scott, Justin Troiani, and Stephen Maier look to continue their solid play in front of netminder Ryan Purdy, who demonstrated his ability to be among the best in the league last season. John Wickman and Cody Skinner return up front and will be counted on to jump start an offense that will likely see a lot of freshmen in the line-up from the first drop of the puck. The Ephs don't need to score much, because they won't give up a lot. This may be the year for that first NESCAC title.
Bowdoin Polar Bears
2010-11 Conference record: 11-7-1 (Fifth)
2010-11 Overall record: 19-8-1
USCHO Predicted finish: Second
Overview: Last year's conference champions have lost a bit with the departures of Kyle Shearer-Hardy and Jeff Fanning, but return a very talented offensive team led by Daniel Weiniger, Harry Matheson, and Colin Downey who can put up points in bunches. Senior Jordan Lalor leads the defense in front of a pair of solid goaltenders in Steve Messina and Richard Nerland. This team has depth and the experience of a title and NCAA run last year. If the offense is anywhere close to last year's scoring and power play averages, the Polar Bears will be poised for another run at the crown.
Amherst Lord Jeffs
2010-11 Conference record: 10-6-3 (Fourth)
2010-11 Overall record: 11-14-3
USCHO Predicted finish: Third
Overview: Jack Arena's team brings back a lot of experience, both on the blue line and in goal. One returnee adds depth in goal, where the departure of Cole Anderson created a void for the Lord Jeffs. Jonathan LaRose has returned to Amherst for his senior year, and if he and Nathan Corey can post numbers like the duo of LaRose and Anderson did, Amherst will be right in the thick of things yet again. Eddie Effinger and Mark Colp will need to provide some senior leadership with a young group of forwards that is likely to include a mix of six or seven freshmen and sophomores. Amherst always excels on special teams and stingy defense. The pieces are here for a repeat of the formula that won their first title in 2009.
Middlebury Panthers
2010-11 Conference record: 9-5-5 (Third)
2010-11 Overall record: 11-8-6
USCHO Predicted finish: Fourth
Overview: The Panthers are perennial challengers for the NESCAC championship. This year, the offense appears potent with the return of seniors Charlie Strauss, Charles Nerbak, Nick Resor, and Martin Drolet. Defensively, Trevor Pollack, Tucker Donohoe, and Mathieu Castonguay will lead the group in support of John Yanchek in goal, who will be looking to be more consistent in his senior year for the Panthers. The Panthers were in several cases just minutes or seconds away from wins last year that turned into ties or losses. If they figure out how to close games out early this season, no one will be surprised to see them near the top of the standings.
Hamilton Continentals
2010-11 Conference record: 11-4-4 (First)
2010-11 Overall record: 14-7-4
USCHO Predicted finish: Fifth
Overview: Last year's Cinderella story saw their regular season first place run dashed in the quarterfinals of the playoffs. Rob Haberbusch comes over to replace Norm Bazin, so there is a consistent D-I feel behind the bench, but also a change in style, so it will be interesting to chart the progress with the new coach and system. Seniors Bryan Kelly, Anthony Scarpino, and BJ Lalonde will be looked to help this team develop quickly, as there are likely to be four to five freshmen in the lineup every night. Goaltending is a question mark for the Continentals, with freshman Zach Arnold battling with two other goaltenders for the starting job. Hamilton isn't going to sneak up on anybody this year, and they will have difficulty in matching last year's road team success. If they gel quickly, this team could surprise in March.
Wesleyan Cardinals
2010-11 Conference record: 8-10-1 (Eighth)
2010-11 Overall record: 10-12-3
USCHO Predicted finish: Sixth
Overview: This may be the best team coach Chris Potter has had in Middletown. There is great leadership in forwards Tom Salah and Adam Kaiser, and great depth among a large group of returning juniors, including John Guay and the goalie tandem of Matt Hadge and Glen Stowell. The Cardinals have always played a strong defensive game, so their success this year is really predicated on finding the net with more frequency in even-strength and power-play situations. As they showed last year in defeating the top-seeded Continentals on the road, this team can compete with everybody. They just need some early success to start believing it sooner.
Colby White Mules
2010-11 Conference record: 10-7-2 (Sixth)
2010-11 Overall record: 12-11-2
USCHO Predicted finish: Seventh
Overview: Coach Stan Moore inherits a Colby squad that has some returning firepower in forwards Michael Doherty, Nick Kondiles, and Michael Smigelski. The biggest question for Colby will be who can step up and take the goaltending position and replace the departed four-year starter Cody McKinney. Under coach Tortorella, defense, goaltending, and special teams won hockey games. It will be interesting to see the style of play coach Moore brings to Colby, and how quickly his team grows confident in their play.  The right goaltender could have a lot to do with building that confidence.
Trinity Bantams
2010-11 Conference record: 9-8-2 (Seventh)
2010-11 Overall record: 11-10-4
USCHO Predicted finish: Eighth
Overview: Matt Greason returns to Trinity, where he played in the early 2000s, as just the third coach in the program's history.  One of his first challenges will be finding the successor to the long line of goaltending standouts most recently led by Wes Vesprini, who has graduated. Two freshmen will battle with sophomore Benjamin Coulthard for ice time, while seniors Mike DeMayo, Joe Tierney, and Paul Jaskot will be counted on heavily for leadership on and off the ice with a team that has nine freshmen and five sophomores on the roster. No doubt coach Greason will bring energy to the Bantams, and that may be enough to keep them in the hunt while they build experience.
Tufts Jumbos
2010-11 Conference record: 5-14-0 (Tenth)
2010-11 Overall record: 6-16-1
USCHO Predicted finish: Ninth
Overview: Just as Jonathan LaRose has returned to Amherst, so too has Scott Barchard to the goal for Brian Murphy's Tufts squad.  The senior captain will need to be on his game to support a team that is short on veteran players. Forward Matt Amico and defenseman Nick Metcalfe will also provide leadership to a group that is going to very inexperienced at the college level to start the season. Barchard is a proven netminder who can steal games in the most dire of circumstances. If he stays healthy and the freshmen adjust quickly, coach Murphy will have the Jumbos in contention.
Connecticut College Camels
2010-11 Conference record: 6-12-1 (Ninth)
2010-11 Overall record: 7-14-3
USCHO Predicted finish: Tenth
Overview: Coach Jim Ward's team has seen several seasons with first and second half roller-coaster rides dictating their season.  A strong start out of the gate would help build momentum, so the coach will need to see strong early performances from the likes of forwards Sean Curran and Julien Boutet, as well as goaltender Andrew Margolin. Last season, only seven players on the roster played all of the games for the Camels. Staying healthy and creating more offense will be keys to a playoff drive for Conn College. If they get those two things, anything could happen come March.
From top-to-bottom this league has talented players, experienced coaches and different styles of play that you don't see every night at a hockey game. This season should be full of lots of twists and turns and ups and downs.  The mix of the old and now new coaching philosophies will provide even more variety to what already is a diverse group of playing styles and systems.
Always the last to start the season but always worth the wait — drop the puck!