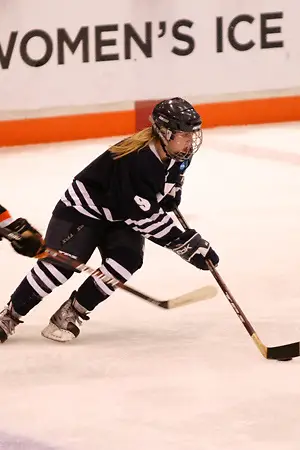 Every year, the third week of November means two things. First, it's one week until Thanksgiving (in the U.S., that is) and second, the NESCAC teams finally start their respective seasons.
As has been the case for the last five seasons, the NESCAC front-runners will likely come down to the traditional powers of Middlebury and Amherst. However, Bowdoin may be the team that plays the spoiler after the Polar Bears are coming off their best season since 2007.
Last year, Middlebury returned to the top of the NESCAC mantle after a one-year hiatus in 2010, which saw the Panthers miss the NCAA tournament for the first time since the NCAA started sponsoring a D-III championship in the 2002.
In doing so, the Panthers also grabbed the torch back from Amherst after the Lord Jeffs had won two straight national championships in 2009 and 2010. Middlebury not only won the conference tournament title to stop Amherst's shot at a three-peat, it also returned to the Frozen Four for a record-tying sixth appearance.
Both squads lost significant pieces and will have some holes to fill this season if they want to continue to maintain their foothold at the top of the NESCAC.
Middlebury lost All-American goaltender Alexi Bloom, who finished last season with 12 shutouts, just one short of the single-season record set by Wis.-Stevens Point's Amy Statz.
"Alexi obviously had an outstanding year," Middlebury coach Bill Mandigo said. "It's tough to replace any All-American, but it's especially tough to replace a goalie. We've got three that are working hard right now and are pretty athletic. To be honest, we're not quite sure who it's going to be, so I think all three will get some time until we figure it out."
Middlebury also lost Julia Ireland, Anna McNally and Heidi Woodworth, who were primary contributors on offense.
"Last year, we had six seniors who all played, and we're all on the same page," Mandigo said. "I don't think there was any outstanding talent outside of Alexi's senior year, which was certainly outstanding. Collectively, they were a huge loss."
Mandigo credits last year's senior class as having a large factor in helping the Panthers return to the NCAA Tournament after the 2010 season ended with a four-overtime loss to Trinity in the NESCAC semifinals.
"Last year's seniors were disappointed at the end of their junior year, and felt they had let the players that had worn the jersey before down a little bit," Mandigo said. "They made a little bit of adjustment in attitude, and when you have a group of seniors that get it, it makes it a lot easier for everyone, including the coaches."
With that being said, Middlebury will once again return a formidable group led by junior Lauren Greer (14 goals, 12 assists, 26 points), sophomore Sara Ugalde (13-9-22), and senior Grace Waters (9-12-21).
"I think we've got a good solid core coming back," Mandigo said. "There is a good group of juniors and seniors coming back, and it will all come down to how quickly we can get the freshmen on board. I think the freshmen are all pretty talented, but they haven't gone through it yet."
Mandigo will also have the luxury of having two of the top defensemen in the NESCAC back patrolling the blue line in juniors Heather Marrison (5-16-21) and Madison Styrbicki (4-17-21).
Middlebury opens up the 2011-12 campaign with a pair of games at Colby this weekend. Middlebury will be without Greer this weekend, as she is currently the leading scorer in the country in field hockey, and has led the Panthers to the Final Four in the NCAA D-III Field Hockey Championship.
The NESCAC schedule will be a little different this year, in the fact that travel partners are no longer and instead of playing a game against two different teams on a weekend, every team will play another team twice on back-to-back nights.
"It's going to be a little bit of learning curve playing every team twice in one weekend rather than having games against different opponents every night," Mandigo said. "It'll be interesting to see how it works out. David Venditti does a great job at Colby. The kids work really hard there. It's a tough venue to play in, and their kids always compete at a very high level when they are in their own rink."
Amherst finds itself in a little bit of unfamiliar territory entering the 2011-12 season, as the Lord Jeffs won't be defending the national championship after they won two straight before Norwich claimed last year's title.
"Last year across the board we didn't really have the sense of urgency that we do this year," Amherst coach Jim Plumer said. "The focus of this team has been as good as any team I've ever had. The current seniors won the national championship as freshmen and sophomores, and they want to get back to that stage this year. Last year, we learned a lot of important lessons, and this year we need to translate them."
Although Amherst lost All-American defenseman Randi Zukas and power forward sniper Courtney Hanlon, Plumer likes how the team has started to come together since the team had its first official practice on Nov. 1.
"Randi was such a great distributor of the puck and quarterback for us on offense," Plumer said. "We still have Geneva Lloyd, and Ashley Salerno, I think she is poised to step up in Randi's role on the power play."
Lloyd will be counted on to not only be a force in the defensive zone, but also on offense as well, as the junior led the team in scoring last year with 12 goals and 20 assists for 32 points. Salerno was the top-scoring freshman for Amherst last season with eight goals and seven assists for 15 points.
Coupled with the returning seniors Stephanie Clegg (13-14-27), Ellen Swiontkowski (10-16-26), and Emily Vitale (2-16-18), Amherst will still have plenty of firepower on offense to build off of.
However, Plumer is still expecting a couple of players to have breakout seasons this year for the Lord Jeffs.
"I think we'll have some kids this year emerge that haven't had their names on the score sheet," Plumer said. "Barrett McBride, Courtney Baranek, and Haley Opperman are three kids that played regularly, but didn't develop as quickly as we had hoped. However, they are really in position to play bigger roles this year, and they look a lot more confident so far."
Although the players have changed a bit, Plumer said Amherst will still be sticking to the philosophy that has helped him build the program from the ground up. It started with a Cinderella run to the Frozen Four in 2007, and culminated with back-to-back national championships in 2009 and 2010.
"We still feel like we have that defense-first quality defensemen mentality that we've had, even though the landscape has changed a little bit," he said. "Most of our offense has been by committee, and when we've been successful, we've had the ability to roll four lines."
Plumer pointed to speed possibly being the biggest difference between this year's team and last year's squad.
"I think this team is faster up front than we've been in the past couple years," Plumer said. "It may even be on the par with the Tarasai Karega and Lindsey Harrington year. I think we have a chance to be a different team this year. Last year's team was big and this year's team is smaller, but quicker."
One of the biggest question marks for Amherst this year could come in between the pipes, as Caroline Hu graduated last year after getting most of the starts. Senior Sinead Murphy returns, as does sophomore Kerri Stuart, to try and vie for the No. 1 job.
"Part of what we have learned in the past is we prefer to have two goalies rather than three, because it fits the way we practice better," Plumer said. "I'm someone who likes my goalies to play. They last time we had two goalies two years ago, I think it benefited those two kids and it benefited our team. Murphy and Hu alternated every game until we got to the last regular season game.
"Right now, the plan is to give both ample playing time until one proves themselves. They both have looked good in practice and we'll see how it shakes out."
Amherst will open this weekend with a home-and-home with Hamilton.
"Hamilton is a dangerous team with a great goalie that has given us fits in the past," Plumer said. "Last year, we heavily outshot them and it was all we could do to try and sneak one past her. Coach Knight has a really good hockey mind and I have no doubt he'll have a good game plan for us. They are a team that I feel has been on the cusp for a few years now. They tied us in our second national championship year, and we won two close one-goal games last year. They had a good freshmen class last season that has probably matured and will be even better this year."
Plumer said he expects the NESCAC to be as competitive as ever this season, and has reminded his team countless times that there are no off nights.
"I think Bowdoin will be good enough to beat anybody," Plumer said. "The ECAC West may have Plattsburgh, R.I.T., and Elmira, but they've also got a few teams that have been relatively weak consistently, whereas the NESCAC anybody can beat anybody if you overlook someone. You got to show up every night in our league, and that's what I love about it."
While the grind of the regular season has produced its fair share of upsets and shocking results in the NESCAC the past few seasons, the cream of the crop has risen to the top when it matters most. That's where Middlebury and Amherst have distinguished themselves from the rest of the league over the last five years, and will look to do this season.