Lindenwood University of St. Charles, Mo. is in the midst of an ambitious endeavor, transitioning 27 of its athletic programs to compete at the NCAA level. Most of these sports will be contested in Division-II, but women's hockey is one of three that will play in Division-I.
Lindenwood's women's hockey previously functioned as a club team, and the Lions were a force in the American Collegiate Hockey Association, winning four national titles, including three straight before a third-place finish last season. Over the last eight seasons under coach Vince O'Mara, the Lions posted a composite record of 241-26-11; losing was foreign.
This season, it is one of many things that Lindenwood is having to learn. Starting with 11-0 and 13-0 shellackings at the hands of defending NCAA champion Wisconsin, the Lions have struggled to a 1-14 mark, the lone win coming in a 7-1 victory over D-III St. Benedict.
"We got a late start on the recruiting," O'Mara says. "We didn't even know until this January that we were going D-I this year, so we got a late start on it, found some good foundation builders, some good character kids, and then the rest we brought in, a mental toughness we were looking for."
The Lindenwood roster for the season consists of nine holdovers from the club team, 13 freshmen, and one player with NCAA experience, sophomore Katie Erickson. Unfortunately, Erickson's playing time came on the softball diamond at St. Cloud State.
"Right now, the biggest problem that we have is that we don't have any upperclassmen that have been there, done that, so all these kids, even our upperclassmen, they were part of our nonvarsity program," O'Mara says. "So these freshmen, these rookies, don't have that upperclassman to lean on, or for them to lean on these kids and let them know, this is what it takes. A coach can only preach so much, but it's huge to have that upperclassman that can take a kid under a wing and say, 'This is how we do things at this level.'"
One of the rookies lacking a mentor is forward Alison Wickenheiser, of Germantown, Md. and the Washington Pride.
She says, "In a way, it would be nice to be able to say to our captain, 'What do you do in this situation?' But it makes us closer to know that we're all doing it together. So, I wouldn't change it. I think it's a real special circumstance, and I'm happy to be a part of it. Even though so much of it is really mentally tough, you learn from it and get past it. You just lean on each other."
Being a part of a first-year varsity team wasn't Wickenheiser's original plan, as she was expecting to be a Warrior in Detroit for her freshman year.
"Committing to Wayne State, obviously I was excited and looking forward to that year, and as soon as it shut down, it was kind of devastating," Wickenheiser says. "I was scared for what was going to happen, I didn't know where I was going to go, whether I was going to quit, go D-III, go D-I. I had called my coach immediately right after I found out. He gave me a list of schools, and Lindenwood was on the list. I was like, 'Never heard of them.' I told my coach that I was interested in them, so he called the coach, and the coach called me. And it was the night of my prom! Coach O'Mara was talking to me, and I was really stressed, because I had a lot to do like my hair and my nails and everything. I'm blessed to be here."
The blessing has gone both ways, as Wickenheiser has provided the Lions with some needed scoring punch; she leads the team in goals (six), assists (10), and points (16). As a whole, Lindenwood has done a creditable job offensively as a new program, scoring 27 goals in 15 games.
Where the awakening has been far more rude is in their own zone, as opponents have piled up 120 goals on 818 shots, an average of more than 54 a game. Goaltender Taylor Fairchild has seen the vast majority of that rubber, and set the program record for saves in a game with 67 in a 7-0 loss to Mercyhurst.
"It gets to a point where it gets very frustrating at times, but also, even though I'm facing 60, 70 shots a game, it's good for me, too," Fairchild says. "Just facing those shots, even though I'm letting in 10, 11 goals, it's building me as a player, and I think it's building our team, too. When I only have 40 shots and I only let in four or five goals, it's good for our team."
Fairchild spent her senior year in Michigan and away from her home in Overland Park, Kan., so that she could play for Little Caesars. She is also thankful for the possibilities afforded by Lindenwood's move to D-I, because there are limited openings for goaltenders in each recruiting class.
"My senior year last year, I was looking at schools that I could e-mail and talk to, and almost no schools needed goalies, because they all had freshmen and sophomores," she says. "A few that I talked to, things fell through, but then once I heard about Lindenwood, it was fresh and picking all-new goalies. It was a great opportunity that I couldn't turn down."
The U.S. Hockey Hall of Fame Game in Eveleth, Minn. on November 10 afforded my first look at the Lions, as they met Bemidji State. The Beavers struck quickly, scoring four times in their first 19 shots on net in 12 plus minutes, ending Fairchild's night early, as she gave way to Briar Bache in the Lindenwood net. According to O'Mara, the performance was atypical of Fairchild, who he says has been very strong in goal. Bache fared little better in relief, as BSU finished with 72 shots in an 11-0 win. Throughout the game, Bemidji skaters had their way in front of the Lindenwood crease, creating havoc and getting sticks on rebounds.
"If I had to pick out one thing that's our biggest downfall, it's our positioning after the goaltender makes that first save," O'Mara says. "I bet we've given up 75 to 80 percent of our goals this year, the second, the third, the fourth rebound. That's something we work on and work on and work on, and we just haven't gotten that fine-tuned good enough yet."
Knowing that players need to be controlled in front of the net and physically able to neutralize them isn't always the same thing, particularly when the opponents have the advantage of more months in the weight room.
"The strength of these girls — it's a year-round deal now, it's a year-round commitment," O'Mara says. "These girls are working as hard in the offseason as they are during the season. Any program, you've got to have that physical conditioning."
His counterpart on the Bemidji State bench can relate to Lindenwood's struggles.
"About four years ago, we had Wisconsin over here in this game, and we chased them around the whole game," BSU coach Steve Sertich says. "So absolutely, I have a lot of empathy. Their program is so young, and they have a long ways to go, but man they work hard."
Bemidji State senior Marlee Wheelhouse saw more from the Lions than what the scoreboard displayed.
"I think they have a promising future," she says. "They have a lot of girls that have some talent and skill, and as they get older and more mature and play with each other, it's just going to get better for them."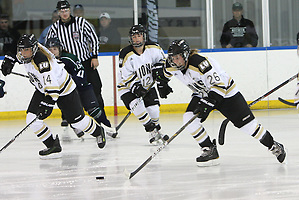 For Lindenwood's opponents, a game against a developing team provides a chance to do some things differently than the rest of the schedule allows.
"We had some kids that were dinged up a little bit, so it was a nice opportunity for some kids to play that haven't had a chance," Sertich says. "I told our kids that we want to be better today than we were yesterday. We had some nice plays, and it was fun."
The enjoyment of the game can be difficult to remember for the team frequently on the wrong end of the score.
"Basically, you have a goal for each shift," Wickenheiser says. "It might be get a shot on net or win one battle in the corner. Essentially, after the score gets so high, you have to keep your team motivated as much as you can. I think what a lot of players out here kind of forget is we're here to have fun. An 11-0 game, it's hard, but you have to find it within yourself to go out there and remember that you play this game for fun. That's kind of where I find my motivation when it gets down like that."
Her coach realizes that his staff needs to keep things as enjoyable as possible for their players.
"We're learning from these games, but it's hard to lose a whole lot of games in a season, so try to work things, make things fun," O'Mara says. "It was a great weekend up here. The Hockey Hall of Fame was fantastic, the rink here — experiences are what we wanted to give the kids this year, too."
Fairchild is enjoying the experience beyond hockey at Lindenwood, a school with a total enrollment at 15,000, of which 8,787 are full-time students.
"I love the campus, and I love like the social atmosphere," she says. "There's so much to do. Because it's not a huge school, but it's not a little school. I'll meet somebody, and I'll see them the next day. It's not like you'll meet someone at a football game and you'll never see them again. It's nice."
Lindenwood has been admitted to the CHA for next season, along with Penn State.
"We're definitely going to have a full D-I schedule," O'Mara says. "Are we ready? I'll let you know next September. With the rigorous travel schedule we have this year, we're not out on the recruiting trail as much as we'd like, but we do have a lot of kids that we're talking to, a lot that we're working with, so if we do our job, yes, we're ready. Does that mean we're going to be there next year? No, but we sat down as an institution with our administration and our coaching staff and we said we want to compete by our third year. Some people say that's too big, too quick, but that's a goal we've set, and I'd like to accomplish that goal."
After five more road games versus D-I opponents Syracuse, Mercyhurst, and North Dakota, the Lions schedule shifts to playing D-II, D-III and club teams in the second half of the current season.
"That second part of the schedule, hopefully, we have some confidence-building games," O'Mara says. "On our end!"
Wickenheiser understands that the hard lessons on the ice are just part of the dues that she and her teammates have to pay.
"Every other team in these leagues had to struggle when they joined, and I'm sure that they went through the exact same things, and now it's our turn."