Last week, Atlantic Hockey chose a pair of netminders from Canisius as co-goalies of the week, a rarity. This week, the league again took a pair of players from the same team to share an award. Robert Morris freshmen Scott Jacklin and Cody Wydo each had three goals and an assist to help lead a 15-goal outburst by the Colonials in a 5-2, 10-4 sweep at Sacred Heart. They were named co-rookies of the week by the league.
While seniors make up the top four leading scorers on the team, four of the next five spots are held by newcomers.
"It's good to see [Jacklin and Wydo] and all our freshmen stepping up," said Robert Morris coach Derek Schooley. "It bodes well for the future with 10 seniors on the roster."
The Colonials are on a five-game unbeaten streak, all in league play, that's seen them move from eighth place to fourth in the standings in three weeks.
"When you lose the players we did, it takes some time to adjust," said Schooley. "Freshmen have difficulty adjusting, figuring out their roles and place.
"I thought we played well from the blue line out. I think we need to settle down defensively. Giving up 45 shots [on Saturday], the game kind of got away from us in the third period, and we can't let that happen."
I asked Schooley about the large number of goals scored around Atlantic Hockey last weekend, a change from the low-scoring affairs we've seen for most of the year. The league lost a bevy of high-scoring players to graduation and the pros in the offseason.
"I don't think the league is weaker," he said. "If anything, I think our non-conference record is a tad better at this point [than last season]. Some years are the year of the goal scorer and some years it's the year of the goaltender. We have such strong goaltending around the league, which means that there's a lot of parity, and we've seen that."
While many teams are winding down the first half of their seasons, the Colonials still have four games left before the end of 2011, three league contests (Niagara, Canisius, Rochester Institute of Technology) and then a game against No. 4 Ohio State at the Consol Energy Center in downtown Pittsburgh on Dec. 30.
"Niagara has done well against us in the past and Canisius and RIT are in the top half of the standings," Schooley said of his upcoming league opponents. "And Ohio State should be a great game. When you make up your schedule you never know but we've been fortunate to play some highly ranked teams in the past, and this is another opportunity."
The Colonials got off to a hot start last season but this year look to be slowly building as their players, especially the new ones, find their roles.
"We're constantly trying to find the right mix," said Schooley. "We started off well last season and kind of sputtered. I'd rather start slow and figure it out now so we are a better team at the end of the season, like Air Force last year. The key is to get better every week."
Players of the week
From the home office in Haverhill, Mass.:
Atlantic Hockey player of the week:
Kyle De Laurell, Air Force
The junior forward had a whopping six points (three goals and three assists) to lead the Falcons to a road sweep at American International. De Laurell has tallied a point in six straight games and leads the team and the league with 21 points so far this season.
Atlantic Hockey goalie of the week:
Matt Ginn, Holy Cross
Ginn, a freshman from Lindsey, Ontario, allowed only a pair of goals last weekend to help his team sweep Canisius. He won 3-2 on Friday, picking up an assist as well as making 30 saves, and pitched a 14-save shutout on Saturday.
Atlantic Hockey co-rookies of the week:
Scott Jacklin and Cody Wydo, Robert Morris
Jacklin wins the award for the second straight week. This time around he had three goals and an assist in a road sweep of Sacred Heart. Wydo also had three goals and an assist last weekend, and, like Jacklin, has a point in his last five games.
Men of the month
The league also announced its players of the month for November:
Atlantic Hockey player of the month:
Alex Gerke, Connecticut
A junior defenseman, Gerke finished November with nine points on four goals and five assists. Three of the goals came on Nov. 16 in a win over Sacred Heart, all on the power play. Gerke led his team with a plus-5 for the month.
Other players nominated: Tim Kirby, Air Force; Brandon Nunn, Holy Cross; Derek Elliott, Mercyhurst; Michael Colavecchia, RIT; Nick Chiavetta, Robert Morris.
Atlantic Hockey goalie of the month:
Branden Komm, Bentley
Komm had two shutouts in November, going 3-2-1 overall. He has a 2.25 goals against average and a .936 save percentage, second in the league.
Other goalies nominated: Stephen Caple, Air Force; Ben Meisner, American International; Tony Capobianco, Canisius; Max Strang, Mercyhurst; Cody Campbell, Niagara; Shane Madolora, RIT; Brooks Ostergard, Robert Morris.
Atlantic Hockey rookie of the month:
Daniel Bahntge, Mercyhurst
The Westlake, Ohio, native had a great November, recording eight points in eight games. He's tied for the team lead in scoring with 10 points.
Other rookies nominated: Chad Demers, Air Force; Matt Garbowsky, RIT; Scott Jacklin, Robert Morris.
Camouflaged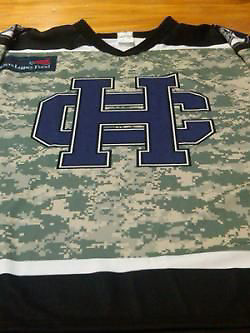 At Saturday's game between Army and Holy Cross, the host Crusaders will be wearing special camouflage jerseys as a fundraiser for the Massachusetts Soldiers Legacy Fund (MSLF). The fund provides educational assistance grants to the children of Massachusetts service members who were killed in action. The jerseys will be auctioned off throughout the game, with all proceeds going to the fund. Commemorative T-shirts also will be sold.
"This is a great opportunity for our program to support an outstanding fund that honors fallen service members and helps their children," Holy Cross coach Paul Pearl said in a statement announcing the fundraiser. "The team is very excited to honor the Armed Services and support this cause."
There will be 27 game jerseys available to bid on during the silent auction with a minimum bid of $150.00 for each jersey. There is no online bidding, but you can make donations online at the MSLF website.
Getting even
While Air Force has enjoyed huge success as members of Atlantic Hockey, Frank Serratore's earlier years at the Academy were not as successful. During the Falcons' nine years in the CHA under Serratore, they had just one winning season.
Last Saturday, Serratore hit the .500 career mark in a 7-3 win at American International. He is 243-243-46 all-time at Air Force in 15 seasons. His teams have had a winning season every year so far in the AHA with an average winning percentage of .606.
Strange factoid of the week
Canisius has the second-best defense in Atlantic Hockey, allowing just 17 goals in nine games. But the Griffs are struggling on the penalty kill, allowing eight of those 17 goals when a man down.
Working overtime
Niagara tied Bentley 2-2 on Saturday, its fifth tie already this season. The school record is six, set in 2006-07 and 2008-09. The Purple Eagles have been to overtime seven times so far, losing both games that didn't end in a tie. Eleven of their last 14 games this season have been decided by a goal or less.
Home and away
Some strange trends of note after RIT and Connecticut split a pair of games last weekend at Freitas Ice Forum:
• RIT is 12-1-1 at home against UConn since joining Atlantic Hockey, but just 3-4-1 at Freitas.
• The Tigers are usually a dominant team at home (29-2-6 record against AHA opposition over the past three seasons), but have already been shut out three times this season, a record in the school's 47-year history. And all three have come on home ice. Two were non-league contests while the other was a 0-0 tie with Niagara.
• The 2-1 win at UConn was RIT's first road win of the season. The Huskies are looking for their first true road win as well. They are 3-1 at home and 1-7-2 away from home, with the lone win coming on neutral ice.
Tweet of the week
[blackbirdpie id="143158492218392577″]
— Schooley, after I incorrectly picked his Colonials to lose to Sacred Heart on Saturday.