Although the Plattsburgh State Cardinals are undefeated in ECAC West play coming into this weekend, for the first time in a long time, PSU finds itself behind the eight-ball in the national picture.
Plattsburgh's 9-3-1 overall record is certainly nothing to shake a fist at, but when you delve into the record a little deeper, you find that the Cardinals are 0-3-0 against teams ranked in the top 10. Those three losses have come to Amherst, Middlebury and Norwich, which are three of the teams they'll be jockeying for position with come NCAA tournament time.
"There is always a stretch in your season where you're going to have a tough run in your schedule, and we had that with the Cardinal-Panther Classic and then playing Norwich and Manhattanville to close the first semester," Plattsburgh coach Kevin Houle said. "In the past, we've been able to come out on the positive side of those stretches, and this is the first time since I've been coaching that we didn't."
Plattsburgh hit a stretch where it lost three of five in late November and early December, which was the first time a Cardinals team hit a patch like that since the 2004-05 season, when Plattsburgh lost three of its last four games.
"We lost a close game to Amherst, didn't play well against Middlebury, and then lost in overtime to Norwich," Houle said. "That was a tough stretch for us, but I think we've learned from it and hopefully we've gotten better from it."
Plattsburgh was able to close the first semester on a good note however, with a 4-0 shutout win over Manhattanville.
"We came out and played a very strong game against Manhattanville and got the win, so we felt good about our team going into the break," Houle said.
The good news for Plattsburgh is it still controls its own destiny, but the Cardinals have a major obstacle standing in their way this weekend when the undefeated and top-ranked RIT Tigers invade the Ronald B. Stafford Ice Arena for a pair of crucial league games.
"We'd like to be in a better position right now, but we're 6-0-1 in the league and in a lot of respects control our own destiny within our conference, so that's what we're looking forward to this weekend with RIT," Houle said.
Since RIT jumped from the ECAC East to the ECAC West at the start of the 2007-08 season, the Tigers and Cardinals have developed a fierce and emotionally-filled rivalry that ranks as one of the best in D-III women's hockey right now.
"Anytime you play against an opponent in your conference that is always near the top of the conference, it's going to make for a good rivalry," Houle said. "We've had some great games in the past, and it's definitely a weekend that our kids look forward to just as in turn their kids forward to it as well."
Last year, RIT held its "Tigers Black Out Heart Disease" charity campaign during the Plattsburgh weekend series, and the Tigers sold out the Frank Ritter Memorial Arena to the tune of 2,100 people, which broke a women's Division III regular season attendance record.
The Tigers and Cardinals treated fans to two epic games, with both going down as ties. However, RIT finally did get the upper hand in the ECAC West finals when the Tigers rallied from a 1-0 third period deficit to a 2-1 win to clinch the league title and automatic berth into the NCAAs, while in turn knocking Plattsburgh out of it after Norwich and Wisconsin-River Falls were upset.
"All three of those were excellent games last year," Houle said. "We had some great goaltending, and the games certainly could have gone either way. In the championship game, we had the lead in the third period, but we weren't able to hold onto it. We got in the box and they took advantage with their power play."
One difference between this year's games and last year's is that both games will be on the Cardinals' home ice, rather than all three down in Rochester.
"It's nice to be at home, but it really doesn't mean anything," Houle said. "We have to come out with emotion and match their intensity while trying to take the game to them and not sit back on our heels and let them dictate the play."
"This weekend coming up, we've got to step up our game. I won't say this a rebuilding year, but we're a young team with nine or 10 new kids in the lineup every night. We lost a lot from last year's team, not only in talent, but depth as well."
RIT presents a difficult challenge, as the Tigers lead the country in goals-per-game with an even 6.00 per game. They also rank second in the country with a power play clicking at 31.8 percent.
"Their power play is near No. 1 in the country, and last year it was at the very top," Houle said. "So you have to be careful and make sure you stay out of the box against them. Our penalty kill has been solid this year, and we feel like we're prepared, but that is always going to be a key to having success against a team like RIT."
Plattsburgh's defense will have to be rock solidm and it will start in between the pipes with junior Sydney Aveson.
"Our goaltending situation was unsettled coming into this season after losing a two-time All-American in Mandy Mackrell," Houle said. "We feel we have three good goaltenders here. Sydney Aveson has carried the brunt of the load in the first semester and had some really strong games. For the most part, she's been there for us, and we expect that to continue to this weekend."
On the offensive side of the puck, Plattsburgh's scoring has been a bit more balanced this season, with eight players having 10 points or more already, rather than having one or two standouts.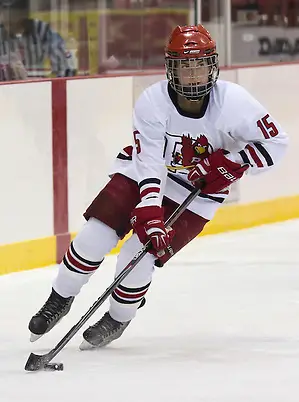 If there is one forward standing out a little bit though, it's sophomore speedster Chelsea VanGlahn, who leads the team with 11 goals and six assists for 17 points.
"We've had contributions from a lot of different players this year," Houle said. "Chelsea has certainly been a key player for us. She's stepped up and scored a lot of goals in the first half. On any given night, our scoring can come from any one of our lines. That's our goal, is to go out and get production from all three lines."
After this weekend, Plattsburgh's road won't get any easier, as the Cardinals will travel on back-to-back weekends to Oswego and Elmira for a pair of ECAC West games. By the end of the Elmira/Plattsburgh series on January 28-29, we will have a good idea of how things are shaping up this year in the ECAC West.
"We have a lot of tough hockey ahead of us," Houle said. "Hopefully, we'll continue to get better and be there in the end, but right now we're just taking it one step at a time and obviously we have a big step coming up with RIT this Friday and Saturday."