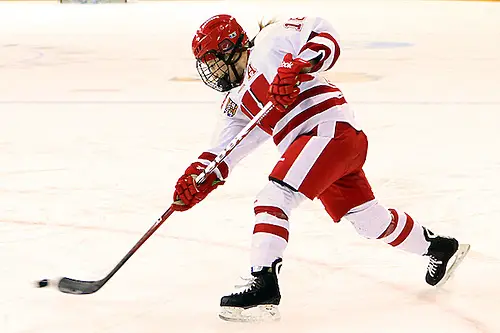 No team has been better over the last couple of seasons than the Wisconsin Badgers. Wisconsin dominated the top spot of all polls and rankings on its way to reaching the NCAA title game in both 2011 and 2012, winning the former to take its fourth NCAA crown before falling a couple of goals short seven months ago.
That gave the Badgers six appearances in the season's ultimate game, all in the last seven years, matching the record established by the Minnesota-Duluth Bulldogs on their way to five NCAA Championships. This past weekend, the two teams met in Duluth for meetings 64 and 65 in a rivalry that has seen UMD build a 29-26-10 advantage.
The Bulldogs swept the series, a result that was surprising, yet at the same time not. Wisconsin entered the action No. 4 in the USCHO poll, while UMD was unranked for one of only a handful of weeks in its history after being shocked twice on home ice by Ohio State in its only previous games. However, over the course of the rivalry, the records haven't mattered much when the teams have clashed.
Mark Johnson is starting his 10th season as Wisconsin head coach.
"About 10 years we've been going at it, and they're all pretty good games," he said. "I can't think of one that's been bad."
That was true from a competitive aspect, as UMD took the series opener, 2-0, leading by a single goal until the final three minutes, and completing the sweep with a 1-0 win. Judged by quality of play however, at least on Saturday when I was in attendance, it did not approach the level usually found when Badgers meet Bulldogs.
I watched the two teams face-off at three different points last season, including an October game in Duluth, and the overall caliber of play was higher each time, the pace was faster, and more skill was displayed.
There are reasons for that on both sides. Two seasons ago, Wisconsin finished with three of the top four scorers in the country in points-per-game. Last year, the Badgers had three of the top eight in that category. Through six games, senior captain Brianna Decker is the highest scoring Badger, tied for ninth with 1.83 points per game, but eight of her 11 points came against lowly Lindenwood. She, like her teammates, was unable to find the back of the Bulldogs' net.
"Playing against any team, you're only going to be successful if you use your teammates," Decker said. "A couple times tonight, yeah, I might have been a little bit selfish, and it didn't work. I know that's not going to work, so use my linemates, [Madison] Packer and Karley [Sylvester]; that's how my line is going to be successful."
Decker definitely knows what it takes to be successful, coming off an 82-point season that earned her the Patty Kazmaier Award. She also posted 80 points as a sophomore, centering a top line where her wings were often two Olympians: Meghan Duggan, herself a Kaz winner, and Hilary Knight, the highest scorer in Wisconsin history.
Now they are gone, as are her linemates from last season, Brooke Ammerman and Carolyne Prèvost. Duggan, Knight, Ammerman, and Prèvost piled up 857 points combined during their years in Madison, an average of more than 53 points per player per season. By comparison, sophomore Sylvester and junior Packer entered the year with 55 points combined in three full seasons, for an average just over 18.
"We've got a bunch of young players, so it's a learning process for them," Johnson said. "Games like this are going to be helpful in the big picture."
"When you put them in different roles, it creates more of a challenge, but it's just missing a couple of people in our lineup."
To compound Wisconsin's offensive woes, two of its better returning scoring threats are battling injuries. Junior forward Brittany Ammerman has played in only half the team's games, while senior defenseman Stefanie McKeough is still dealing with the effects of a concussion suffered last season and has yet to make an appearance.
Their absence was especially felt on the power play. Saturday, the Badgers were unable to capitalize on five power-play chances, including one of five minutes resulting from a major penalty.
"Our power play wasn't as good as it needed to be tonight," Johnson said. "If it's good and it's effective and it creates some more opportunities and maybe a couple goals, that could be the difference in tonight's game, especially when you're on the road."
With the offense struggling, the Badgers must rely on defense, and they'd figure to be in good shape in that regard. Junior Alex Rigsby was the WCHA's Goaltending Champion as a sophomore and backstopped the team to the NCAA throne as a rookie. Even without McKeough, the blue line is deep.
Yet on Saturday, a mistake on the defensive end set the tone for the weekend. Rigsby and a teammate messed up an exchange behind the goal, and as the goaltender stumbled to the ice, her defenseman fumbled the puck into the crease. The Bulldogs' Brienna Gillanders won the race to the loose puck and slipped it into the unguarded net just 94 seconds into the game. That put the Badgers in a hole that they were unable to escape.
"We looked a little bit tired," Johnson said. "Obviously the goal that was not a normal goal puts you back on your heels a little bit. The effort was there. We didn't get a bounce that maybe we needed in tonight's game over the 60 minutes, and they got one, if not two."
That wasn't the first time that Wisconsin has faced a first-period deficit.
"It kind of happened against Mankato as well and also Lindenwood last weekend," Decker said. "It's a test for us every game. I think that considering we didn't let three or four more goals go against us was huge for us. And we just kept fighting back and we fought to the end."
That the Badgers' efforts proved futile were due in no small part to the defensive efforts of the hosts.
"We knew what we were up against this weekend," Bulldogs coach Shannon Miller said. "We've been banged up. We've had five or six people missing from practice every single day. All we said was all week, all we're doing is defensive stuff. Pieces of forecheck, pieces of backcheck, pieces of D-zone, pieces of P.K., and that's all we did."
That preparation, combined with the heroics of freshman goaltender Kayla Black, was enough to thwart the Wisconsin offensive thrusts all weekend.
"She played really, really well," Miller said of Black. "She surprised all of us tonight, and that's awesome. She needed that; the team needed that. And now she can have some confidence heading into the season."
The goaltending position will be one of the keys for Minnesota-Duluth all season, as its depth chart consists of three rookies.
"When you recruit kids, they're playing against high school kids, and she's a good goalie," Miller said. "We saw her play several times and she was really good, but it's high school kids. And now this is Brianna Decker. We were just kind of like, 'How's this going to go?'"
As it turns out, it went better than anyone from Minnesota-Duluth could have hoped, especially given that she was playing behind a makeshift blue-line corps.
"For this weekend, we simplified a lot of things," Miller said. "We've got a couple of forwards playing D, and we just say, 'Play within yourself. The reason we've put you here is these are your skills; these are your strengths. Play to your strengths.' Our entire focus for this weekend is to play to our strengths individually and as a team."
One of the strengths for the UMD team is senior captain Jessica Wong. The defenseman is returning to action after off-season hip surgery, and she said she's nearly 100 percent.
"I'm very close," Wong said. "I think it's coming along really well, for what I had done, so I'm really happy with how my progress is going."
The team's progress is now moving in the right direction after suffering a devastating sweep on home ice at the hands of the Buckeyes in the first week.
"It's respecting your opponent, too," Miller said. "If you think you're something, you want to dangle because we're playing a team that you think we're better than – God, drives me crazy coaching 19-year-olds. Then you play a team that you think they've got more talent than you; well, you know they do. Well now you're more willing to share the puck and move up the ice together, because you're trying to save your own life, basically. So they were a lot more disciplined this weekend."
As any coach will tell you, the game is easier if your team can play with a lead.
"Tonight, we put them on their heels, which is a good thing," Wong said. "We'd obviously like to do that every game, but tonight it was good. We got to do that and we're going to bring it tomorrow."
Wong proved prophetic, as her first-period blast on Sunday proved to be the game's lone goal.
The native of Baddeck, Nova Scotia, has seen first-hand that a team that starts a season slowly need not finish that way. She was a freshman on the Minnesota-Duluth team that was mediocre in starting 12-7-1 in 2009-10, before sprinting home to finish 31-8-2 as national champs.
For something close to that to occur for the Bulldogs this season, they'll likely need to get a bit healthier. Regulars such as senior forward Vanessa Thibault and sophomore defenseman Tea Villila have yet to play, and sophomore forwards Jenna McParland and Zoe Hickel have missed games as well. As with the Badgers, the Bulldogs' offense has sputtered. Through four games, UMD has yet to score more than twice in any contest.
"We have a young team, obviously," Wong said. "I've been there, and you start off slow, but it can happen. Anything can happen. We've been working hard in practice, and it'll come."
The Bulldogs now head on the road for the first time all season, while the Badgers finally get to skate on home ice, christening La Bahn Arena. It could happen for either the unranked Bulldogs or the now No. 9 Badgers. This year, they just have more improvements that need to be made.