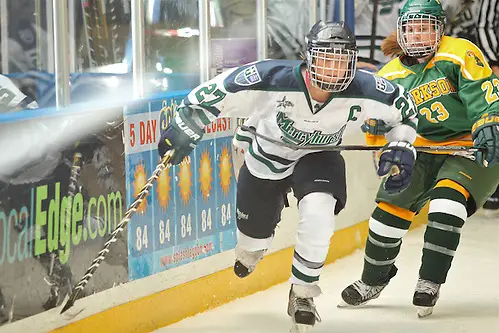 Over the years, many talented players have skated for the Mercyhurst Lakers, particularly at the forward spot. Teresa Marchese, Samantha Shirley, Julia Colizza, Stefanie Bourbeau, Valerie Chouinard, Meghan Agosta, Vicki Bendus, Jesse Scanzano, Bailey Bram, Kelly Steadman — the list goes on. Of that group, only three were able to reach 100 points by the end of their sophomore seasons: Chouinard, Agosta, and Scanzano.
That feat was also accomplished by the captain of this season's Mercyhurst squad, junior Christine Bestland.
After a 42-point rookie campaign increased to 58 points as a sophomore, Bestland has shown continued growth with 19 points through just eight games this year. Projected out to a full season, she is on pace to reach 80 points by year's end, despite the Lakers graduating three of their top four scorers from last season in Bram, Steadman, and Jess Jones.
"I felt like I had to step up and encourage other people to step up, so that we're able to get some goals so that we end up on top," Bestland said.
Coming out on top is something that Mercyhurst has done very well in the history of its program. Starting out at No. 10 in the preseason poll, it has steadily ascended to its current spot an No. 5. This despite suffering the team's first defeat of the season, 3-0, at the hands of Clarkson in the first of a two-game series.
"Last weekend, our first game we did get shut out, and we were pretty upset and disappointed about that," Bestland said. "We knew that we had to come together as a team pretty fast and get the puck to the net and just shoot away, and whatever happens, happens."
She had assists on both of the Lakers' first-period goals, and added a third assist to provide some insurance down the stretch as Mercyhurst maintained a lead and gained a series split with a 4-3 bounce-back win.
"I think I'm more of a playmaker kind of player," Bestland said. "I've gotten lucky so far with the amount of points that I've gathered this year. A lot of the other years, I've had great players to play with that get me the points that I got. This year, with the help of the team, they're making me achieve a goal that I have to get to the 200-point mark in my college career."
Perhaps that will bring more recognition Bestland's way. She hasn't been totally ignored — last season she was a Patty Kazmaier nominee and was named to the All-CHA First Team. However, it seems that through much of her career, Bestland has not received the attention befitting her accomplishments, whether that is due to being overshadowed by better-known teammates or players in the same recruiting class at other programs.
"We had her as one of our top recruits and she's proved worthy of that," Mercyhurst coach Mike Sisti said. "Maybe some other people might not have had her ranked as high, I don't know how or why, but certainly she's had a great career here and she's getting better all the time."
"I came to Mercyhurst knowing that we had a lot of good players on our roster, and I knew that playing with them they'd help me improve myself — learn from them so I'm able to improve my game," Bestland said. "Just seeing them throughout the two years and how good they were and how much I looked up to them, striving to be them and accomplish the goals that they have."
She said that she learned little things from everyone, whether it was observing the moves of a talented player like Agosta or how strong and aggressive Bram was along the boards.
Similarly, Bestland's coach has respect for the effort she brings to her own game.
"I think it speaks volumes of her and her character and her work ethic that as a junior she's been named our captain," Sisti said. "She's very consistent, can be a player in any situation on the power play, penalty kill, defensively, offensively, so she's clearly one of the marque players in the country. I think anyone who is overlooking her doesn't understand the game."
Mercyhurst's program has been aided over the years by its proximity to hockey hotbeds in Ontario, but Sisti has also been able to reach out over the miles to pluck up a player from more distant states and provinces, in Bestland's case, the small community of Brunkild, Man.
"There's probably like a population of 50 there," she said. "It's very small; we don't even have a streetlight. And I live outside of it."
While one doesn't need a streetlight to play hockey, an ice sheet comes in handy.
"The closest hockey rink was about 20 minutes away," Bestland said.
I wasn't aware that a spot within Canada without a nearby rink existed. Still, she found her way to the sport.
"I played boys hockey until grade nine," Bestland said. "From grade nine, I went to Balmoral Hall in Winnipeg, Man., which was a private school that had a hockey program. And then my grade 12 year I went to Pursuit of Excellence [in Kelowna, B.C.]."
That background, plus her years in Erie, Pa., have added up to a very complete hockey player, according to her coach.
"She skates well, she moves the puck well, she can shoot well, and she's got a good mind for the game," Sisti said. "She can put up points, but she also could be a fierce penalty killer and do a great job defensively. The nice thing on top of the numbers that makes her so valuable is she's a great leader, she works hard all of the time, and she's really dependable in every situation."
For a program like Mercyhurst to continue to be successful year after year, that next great player must always be coming down the pipeline. A likely candidate to succeed Bestland someday is freshman Emily Janiga from East Aurora, N.Y., second on the team in scoring with six goals and seven assists.
"For a young player, she's been able to jump in the fire and handle it well," Sisti said. "She's put up numbers, but she also does some nice things defensively and at key times in the game that made her a very valuable player for us, even though she's a freshman."
Such contributions have Mercyhurst (6-1-1) back in its familiar spot of contending for an NCAA berth; the Lakers have qualified for the national tournament in eight straight seasons.
"Right now things are going good, but I realize its a long season," Sisti said. "The challenge is to play consistently well throughout the year and that's certainly easier said than done, so we'll see how this group is able to handle that."
Next, they'll have to find a way to handle Minnesota State; the Mavericks come to town for a Friday-Saturday series. MSU sits at No. 10 in the rankings after a start that includes wins over No. 8 North Dakota and Minnesota-Duluth, and would love to upset the Lakers as they did a year ago in Mankato.
"They've played extremely well; they've won big games against quality opponents," Sisti said. "They've always had our utmost respect; they certainly have it this weekend. I think these are going to be two really hard-fought games from two teams that work extremely hard."