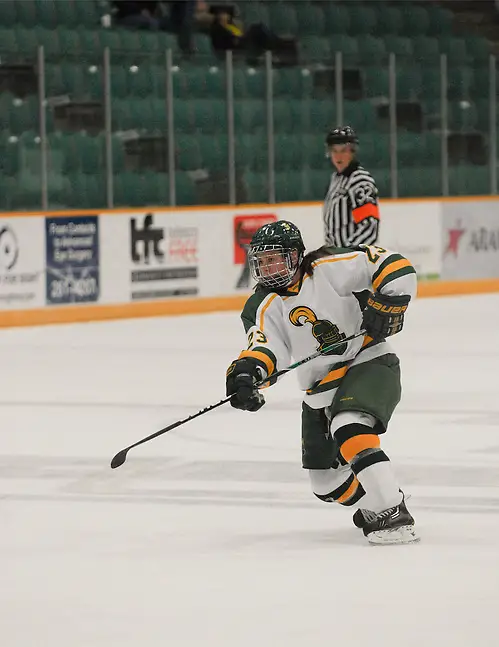 Goaltender Eric Howe arrived at Clarkson in the fall 2010 as part of a freshman class of eight. The Golden Knights had competed in the NCAA tournament for the first time in March of that year and graduated several key players, but based on the quality of talent being added, Clarkson was ranked No. 7 in USCHO's preseason poll.
The college careers of Howe and her classmates got off to a rocky start, as the team won only one of its first eight games and had a record of 6-12-3 after an overtime loss to Quinnipiac in early January.
"It was difficult for them when they came in as freshmen," Clarkson co-head coach Matt Desrosiers said. "They were such a big class, they had to play and contribute right away, and it takes some time for freshmen usually to come in and be able to step up to that type of play in college hockey."
Howe started her freshman season backing up senior Lauren Dahm in the Golden Knights' net, but as the team struggled, they turned to Howe with greater frequency, and she ended the year as the team's primary goaltender. The team gradually improved, and Howe finished with a very respectable 10-7-5 record for a team that overall lost three more games than it won.
The Ottawa native started every game as a sophomore, posting a 22-10-5 record with a save percentage of .927 and a 1.75 goals-against average. Her performance earned her recognition as ECAC Hockey Goaltender of the Year.
"I think that's definitely a team accomplishment," Howe said. "It really said a lot about our defense and our whole team as a whole and their defensive play. We always try and go defense first and then work our way out, and that shows how hard we work in the defensive zone."
Howe's numbers continue to improve this season, and according to her coach, it isn't by accident.
"Our goalie coach, Matt Kelly, our assistant coach, has done a great job working with her and just trying to get her in those good habits every day," Desrosiers said. "And that goes for on-ice habits, off-ice habits with the regular cool downs and warm-ups and just taking care of her body with the nutrition and working out and everything like that."
Howe anchors the third-best scoring defense in the country, as No. 4 Clarkson allows just 1.25 goals per game.
"You can count on her every game," Desrosiers said. "I think it brings a lot of confidence to the team, just having her back there. We preach a lot not giving up second and third opportunities, and I think our team does a very good job at that. Mistakes and breakdowns are inevitable in the game of hockey; they're going to happen. We try to limit those, but when we do have those little breakdowns and that, we know that Erica is there to help us out, and she's done a tremendous job. She makes our lives a lot easier. She makes the kind of routine saves that she should make, but she also makes more difficult saves kind of look easy."
So far this season, the Golden Knights are making Howe's life easier as well by providing her with more offensive support. Clarkson is scoring an average of 3.88 goals per game, more than a goal increase over last year.
"I think it definitely takes the pressure off me, putting a little bit more of the spotlight on [the offense], and we're not always in one- or two-goal games fighting until the last second," Howe said.
One key to the Clarkson scoring increase is its power play that is humming along at a 40 percent conversion rate, and a big reason why is the addition of freshman defenseman Erin Ambrose, who has tallied 15 points over the first eight games.
"She's one of those special players that don't come along too often," Desrosiers said. "She's had a lot of experience at a young age with national and international play, so I think that helps with her making the transition to college pretty quickly. We didn't think it would take her very long to transition to college hockey, but I don't think any of us expected her to kind of take off the way she has. I think she's doing a great job kind of running our power play and kind of slowing things down and making the right plays and not making very many mistakes."
The Golden Knights have a special group of rookies that has been able to hit the ground running.
"You don't have that learning curve that you have with most freshmen," Desrosiers said. "I think they came in and were contributing a lot right away. And I think that's one of the reasons why we came out of the gates pretty good this year."
For any team to do well, it needs contributions throughout the roster. Junior forwards Jamie Lee Rattray and Carly Mercer, the team's top scorers as sophomores, are producing at a good clip as well.
"I think our returners came back with a good focus," Desrosiers said. "We had a good season last year, but it obviously didn't end the way we wanted it to. So I think that gave a little bit more of a sense of we've got to get things going right off the bat here."
For the second straight season, Clarkson's year ended when it fell in the third and deciding game of an ECAC quarterfinal series, most recently on home ice versus Quinnipiac.
"The two last years definitely stung a lot," Howe said. "We know we have to bring a better effort in playoffs. We're more experienced this year; we have a lot more going for us. Hopefully we go into playoffs with a little more oomph. I think that's really going to help us out, just those two losses will help us move forward this year."
Not that there won't still be the odd stumble along the way. After a strong 3-0 win in the first game of a series in Erie versus Mercyhurst, the Knights were ambushed in game two, as the Lakers built an 11-1 advantage in shots and claimed a two-goal lead after 20 minutes and went on to a 4-3 defeat of Clarkson.
"That was a good experience for us, knowing that there are other teams out there that can jump on us and get on us quickly," Howe said of her team's only loss in eight games. "It really helped us put things in perspective and learn a little bit more. So we definitely go back to that game and go back to basics and realize we have to battle and come out hard every game."
The next battle awaits the team in Grand Forks on Friday and Saturday, as Clarkson and North Dakota meet for the first time since the 2003-2004 season.
"I'm just looking to go in there and have some fun," Howe said. "It's a new experience. It's going to be new players playing against and a new environment, a new rink. I'm just looking forward to getting in there and doing the best I can, giving my team a chance to win."
Over her career, Howe has consistently done just that. If she continues to do so game after game, and with the offense finding a whole new gear, perhaps Clarkson is on the verge of a second trip to the national tournament. If so, the trip west to take on a UND squad that qualified for its first NCAA tourney in March may prove beneficial.
"It's nice to be able to get out and play some different teams and some different leagues and kind of see how they play," Desrosiers said. "Obviously, they play some tough teams out there night after night and they're kind of battle-tested every year. These are the type of teams that if you get to where you want to be come the end of the year and get to the NCAA tournament, these are the type of teams that you might be meeting up with. So it'll be a good test for us, that's for sure."