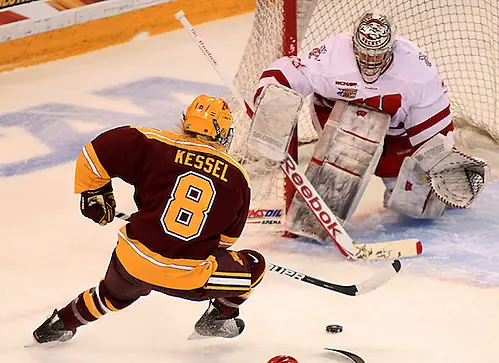 Is it too early to look at the results to date and try to project them forward to the end of the season and speculate about tournament brackets and award winners? Yes, far too early; even I must concede as much.
I'm going to do it anyway. We're about a quarter of the way through the season for most teams, and more than a third through the regular season for some. A lot can change along the way, but as we saw last year, the playoff picture can still be evolving during the conference tournaments. For those who wish to deal only with certainties, the NCAA selection show is four months away.
The PairWise Rankings and the resulting bracket
The PairWise Ranking is akin to the Electoral College. Both add more complexity than value, but are unlikely to go away any time soon. The PWR is computed by comparing the top 12 teams in the Ratings Percentage Index by head-to-head results, record versus the other teams under consideration, record versus common opponents, and the RPI value of each. Currently, the top eight teams in the PWR are the same as the top eight in the RPI:
Harvard
Minnesota
Cornell
Clarkson
Mercyhurst
Dartmouth
Ohio State
Boston University
This would presumably produce a bracket of BU at No. 1 Harvard and Mercyhurst at No. 4 Clarkson on one side of the bracket and Dartmouth at No. 3 Cornell and Ohio State at No. 2 Minnesota on the other.
The NCAA would love this field and the bracket it produces from a travel perspective. Just fly Ohio State to Minnesota and Mercyhurst to Clarkson; it should be possible to bus Dartmouth to Ithaca, and getting BU to a date with the Crimson shouldn't stress any budget.
This field would be notable in that Ohio State would be a first-time participant and Harvard, Clarkson, and Dartmouth would be back after not qualifying last year. It would also contain four teams from the ECAC and only one from Hockey East. Thus, BU couldn't really be an at-large team. If the Terriers didn't win their league tourney, then they'd be replaced by the Hockey East team that did.
Northeastern, North Dakota, and Boston College would be tied for the dubious honor of having the bubble burst on their tournament hopes. The Huskies missed out on an invite by the narrowest of margins last season, as did UND two years ago.
Northeastern may be the best team never to have competed in an NCAA tournament; NU faded down the stretch and missed out on the event in 2002.
Four ECAC teams would be a record for the most by any conference in one year. Seven different ECAC teams have advanced to the NCAAs over the years: Brown, Clarkson, Cornell, Dartmouth, Harvard, Princeton, and St. Lawrence. Four teams have participated from Hockey East: Boston College, Boston University, New Hampshire, and Providence. The WCHA has also had four qualify: Minnesota, Minnesota-Duluth, North Dakota, and Wisconsin. The CHA requires an asterisk or two. Mercyhurst has obviously made the tournament. Niagara did as well, but as a member of a league that no longer exists, and for that matter, neither does Niagara. RIT has played in the NCAA tournament, just not yet in the NCAA tournament under discussion here.
Other top eight derivations
Flawed as it may be at the end of the season, the PairWise Ranking is particularly ill-equipped to determine the strongest teams early in the campaign. Here are the top eight teams as ranked by KRACH:
Minnesota
Harvard
Mercyhurst
Cornell
Clarkson
Ohio State
Boston University
North Dakota
These are the top eight in Michael Rutter's Rankings:
Minnesota
Cornell
Harvard
Ohio State
Mercyhurst
Clarkson
Boston University
North Dakota
Note that the two agree on the top eight teams, although they order those between second and sixth differently. KRACH has Dartmouth on the bubble, while Rutter puts poor Northeastern there. Both wish to give fans a Mercyhurst versus Ohio State matchup, although they disagree on where it should take place.
Of course there is always the USCHO human poll, and because coaches populate it almost exclusively, perhaps it is best able to determine team strength and project which squads will climb the ladder. The poll's top eight teams are:
Minnesota
Cornell
Clarkson
Mercyhurst
Boston University
Harvard
Boston College
Northeastern
The coaches have Ohio State bubbling out.
For the sake of historical perspective, how have the coaches done in previous seasons with their first poll of November? In 2011, they correctly projected the eventual four seeded teams, and included BU and UND in the top eight, but they left Mercyhurst on the bubble and didn't have late-charging St. Lawrence on their radar. The coaches did very well in 2010, placing seven eventual tournament teams in the top eight. The only error was including North Dakota rather than Dartmouth, but UND lost out to the Big Green by a slim margin and it is tough to slot an Ivy League team after less than a handful of games. The coaches had six correct in 2009, ranking Cornell and Harvard too low and inflating the chances of Wisconsin and SLU. The 2008 poll had seven teams correct, but eventual national runner-up Mercyhurst was down in the receiving votes layer.
In comparison, the top eight in the Rutter Rankings for the first week of November in 2011 included three teams that ultimately didn't reach the NCAAs in Harvard, UMD, and Northeastern, but missed BC, Mercyhurst, and St. Lawrence. Rutter had six teams correct in 2010, including Ohio State and North Dakota at the expense of Minnesota and Dartmouth. In 2009, five NCAA teams rank in Rutter's top eight, but Wisconsin, Northeastern and Ohio State appear where BU, Cornell, and Harvard should be.
In looking at the past years, Ohio State often seems to be a team that is ranked higher in November than it finishes. Whether that is due to the wear and tear of air travel — the Buckeyes travel as many miles as anyone — or the difficulty of the WCHA slate once out-of-conference action wraps up, is hard to say. Perhaps it bodes well for OSU that the WCHA doesn't look to be as daunting as usual this season.
Patty Kazmaier progress
I won't try to identify a Kazmaier winner or three or 10 finalists at this early stage. However, I do think it is permissible to start talking about some people who belong in such discussions down the road.
Last year's Kaz Winner is back, as are two of the final three and five of the final 10. Those five are last year's winner, senior forward Brianna Decker of Wisconsin, senior forward Jocelyne Lamoureux of North Dakota, a top three finalist, senior forward Monique Lamoureux of North Dakota, senior defenseman Laura Fortino of Cornell, and junior forward Amanda Kessel of Minnesota. Minnesota senior goaltender Noora Räty made the final three as a freshman.
Of the returning finalists, only the two Minnesota players have gotten off to strong starts individually. Kessel leads the country in points per game at 2.91 with 15 goals and 17 assists through 11 games. Next highest among previous finalists is Decker at 1.58.
At 0.68, Räty is second to two Harvard goaltenders in goals-against average, to Harvard's Laura Bellamy with a .967 save percentage, and is tops in wins, 11, and shutouts with five. Senior Bellamy could also emerge as a candidate depending on how her rotation with rookie Emerance Maschmeyer plays out. Bellamy has yet to allow a goal in two games and 35 shots. Among returning goaltenders that play most of her team's minutes, juniors Erica Howe of Clarkson and Alex Rigsby of Wisconsin merit consideration.
Defensemen averaging at least 1.5 points per game are Harvard sophomore Sarah Edney with one goal and six helpers in seven games, Clarkson freshman Erin Ambrose, who has a line of 2-14-16 in 10 games, and Minnesota senior Megan Bozek, 6-12-18 through 12 games.
In addition to Kessel, the following forwards have averaged at least two points per game: Minnesota freshman Hannah Brandt, 12 games, 12-21-33; Mercyhurst junior Christine Bestland, 12 games, 9-22-31; Harvard senior Jillian Dempsey, four games, 6-4-10; Quinnipiac junior Kelly Babstock, 10 games, 11-14-25; Northeastern sophomore Kendall Coyne, 9 games, 9-12-21; Harvard junior Lyndsey Fry, four games, 4-4-8; and Quinnipiac sophomore Nicole Kosta, 10 games, 6-14-20.
Once the list of contenders becomes better defined, we'll look closer at how each is performing in some of her most important games.