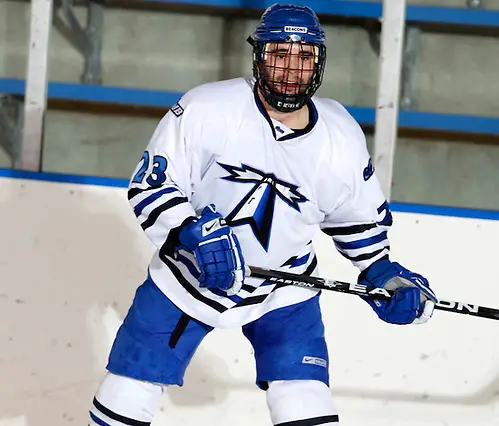 Just three games into the 2012-13 campaign and already the Massachusetts-Boston Beacons have seen a lot of different situations to chalk-up as learning experiences. With 13 freshmen on the roster, everything is new at the college hockey level, and at 2-1-0 entering this weekend, coach peter Belisle likes a lot of what he has seen from his newcomers.
"From the goal out, we are skating a lot of first-year players every night," said Belisle. "In our first three games, we have seen a nice 60-minute win against NEC, an overtime loss against St. A's where we blew a two-goal lead in the third period, and a third period win against a tough Massachusetts-Dartmouth team where we again gave up a two-goal lead in the third period but played hard and won the game by a goal. Every game is a new experience for this group, and with our key group of seniors, I hope the maturation process will go quicker in this first half of the season."
In some ways, this situation is reminiscent of Belisle's second season with the Beacons, when he brought in a large recruiting class to jump start the UMB program. While there are similarities, there are some key differences that he feels will favor the 2012-13 team in its development and success on the ice.
"My first season I came into the program without a real opportunity to do much recruiting," noted Belisle. "That second season I brought in a large freshman class and a couple of transfers to get the program going, but that group had to learn from each other and the players that had been here hadn't had any success playing here. We were really trying to establish our identity as a program and build some level of success with the new guys. This team has some great leadership, and while they haven't won a playoff game in their first three seasons, we have had success in winning tournaments and games and being competitive in this very tough conference. Guys like Tim Niedzielak, Rob Florentino, Mike DeGrazia, Mark Grinhaus, and Travis Daniel bring a lot to what it means to play for Massachusetts-Boston and the expectations we have as players and as a team."
So far, the camaraderie and meshing of the team seems to be working to the coach's satisfaction. To date, 13 players have points, including seven freshmen who have broken the ice early and seem to be adjusting well to the rigors of college hockey.
"It's great that we have those milestone events out of the way," said Belisle. "Getting those first goals and points takes the pressure off a bit and helps these guys build some confidence in all of the situations they play in games. We have seven freshman forwards that are playing regularly, and I have been trying to get everyone some ice time to see what they can do. Mike Miller, Kit Sitterley, Max Reavis, Frankie DeAugustine, and Peter MacIntyre have all scored their first collegiate goals and are playing well. Even Giovanni Marinelli has played really well in his first two games, so guys aren't sitting because they are making mistakes. It's early in the year and we need to give everyone an opportunity while putting ourselves in the best position to develop and win some games."
The learning curve has been made obvious by the results in games, and Belisle isn't holding back on any game situations to expose his young players to in-game action. The biggest challenge is the sense of urgency and the impact of playing two full 60-minute games on Friday and Saturday hoping to cash in on maximum results and points in the standings.
"A lot of these guys have come from juniors, where there is a different feel for the games based on the frequency with which you see and play the teams," said Belisle. "We have such a short season comparatively. These guys need to learn quickly — and they are — that every game is important and can make a difference come tournament time in terms of seedings, match-ups, and even home ice in the first round. I think the seniors have been great in bringing this to the attention of the young guys, and while we lost against St. A's in not playing the full 60 minutes, the team came back and showed resiliency in playing hard and fighting to win the game against UMD where we gave up a two-goal lead just like the St. A's game. It's really learning while doing, and I do like this group and the effort and commitment from each and every one of them."
One key area, and a significant recruit that Belisle and the team are counting heavily on, is freshman goaltender Zach Andrews. He is the number one netminder for the Beacons among a young group of goaltenders, but brings a pedigree and commitment that the coach likes, and the team has a lot of confidence in his ability to make the big saves when they need it most.
"Zach really has a history of success that we hope will translate here," said Belisle. "We feel lucky to have landed him here at Massachusetts-Boston. He had some looks from D-I schools, but we hung in there hoping he would come here. Zach won two championships in his time with the Walpole Express and then two more, including being the playoff MVP, with the New Hampshire Monarchs. He knows what it means to be consistent and really perform each and every time he skates into the crease. We are only three games into the season and already he has come into my office and apologized for the number of goals he has surrendered so far. I told him that he just has to outduel the guy down the other end and in the end, it's about the final score and us winning hockey games. We expect him to be a big part of our success, and his level of intensity and accountability is a great thing to see from a young player just starting his college career."
The rest of the freshmen are getting the same treatment from the coach and veterans on the roster. They are playing regularly and getting opportunities in all game situations. This early experience is building confidence that the coach is hoping will help the Beacons reach their collective goals this season.
"We really are treating the group like they aren't freshmen," said Belisle. "We have a first power play unit that includes some of our more experienced players, and the second unit is all freshmen. We really like their skill and now want to make sure that they learn the importance of playing tough and gritty hockey in the UMB tradition. We have goals to win three tournaments, and hopefully a home-ice playoff berth to start that all-important conference playoff tournament at the end of the season. We have the PAL Cup coming up during Thanksgiving week, and then the 48th annual Codfish bowl in early January, which is a very prestigious D-III tournament that UMB has only won three times in its history. We have a lot of talent on this roster, and how quickly it comes together will determine just how far we can go this season. We have two very challenging games this weekend against a very good and experienced Castleton team and a Skidmore team that beat us three times last year, including the playoffs. Most of these kids weren't here, so we aren't looking backwards. We want to continue our improvement in our overall level of play and consistency, and hopefully the results will come too."
There are seven more games before the semester break, including four league contests that are all on home ice. Class is in session for Belisle's team and he is hoping that the young players are the key to earning the Beacons a passing grade at the mid-term point of the season. So far, the early test results look good.