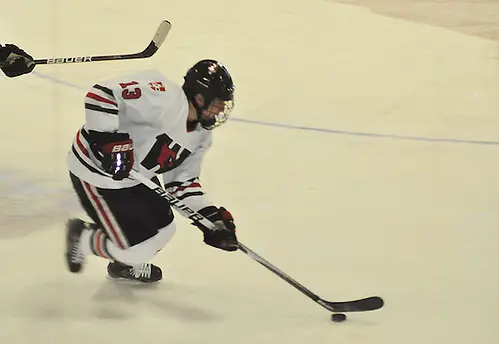 Whenever one attempts to ascend the highest of peaks, there is usually an acclimatization period and central staging area commonly referred to as base camp. For Wesleyan coach Chris Potter and all of the seniors who have helped build the program's success, this year represents yet another assault on the summit that is the NESCAC conference, a journey that the coach and his new mix of players hope will help to stake a claim at the peak of the NESCAC hockey world.
"I feel like we have moved the program to the base camp in the first years I have coached at Wesleyan," said Potter. "I think Duke Snyder did amazing things for Wesleyan hockey, but we have established some success with the program and created higher expectations. This senior group has seen a lot of firsts for the program, like the win at Middlebury and overtime win against Williams, but we, they, want to do more. We have established ourselves at base camp and being competitive in this very competitive conference. Now we want to go that next 5,000 feet to the summit, so it's going to take more effort, more teamwork, more discipline, and more determination to get to the top and really put Wesleyan hockey on the map."
While last weekend's opening games earned the Cardinals a split in the conference standings, coach Potter saw many things that he liked about his team in the first competitive action of the season, and hopes it will translate into success throughout the balance of the remaining schedule.
"I dressed a lot of seniors for the first game," noted Potter. "We have a balance of some real experienced players and some really talented younger players that we are trying to sort out and figure out where and with whom we can be most successful on the ice. We played some of the freshmen in the second game, and they really showed the ability we expected when we recruited them. We wanted to get them some early game action to see how they would do, and now that we also have a couple of injuries, they are going to be playing more regularly among our upperclassmen, starting with our game against Massachusetts-Dartmouth on Tuesday night."
One of the challenges facing this year's team is the loss of last year's leading scorer, Nik Tasiopoulos, who transferred to Babson in the ECAC East. Finding goals from more sources and creating more balance in scoring is something the coach is hoping to find from the infusion of his freshmen in the lineup, along with bringing out the best in his more experienced forwards.
"Alex Carlacci has some great skill, as does Terence Durkin," said Potter. "Jay Matthews scored his first goal last weekend, and it was a goal-scorer's goal. There aren't many players that can come down the wing and score from 20-25 feet out, but that's what Matthews did last week. He skates well and has a great release, and we will need more of those kinds of goals this season. Keith Buehler had a good thing with Nik last season, but he is so talented that he is going to get his points with a lot of different people. It's no surprise that he is already our leading scorer. With last week's injuries, we only have two extra forwards, so the guys are going to be seeing regular ice time and the coaching staff will get a better feel for some of the combinations and positions based on our system and setting our players up for success."
While the offense is sorting itself out, Potter is still working on the defensive pairings and looking to maximize the effectiveness of his two returning goaltenders, Glenn Stowell and Matt Hadge.
"All of the goaltenders are in great shape," stated Potter. "Glenn played both games last weekend, and Matt will get in this week so we can keep both guys sharp. On defense, we are still moving some pieces around, and another freshman, Eric Casey, will see some playing time this week to show what he has in his game. For the defensemen, the level of competitiveness they bring to their game will determine a lot about their success in this conference. Just battling each and every shift is a key to success. This team has a lot of those types of players, and that attitude is infectious in practice and in games. With the level of talent in the league being pretty close, sometimes it is the ability to compete at a high level that is the difference in winning and losing in this conference."
The Cardinals have just six games remaining in the sprint that is the opening segment of the season before exams and the semester break. Only two of those games are conference match-ups, so Potter will be looking to build a successful lineup and get all of the parts of the system headed up the mountain together before the real difficult trek begins with the Cardinal Classic at Plattsburgh right after Christmas.
"We had about 15 practices, and then the opening games last weekend," said Potter. "It's another practice yesterday and a game tonight, and then two more nonconference games to work on some things before we see Amherst and Hamilton in our final two league games this semester. We are focused on being consistent and trying to get points from every game and getting better. We had a nice opening win that could have gone either way if Conn College converts on a couple of power plays, and then lose to Tufts when we get down 2-0 in the first and then give up a shorty. You can't do that stuff and win, but we will learn from it and get better. This team thinks it can compete among the very best and would love a chance to play for the title. There is a lot of hockey between now and the playoffs, so we'll see how this trip up the mountain goes this season. We have been at base camp for awhile and really want to accomplish more."
The Cardinals resume their assault on the mountain that is the 2012-13 season with three nonconference games this week. After Tuesday's home game with John Rolli's Corsairs, Wesleyan hosts SUNY-Canton on Saturday night and plays Stonehill at Trinity on Sunday. The preparations have been made. The season is now about the execution and the challenge to get to the top of the mountain.