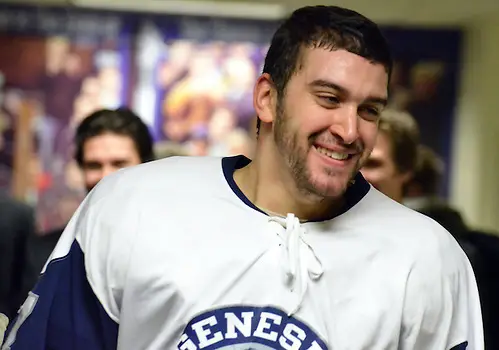 It would have been an easy question to ask: How much faith does Geneseo coach Chris Schultz repose in rookie winger Devon Rice? The answer to that was played out in the final minute of a deadlocked contest against a nationally-ranked opponent.
Plenty.
With the score knotted 2-2 and overtime looming against No. 4 Plattsburgh, Rice not only found himself on the ice at the critical stage, he repaid Schultz's confidence by scoring the game-winning goal with 57 seconds remaining.
Not a bad way to pot your initial collegiate goal, huh?
"I feel like I blacked out," said Rice, who hails from Manotick, Ont., and played his junior hockey with the Ottawa Jr. Senators (CCHL). "I don't even remember shooting. I went crazy. It was a great first goal to have."
According to Schultz, the fact that Rice and his linemates, Rich Manley and Carson Schell, were on ice at that critical moment was more a matter of fortune than foresight.
"Was it planned for him to be out there for that shift?," said Schultz. "No. It was just kind of the rotation we had at the time. We trust all of our lines. But it was a great, great time for him to score his first collegiate goal."
Rice said that being trusted in such a spot was a huge boost to his self esteem. Almost as much as striking for the game-winner did.
"Coach is letting us freshmen have more responsibility," said Rice. "It's good to see. It definitely boosts your confidence. Everything worked out. It felt great to finish that."
As for the finish itself, Rice said he and his teammates were just doing the jobs they'd been assigned.
"I was in the slot," he said. "My linemates Manley and Schell were in the corners controlling the puck."
The puck found its way to defenseman Alex Lupczuk, who fed it back up to Rice. The rest, as they say, was history.
"I was basically left alone and was able to shoot it on net, quick," said Rice.
Geneseo's good times didn't end there. The Ice Knights followed that big win with a hefty 6-2 triumph over Potsdam the next night. As they did the night before, the Knights saw a 2-0 advantage disappear, then regained the lead at 18:21 of the second on senior Kaz Iwamoto's first goal of the season.
Iwamoto, the pride of Tomakomai, Japan, scored again to complete his first multi-goal effort since his freshman year. More importantly, it allowed Geneseo to ease into its two-week Thanksgiving hiatus with plenty to be grateful for.
"This was huge," said Iwamoto. "But we have plenty more games to go. It means a lot, but we still have to keep working hard to get better. It's all about process. All the time."
______________________________________________________________________
Almost as momentous was the weekend effort put out by Buffalo State, which fashioned a 3-0 win over a feisty Cortland squad on Saturday, one night after suffering a tough 5-4 loss to No. 1 Oswego.
The Bengals held a 3-1 lead late in the second before the Lakers erupted for four consecutive tallies.
Even so, with a slightly tidier effort, said Buffalo State coach Nick Carriere, the Bengals might just have been able to pull off what would have been a shocker.
"We put a pretty solid effort together vs. Oswego," said Carriere. "Unfortunately, there were a few backchecking scenarios where we just didn't play things the way that we would have wanted to, and the results of each of those situations ended up being goals against. We thought we were pretty disciplined for the most part, especially early on, and our PP was clicking. Unfortunately, they have some very skilled players with a lot of natural ability that made us pay dearly for our mistakes. Yet another learning experience for us."
______________________________________________________________________
NOTES: Oswego forward Luke Moodie was named the SUNYAC Player of the Week for potting a pair of game-winning goals in last weekend's wins over Buffalo State and Fredonia. Moodie (9-10-19) is tied with his linemate Paul Rodrigues (7-12-19) as the top D-III scorer in the country. — Other SUNYAC weekly honors were copped by Geneseo teammates David Ripple (top rookie) and Adrian Rubeniuk (top goalie). Besides stopping 43 of 45 shots for the weekend, Rubeniuk had to shake off a lower body injury suffered Friday in a goal crease collision with Plattsburgh's Jared Docking, which caused him to leave the tilt early in the second period. — Schools continue to stock the cupboard for next season. Winger Krystian Yorke has committed to Oswego for next year, while center Ryan Johnson has been recruited to Brockport. Also headed to Oswego is defenseman Mac Scott, who played at Canisius last year. All three players are currently with Trenton of the OJHL.