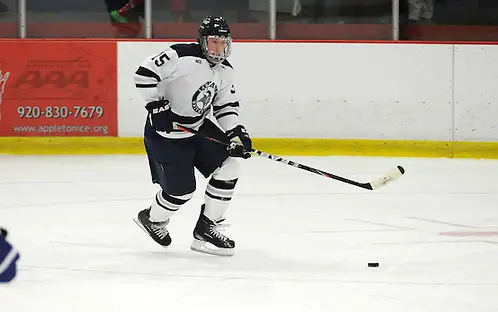 It's not every day you come across a team that is outscoring its opponents, 27-20, yet holds a 2-4-0 record on the season. That's the story so far for the Lawrence Vikings.
Offense is not an issue for this young team, which boasts 20 underclassmen. Seventeen players on the roster have gotten on the score sheet. Leading the pack are freshman defenseman Brandon Boelter (3-6-9) and freshman forward Rudi Pino (2-7-9). Combine those two rookies with freshman forward Logan Lemirande (1-7-8), and that's a lethal trio for any defense in the league.
Currently, Boelter is as good as it gets from the blue line; his nine points are good for leading the country in points per game for a defenseman. Boelter, Pino, and Lemirande are in the top ten in the nation for rookie scoring.
"Brandon, Rudi, and Logan have had solid starts to their college careers, both on and off the ice," head coach Mike Szkodzinski said of his freshmen,  "They are talented young men who will get better with more experience at the college level. Along with Steve Hughes and Renato Engler, we are pleased with the progress of our freshmen.
"Brad Scurfield has continued to be a great leader on the ice. His determination and passion is contagious."
Scurfield is a senior forward who leads the team with five goals, add his three assists and he's the third top scorer for the Vikings.
Through six games, the Vikings have faced two competitive series with Concordia and Marian. They lost all four games, but never by more than one goal. Any loss Lawrence has had this season exposes its weak spot in defense and goaltending. They earned a sweep against Northland, outscoring the competition, 18-7.
The Lawrence roster is hopeful that the close losses will help improve the young squad. Szkodzinski notices the increasing talent in the league, and hopes the team will find a way to finish with a win.
"We are learning the lessons that every young team needs to learn," Szkodzinski said. "We have to realize that we must show up at the opening faceoff and carry it for 60 minutes each night. Until that happens, we will continue to struggle, because the MCHA is so competitive now. We simply must be more consistent if we want to achieve our goals."
This weekend starts a stretch of a less routine schedule for Lawrence. With nonconference games this weekend, including a tilt against the defending national champions, St. Norbert, they return to conference play Nov. 30-Dec. 1 against Finlandia (3-3-0).
With only two league games between now and January 11, the Vikings will be hungry to get their obvious offensive force to power them to the win column and climb the standings.
"We prepare each week the same way; we structure our practices to make sure we are ready to go when the puck drops every game," Szkodzinski said. "We view each game the same; each game is an opportunity to execute our game plan. Each game is an opportunity for our young men to play with passion and execute with a purpose."
If the Vikings are able to provide the defensive support, and iron out their goaltending, there is no doubt they will be a top team in the conference.
NOTES
Adrian College remains undefeated (6-0-0) through six games after sweeping Lake Forest, and is atop the conference with 12 points.
The first overtime game of the season occurred last weekend, as Marian beat Lawrence, 4-3. Lawrence scored with 24 seconds left in the game to force overtime.
After losing to Finlandia, 8-1, on Friday night, Northland got its first victory on Saturday, beating the Lions 4-1.
Northland senior Kraig Wright is now Northland College's all-time point leader. In 81 career games, Wright has a 38-60-98 scoring line.
Matt Lennon of Northland College earned the MCHA Player of the Week. He scored two goals and added an assist in the team's first win of the season. Both Finlandia University goalie Troy Chandler and Adrian College goalie James Hamby earned MCHA Defensive Player of the Week honors. Northland's rookie goalie, Mason Riley, earned the league's Freshman of the Week honor.
Six teams will be playing in nonconference action this weekend, with Northland and Finlandia getting the weekend off.