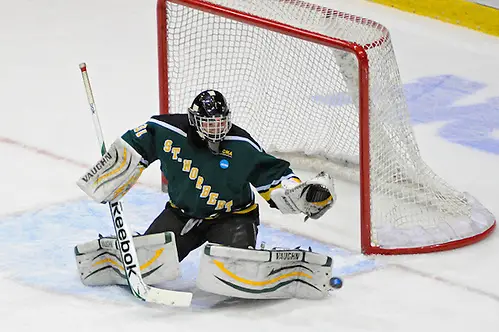 After being showered with accolades as a freshman, it would have been easy for St. Norbert College goalie David Jacobson to fall into a sophomore slump this season.
However, through nine games, Jacobson has put together numbers that make last season look like a warm-up act. The sophomore netminder has led the Green Knights, the defending NCAA Division III champions, to a 5-2-1 mark. Jacobson's 1.94 goals-against average leads the Northern Collegiate Hockey Association and, in save percentage, he ranks second at .935. Through last weekend, Jacobson had 143 saves, ranking him fifth in the NCHA.
Last season, Jacobson concluded a stellar rookie campaign by helping the Green Knights to their second straight national title. He was named to the all-conference team and was hailed as the NCHA's Freshman of the Year. Not bad for a guy who wasn't considered the starting goalie when St. Norbert began the 2011-12 season. He earned his spot and never relinquished it.
Heading into this season, Jacobson knew many of his teammates would be back to defend their national title, and it gave the sophomore confidence to build off last year's success.
"Our whole team came back ready to go; we knew what we wanted to do, right off the bat," Jacobson said. "We had a lot of guys returning, so the chemistry's there and so a lot of things started clicking."
Jacobson began his sophomore campaign with three straight shutouts. His scoreless streak finally came to an end on Nov. 3 in a 2-1 loss to Gustavus Adolphus.
Jacobson, a Janesville, Wis., native, contributes much of his success to St. Norbert's dominating blue line. Through nine games, the Green Knights have killed a mind-boggling 26 of 29 penalties (89.7 percent).
"I really play well with the D-core we have right now; I think that's where a lot of our success comes in, is that we're always on the same page, for the most part," Jacobson said. "We know what each other's going to do. That's where coming back your sophomore year, it gives you a lot of confidence, because they know what you're going to do and you know what they're going to do. The goal is to get back (to the national title game), and that's all we want to do."
St. Norbert's biggest challenge may come from its own conference. Last weekend, Wisconsin-Eau Claire topped the Green Knights, 5-3, in Friday's opener and forced a 3-3 tie in Saturday's series finale. Wis.-Eau Claire's strong play moved them past St. Norbert in the USCHO.com D-III rankings, placing them fourth, while the Green Knights fell to sixth.
"They definitely have a solid team, a lot of returners, a lot of veteran guys, and they just pushed and pushed and just kept coming," Jacobson said. "We didn't have an answer for them, but give them credit, they had a pretty good solid squad, but we'll look forward to seeing them in the future."
At 5-foot-9, Jacobson isn't a physically intimidating goalie, but relies on quickness and strong hockey sense to lockdown opponents.
"I'm a smaller goalie, so I always have to work on staying aggressive and being just as big as I can in the net and be outside my crease at all times," Jacobson said.
He compares his style of play to former University of Wisconsin standout Brian Elliott. Elliott, now patrolling the pipes for the St. Louis Blues, was named to the NHL All-Star Game last season.
"When he was playing for the Badgers, him and (former Wisconsin goalie coach) Bill Howard, taught me when I was younger, that's kind of how I started and got the background and just went from there," Jacobson said. "I like to watch him and see his progress and how he does. I kind of relate my game to his, because that's the style he got taught with Bill Howard when he was with the Badgers and that's about where I started at."
Looking ahead, Jacobson's goal is to play hockey after college. However, before he leaves St. Norbert, he would like to add to the Green Knight's trophy case and lead them to another national title.